Cowboy Wolf Trouble is the first installment of my new paranormal romance series, The Seven Range Shifters. The second installment in the series, Cowboy in Wolf's Clothing, will be released on June 25, 2019. In this series, seven shifter clans call the Montana mountains home. Ruled by The Grey Wolf pack, they must come together to fight a new evil in their midst. I think the best way to describe the series concept to readers is to say the characters are cowboys by day, wolf shifters by night.
As an author, it's been both fun and challenging to combine the paranormal and western romance subgenres. Both cowboys and werewolves are beloved romance tropes, so balancing the two well can be tricky, but I've certainly enjoyed the challenge. One way I've always kept my inspiration for my characters on track is to visualize what they would look like in real life. It helps to make them even more real in my mind.
Below you'll find my dream cast for Cowboy Wolf Trouble. I've always hoped that one of my books optioned for film someday and if I could pick the cast for Cowboy Wolf Trouble, these actors and actresses would be perfect for the part!
From the start of the series when I first created this cast, I had one true goal: find rough-around-the-edges actors to play my heroes, men who looked like the true bad boy alpha warriors my characters are. Bonus points if they would look equally sexy in a cowboy hat or with wolf eyes. Enjoy!
Hero/Heroine
Charlie Hunnam as Wes Calhoun – This motorcycle-riding Sons of Anarchy actor is the only person I could ever imagine playing the nefarious hero of Cowboy Wolf Trouble, Wes Calhoun. And really, how can anyone resist that sexy smirk? As a bad boy rancher and former leader of a renegade wolf pack, Wes has given up his violent ways and sworn loyalty to the Grey Wolves. But his dark past is quickly catching up behind him. When a violent run-in with his old packmates leaves him caught in a human rancher's trap and staring down the barrel of her shotgun, he has no choice except to reveal himself to her—or risk everything he's worked for.
Shannon Baker as Naomi Evans – Cowboy Wolf Trouble heroine and human rancher, Naomi Evans, was perhaps the hardest character to cast. Naomi is Apsaalooké Native (Crow Tribe), so I wanted to find an actress that was also of native heritage. When I came across Shannon Baker, a Carrier Dene of the Stellat'en First Nation res in northern British Columbia, I knew I'd found the perfect match. As both a female rancher in a male-dominated industry and a woman of color, Naomi is a fierce fighter. When she's unexpectedly swept into Wes' supernatural world—a world of the verge of war—she has no choice but to hold her own against Wes and the wolves of the Grey Wolf pack as she fights to protect the ranch that is her father's legacy. Naomi is full of heart, yet fierce and stubborn when she needs to be, and I think Shannon's soft yet fiery gaze is exactly my vision of Naomi's character.
Secondary Characters
Jensen Ackles as Colt Cavanaugh – I'm a long time fan of this Supernatural star and while his dreamy face may not be my first thought when I think "badass cowboy werewolf" when you add in the beard, it's like bad-boy magic and he makes the perfect Colt. Colt Cavanaugh is the High Commander of the Grey Wolf armies and while Colt may appear to be the perfect soldier on first introduction, as we find out in Cowboy Wolf Trouble, there is far more to this future hero than meets the eye. Colt is the hero for book two, Cowboy in Wolf's Clothing (June 25th).
Jason Momoa as Maverick Grey – Grey Wolf packmaster, Maverick Grey, has to be the most badass wolf of them all and who better than rough-around-the-edges Jason Momoa? This Aquaman star is the perfect fit for Maverick. He's just wild and mangy enough to be a wolf packmaster, don't you think? The scarred eyebrow definitely helps.
Ryan Hurst as Donnie – Another Sons of Anarchy favorite! Formerly Wes' friend and the newfound leader of Wes' former pack, a group of renegade wolves known as the Wild Eight, Ryan Hurst is the perfect fit for Donnie. Donnie will stop at nothing to punish Wes for his betrayal of Wild Eight, and he'll go to any length possible to see his former friend buried six feet under once and for all.
A whole-hearted thank you to Fresh Fiction for allowing me to share a few of the characters from Cowboy Wolf Trouble with you!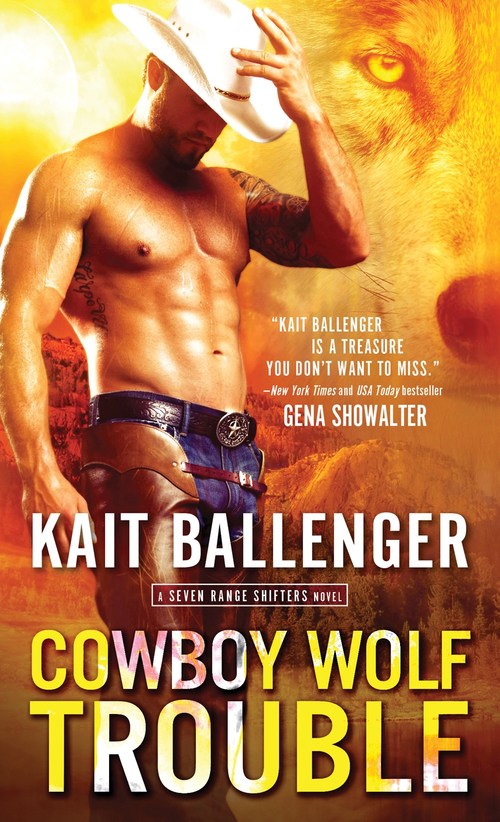 Seven shifter clans call the Montana mountains home. But a new evil will stop at nothing to tear their world apart.
For centuries, the shifters that roam Big Sky country have honored a pact to keep the peace. Even bad-boy rancher Wes Calhoun, former leader of a renegade pack, has given up his violent ways and sworn loyalty to the Grey Wolves. But his dark past keeps catching up with him…
Human rancher Naomi Evans cares only about saving the ranch that was her father's legacy. Until a clash with Wes opens up a whole new world—a supernatural world on the verge of war—and Naomi, her ranch, and the sexy cowboy wolf stealing her heart are smack dab in the middle of it.
Romance Paranormal [Sourcebooks Casablanca, On Sale: January 1, 2019, Mass Market Paperback / e-Book, ISBN: 9781492670766 / eISBN: 9781492670773]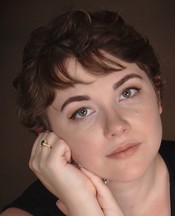 Kait Ballenger is a full-time romance author, wife, a former professional bellydancer, and soon-to-be-professor. She is the multi-published author of the Execution Underground paranormal romance series about an international network of supernatural hunters who fight to protect humanity.
With a B.A in English from Stetson University (2011), Kait is graduate of Spalding University's M.F.A in Writing for Children and Young Adults program (2013), where she studied dual-genre in screenwriting.
When Kait's not preoccupied with paranormal creepy-crawlies, she can be found spending time with her family or with her nose buried in a book. She lives in Florida with her husband, their doggie-daughter Sookie (yes, like the heroine in Charlainne Harris' books), and two mischievous cats Elliot and Olivia (yes, like the Law and Order characters), near the love and care of her supportive family. Kait believes anything is possible with hard work and dedication. One day, she will be a bestseller and have people name their pets after her characters too.