"I may look like a monster, but I'm not going to hurt you." Her reluctance offended him more than he cared to admit. His reputation painted him in a grim light–and for good reason–and he knew that side of his face was hideous, deformed, but he'd just risked his life for her, saved her. . . and with them alone in his room like this, the thought of when he'd kissed her inside that godforsaken closet haunted him. He'd kissed her so thoroughly that the feel of her against him was forever seared into him.
And then he'd told her it meant nothing to him.
What a load of horseshit.
"It's not that. I was afraid I'll hurt you." She reached for him again.
This time, she didn't shy away. With gentle movements, she cupped his cheek and used a handkerchief to wipe away the fresh blood. Her touch was gentle, tender. Some of the nerve endings on that side were damaged, making it less sensitive, yet he was aware of her every movement. Rogue could count the number of times someone had touched him there on less than one hand. The stroking movements of her palm and handkerchief as they brushed against him felt foreign, distant, as if she were touching him through a kind of veil.
A veil of time lost. . .
As she tended to him, he watched her, searching for her disgust, but he didn't find any. Instead, he only found kindness, maybe a hint of curiosity, but not disgust. This close to her, he could imagine what it'd be like to lean in and capture her lips again. She'd tasted sweeter than he could ever imagine. But he wouldn't. Not now.
Kissing her again would be a mistake.
But he'd been a fool to never take advantage of that opportunity as a teenager, back when they had stood a chance. Back when he'd been worthy of her. The pale green of her eyes was washed even lighter in the moonlight, and for a fleeting moment, he lost himself there. For the first time in years, he forgot who he was.
Suddenly, he was no longer the Rogue, a dark, nefarious monster of a criminal who lived his life among the shadows, who'd earned his reputation through sin and blood. Instead, for a brief moment, he was Jared. Just Jared. Sitting next to the woman he'd once loved, the woman he'd sacrificed everything for. Twenty years earlier, he would have told her everything. Back then, they would have sat on the roof of her house beneath the stars, perched there like two night owls as they exchanged whispers. Back when he'd meant something to her.
Silently, he willed her to see the truth.
But she didn't.
Mae broke eye contact, turning away. Pain seared through him, but he pushed it down, shoving the memories and emotions into the cavernous hole in his chest, the place where the darkness of his past ate away at him, where he kept his secrets. She didn't see him, and she likely never would.
And he hated that he wanted her to so desperately.
She rubbed the handkerchief over his skin one last time, the caress leaving his cheek free of blood. She reached for more isopropyl alcohol. Unscrewing the cap, she tried to pour some onto the handkerchief material, but it spilled onto the thigh of his jeans. "Crap. I'm sorry. Let me–" She reached for his thigh.
Instantly, he caught her wrist in his. "Don't," he warned. His eyes flashed to his wolf 's. He needed to keep his distance for both their sakes, and if she stroked her hand over his thigh when they were alone like this, now that he knew how she tasted. . .
Her lips parted and she swallowed a gasp. He could tell she was both intimidated and intrigued, but she'd never admit it.
"You don't scare me," she whispered.
"Pity," he said. "I should." His voice was a dark, purring growl.
They lingered there, their gazes locked and neither one of them willing to relent. The tension between them grew so thick he could have cut it with his knife. Temptation thundered through him. All it would take was one tug of her wrist, and she'd topple into his arms. One little pull and he'd finally claim her. This time, there would be no interruptions to stop them. He'd have his way with her. And from the heady mixture of fear and desire in her eyes, she wouldn't protest.
Her tongue darted out to wet her pink lips as Jared fought to keep his grip steady. He was close enough that even in the moonlight, he could count the spattering of freckles on her cheeks, the way they speckled across her nose and climbed to reach her eyes. Close enough to see the amber starburst that encircled the green of her iris. Close enough to watch the cords of her throat dance as she swallowed. Close enough to want to taste her and to know that if he dared, she would let him again. What he wouldn't give to have just another taste. . .
She's not for you, and she never will be. Not with what lay in their future now.
"Draw nearer and you'll regret it," he warned.
The truth instantly broke the tension for them both.
"I'm sorry," she finally whispered again. She tore her gaze away, and he released her wrist. She quickly repoured the alcohol, this time away from his lap.
When she turned back toward him, she refused to meet his eyes. Instead, she focused just over his right shoulder, away from him. "This'll hurt," she warned. She swiped the damp handkerchief over the open wound.
He hissed in response. But the pain brought instant relief, reminding him of himself, of who he was, what he was, what remained at stake. When all was said and done, Mae would be little more than collateral damage in the game he played.
Once their deal was complete, she'd hate the very earth he walked on. She'd been a fool to make a deal with a wolf like him, and she'd soon realize that, because he wasn't the hero in this story. He was the villain.
And the sooner he remembered his role, the better.
(C) Kait Ballenger, Sourcebook Casablanca, 2020
—
COMMENT TO WIN: What do you love about shifter romance? Answer this question in a comment below and you'll be entered to win a copy of WICKED COWBOY WOLF! US and Canada only – good luck!
—
Seven Range Shifters #3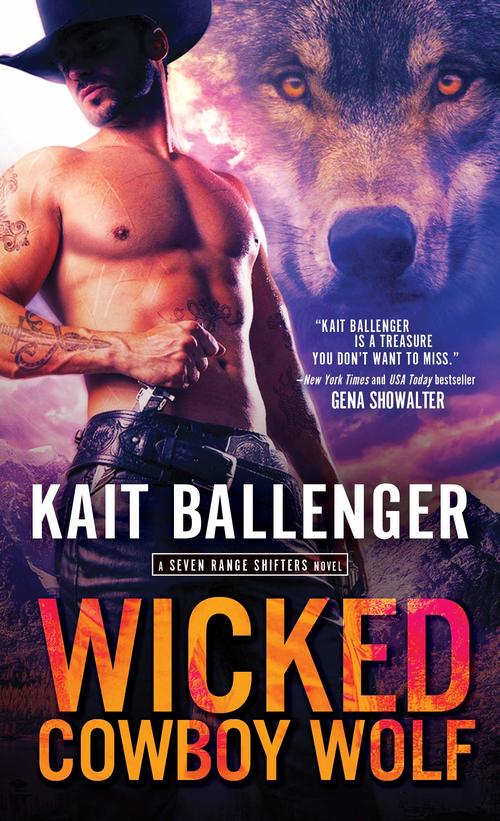 To his enemies, he's known as the Rogue. To her, he's her only chance at survival. . .
Years ago, Grey Wolf Jared Black was cast from the pack for a crime he didn't commit. Now, he's the mysterious criminal wolf known only as the Rogue, a name his former packmates won't soon forget. But when a vampire threat endangers the lives of their entire species, Jared must confront his former packmates again, even if that means betraying the only woman he's ever loved. . .
Ever since Maeve Gray escaped the pack's bloodsucking enemies, she's been determined to save her species–and fast. Each passing day risks the lives of her friends and family. But when a wicked cowboy wolf shows up on the Grey Wolf ranch, offering everything Maeve's heart desires, her eyes are opened to a whole new world beyond the packlands. For this cowgirl, sleeping with the enemy could prove as desirable as it is deadly. . .
Romance Western | Romance Erotica Sensual | Romance Paranormal [Sourcebooks Casablanca, On Sale: January 28, 2020, Mass Market Paperback / e-Book, ISBN: 9781492670827 / eISBN: 9781492670834]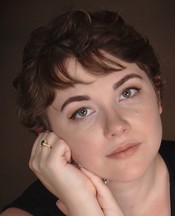 ROMANCE AUTHOR, WORLD TRAVELER, ENGLISH PROFESSOR, AND FORMER PROFESSIONAL bellydancer, Kait Ballenger hated reading when she was a child, because she was horrible at it. Then by chance she picked up the Harry Potter series at the age of eight, fell in love with reading, and never looked back. When she realized she could tell her own stories, the deal was sealed. A first-generation college student, she earned her B.A in English from Stetson University, followed by an M.F.A in Writing from Spalding University. After stints working as a real vampire (aka a phlebotomist), a bingo caller, and a professional bellydancer, Kait finally decided that her eight-year-old self knew best: Kait's meant to be a writer…though the jury is still out on being the next J.K Rowling. When Kait's not preoccupied with writing captivating paranormal romance, page-turning suspense or love scenes that make even seasoned romance readers blush, she can usually be found spending time with her family or with her nose buried in a good book. She loves to travel, especially abroad, and experience new places. She lives in Florida with her husband and two young sons. And yes, she can still bellydance with the best of them…