I've always been a plot-oriented writer–which can be good news or bad. Fortunately, the idea for BEYOND DANGER, book #2 of my Texas Trilogy, came to me while I was working on book #1.
Beau Reese, co-owner of Texas American Enterprises, is black-haired, blue-eyed, and sexy as hell. He was once a highly successful race car driver, sort of a Texas Paul Newman. Beau loves fast cars and fast women.
He is also wanted for murder.
Private Detective, Cassidy Jones, is smart and beautiful and she's no pushover. Lucky for Beau, she's also determined to prove his innocence.
When the idea came to me for the first book in the trilogy, BEYOND REASON, I knew I wanted to write multiple stories set around Lincoln Cain. Since Linc owned a company that demanded a lot of his time, I figured he needed a partner to help while he was trying to protect the heroine, Carly Drake, from a dangerous drug lord.
As I began working on the second book, the beginning was easy. Beau was in the wrong place at the wrong time, making him the prime suspect in his father's murder. The trick was to follow the clues that would lead him and Cassidy, a private detective, to the information that would prove Beau innocent of the crime.
Unfortunately, to do that, they ultimately needed to find the person who actually committed the murder. Which meant they had to find out why someone wanted Beau's father, a former Texas state senator, dead.
One of the best parts about writing a novel is finding the right pieces and parts of the puzzle then figuring out how they all go together.
It's also one of the worst parts.
Nothing is worse than writer's block, the curse of every author. So far, determination and persistence have managed to get me through those times.
I like to write big stories, which means they're stand alone novels, each with a very different plat. But the heroes are always connected, the kind of men who are there for each other no matter how tough things get. In BEYOND DANGER, Beau gets help from Linc and Linc's brother, Joshua, the hero of BEYOND CONTROL.
I hope you enjoy BEYOND DANGER, and that you'll watch for Josh Cain in BEYOND CONTROL, out in June. If you haven't read Linc and Carly's story, BEYOND REASON, I hope you'll give it a try.
Till next time, all best and happy reading. Kat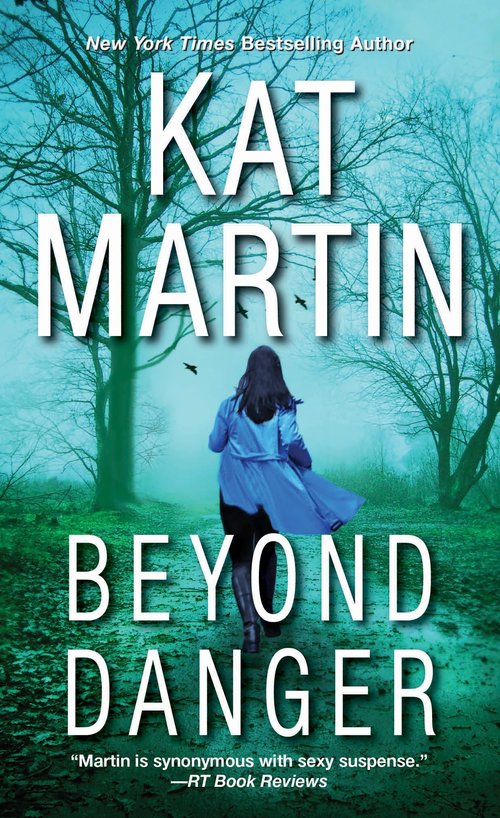 Texas mogul Beau Reese is furious. All six feet three obscenely wealthy, good-looking inches of him. His sixty- year-old father, Stewart, a former state senator no less, has impregnated a teenager. Barely able to contain his anger, Beau is in for another surprise. It appears that Stewart has moved an entirely different woman into the house…
Beau assumes that stunning Cassidy Jones is his father's mistress. At least she's of age. But those concerns take a sudden backseat when he finds Stewart in a pool of blood on the floor of his study—and Cassidy walks in to find Beau with his hand on the murder weapon.
The shocks just keep coming. Someone was following Stewart, and Cassidy is the detective hired to find out who and why. Now she'll have to find his killer instead. Her gut tells her it wasn't Beau. And Beau's instincts tell him it wasn't Cassidy. Determined to track down the truth, they form an uneasy alliance—one that will bring them closer to each other—closer to danger and beyond…
Romance Suspense [Zebra, On Sale: January 30, 2018, Mass Market Paperback / e-Book, ISBN: 9781420143171 / eISBN: 9781420143188]
For New York Times bestselling author Kat Martin, a career in real estate led her down the road to romance.
Through real estate, Kat found her own perfect match–her husband, Western author Larry Jay Martin.
"We were on opposing sides of a transaction–I represented the seller and he represented the buyer," Kat recalls.
A short time after the two became acquainted, Larry asked her to read an unpublished manuscript of an historical western he'd written. Kat fell in love with both the book and the author!
"It was quite a romantic story," she admits. "I'd still like to see it get published." Then, after doing some editing for her future husband, she thought she'd try her own hand at writing.
Kat moved on to become the bestselling author of over fifty historical and contemporary romance novels. To date, 15 million copies of her books are in print, and she's been published around the globe, including Germany, Norway, Sweden, China, Korea, Bulgaria, Russia, England, Estonia, Lithuania, South Africa, Italy, Poland, Thailand, Portugal, Turkey, The Slovak Republic, Spain, Argentina, Estonia, Czech Republic and Greece.
When she's not writing, Kat also enjoys skiing and traveling, particularly to Europe. Currently, she's busy writing her next book.