As I was finishing the last few pages of my upcoming novel, THE DECEPTION, Hawk Maddox and Kate Gallagher's story, I got an interesting phone call.  I'm fortunate to be represented by a literary agency in New York as well as an agency in Hollywood.
Since I love movies, I've always wanted to see one of my books made into a feature film.  The Hollywood agency phoned about my novel, BEYOND REASON.  The story is set in Texas and is an action-adventure that revolves around the rivalry between Carly Drake, who inherits her grandfather's failing trucking firm, and powerful multimillionaire Lincoln Cain, her number one competitor.
Worse yet, Carly needs Linc's help to find the men who are willing to kill to keep her from making Drake Trucking successful again.
Big money is involved.  And very big danger.
The transaction involving the rights was exciting from beginning to end, with David Haring at TinRes Entertainment making the offer, several agents negotiating the terms, and me–thrilled to have a chance to see one of my books made into a film.  Most likely, the story will be a made-for-TV movie, but it is also optioned with the possibility of a major motion picture or TV series.  I would love to see 6'5" Lincoln Cain on a weekly TV show!
Once the deal was completed, I went back to work on THE DECEPTION, will be in stores on September 10th.  I hope you will watch for it and that you will also keep an eye out for Linc and Carly's movie.  It takes years to complete a film but I promise to keep you posted on details as they come in.
Till then happy reading and all best wishes, Kat
Maximum Security #2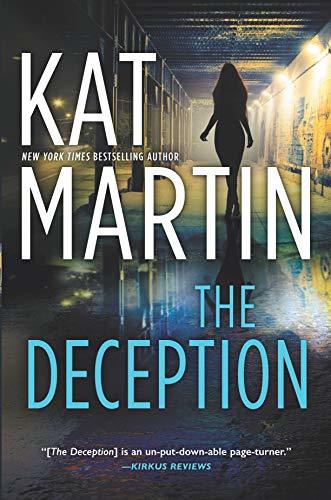 When missing turns to murdered, one woman's search for answers will take her to a place she never wanted to go…
After searching for her sister for two long years, Kate Gallagher is devastated when she's called to the morgue to identify Chrissy's body, the runaway teen the victim of a brutal attack. Guilt and grief send Kate into a tailspin. She failed Chrissy once…she won't do it again. Even if finding her sister's killer means following a lethal bounty hunter into the heart of darkness, placing both their lives in danger.
Working at Maximum Security has taken Jason Maddox down some dangerous paths, but never for a client he's so drawn to, or for a case so monstrous. As clues lead them deeper into the city's underbelly, connections to human trafficking draw them closer and closer to peril, but even Jase's warnings can't convince Kate to walk away. As the deadly operation puts a target on their backs, they'll have to decide what matters most: the truth…or their lives.
Romance Suspense [HQN, On Sale: September 10, 2019, Hardcover / e-Book, ISBN: 9781335007698 / eISBN: 9781488054327]
For New York Times bestselling author Kat Martin, a career in real estate led her down the road to romance.
Through real estate, Kat found her own perfect match–her husband, Western author Larry Jay Martin.
"We were on opposing sides of a transaction–I represented the seller and he represented the buyer," Kat recalls.
A short time after the two became acquainted, Larry asked her to read an unpublished manuscript of an historical western he'd written. Kat fell in love with both the book and the author!
"It was quite a romantic story," she admits. "I'd still like to see it get published." Then, after doing some editing for her future husband, she thought she'd try her own hand at writing.
Kat moved on to become the bestselling author of over fifty historical and contemporary romance novels. To date, 15 million copies of her books are in print, and she's been published around the globe, including Germany, Norway, Sweden, China, Korea, Bulgaria, Russia, England, Estonia, Lithuania, South Africa, Italy, Poland, Thailand, Portugal, Turkey, The Slovak Republic, Spain, Argentina, Estonia, Czech Republic and Greece.
When she's not writing, Kat also enjoys skiing and traveling, particularly to Europe. Currently, she's busy writing her next book.