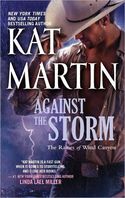 Unfortunately, the biggest trick is finishing the book!
This year marks the release of my 50th novel (or more, depending on how you count them).  AGAINST THE STORM, Houston cowboy Trace Rawlins' story, hits bookshelves October 25th.
But getting the first book sold wasn't easy.  I'm sure every author has an interesting tale of how he or she got published.  In my case, my husband Larry had written an Historical novel titled SHADOW OF THE MAST, but he couldn't get it sold.  I loved the book, which was extremely moving and very romantic.
Since I was a voracious reader of bestselling fiction and adored the book, I couldn't understand why publishers weren't grabbing it.  (I still have no clue as to how New York publishers actually think.)
I decided to see if maybe there was something I could do to polish it a little, maybe help it sell.  By the time I was finished, I was hooked on the idea of writing a book of my own.
I chose a Western Romance because I had a western background and MAGNIFICENT PASSAGE was born.  Now both of us had a book to sell, which we tried to do by attending conferences, looking for editors who might be interested in our manuscripts, and trying to find an agent.
At a conference in Fresno, California, we met a woman who agreed to read sixty pages of any attendee's manuscript.  We sent the pages and the agent took both of us on as clients.
Unfortunately, those manuscripts were both summarily rejected by every publisher in NYC, and, as with all new authors, despair set in.  However, undaunted, we each stared another book.
In the meantime, months later, the very last publisher my manuscript had been sent to decided to buy it.  As luck would have it, Pageant Books made it the lead title for their new romance line, a great start for me.
During that time, Larry's manuscript, his second western novel, TENKILLER, was sitting in the slush pile at Kensington where it had been for nearly a year.  It was picked up, read, and purchased.  After all the waiting, we were published six weeks apart, which meant we could travel and promote our novels together.
Unfortunately for me, my first publisher closed its doors after just two of my books were printed and I was out on the street again.  Again, I was rejected everywhere.
Totally distraught, at the last possible moment, Berkely picked up the book, CAPTAIN'S BRIDE, and again, my book was chosen as a lead title.  Even then, it was no easy road.
Since those early days, I've written for nearly all the major houses.  Some were a real pleasure, others not so much.
Currently, Mira Books is publishing my contemporary romantic suspense novels.  AGAINST THE STORM, my latest, hits bookstores October 25th.  The hero, Trace Rawlins, first appeared in AGAINST THE LAW.
In Houston, Trace meets fiery redheaded photographer, Maggie O'Connell, who hires him to help find a stalker.  But Trace knows redheads are nothing but trouble and he doesn't trust Maggie.  Especially when he uncovers the dark secrets she's been hiding.  But what if Maggie is telling the truth and she is really in danger?
I'm really excited about the book, which is the fourth in my AGAINST series.  I hope you'll watch for it and look for the next two books, AGAINST THE NIGHT and AGAINST THE SUN, coming out in the spring of next year.
Till then, all best wishes and happy reading, Kat
About the Book
Former Army Ranger, Trace Rawlins, knows that redheads are nothing but trouble.  But when fiery, red-haired photographer, Maggie O'Connell comes to him for help in finding a stalker, Trace reluctantly agrees to take the case.  Trace isn't sure he believes her story and his suspicions grow as he uncovers more and more of Maggie's dark secrets.
But what if the stalker is real and Maggie is telling him the truth?  Trace has no choice but to protect her.  Even if it means putting his heart at risk.
Order your copy at Barnes & Noble
Pre-order from Amazon
Pre-order from Indiebound
Connect with me on Facebook
Enter my CONTEST
Watch Video
Read an excerpt
Read reviews
To comment on Kat Martin's blog please click here.