I'll just admit it. I have a thing for a man in uniform. Having spent several years in the U.S. Marine Corps, I have a slight bias for Marines in general. And I love putting that service spin on my characters.
In the Movin' On series, the heroes (and a heroine!) are veterans. And not just Marines, which made the story even more fun. There's something magical that happens when you group together people from different armed services—they talk a lot of smack.
At the gym, Reid and his brother, Cash, are getting help from a fellow Marine and trainer (Gavin):
"Reid, that's pathetic," Gavin said. "Lift like you got a pair, man. Or do you want people to think you were in the Air Force?"
Next to them, an older man frowned. "Hey."
"Sorry. I meant the Army."
"What's the difference?" Cash muttered, and Gavin did his best to calm a different older man down.
When writing The Whole Package, I had the Marine Corps stuff pretty much nailed down. The other services I had to research, and I learned some interesting facts. Military Police (MPs) are called different things in the different services. The Marines and Army have MPs, the Air Force has Security Forces, and the Navy uses Masters at Arms to designate their law enforcement. Reid's paygrade (rank) in the USMC was E-7, a Gunnery Sergeant. In the Army, he'd be a First Sergeant, in the Air Force a Master Sergeant, and in the Navy a Chief Petty Officer.  
The military aspect of the characters highlight layered backgrounds, as these people come from a place of sacrifice and servitude for others. I wanted to imbue them with a selflessness. Not to say the characters are saints—far from it. But considering how stressful it is to move at all, what better than to have people who are dedicated and happy to help, putting the customer first (and handsome doesn't hurt)? So enjoy your vets on the hunky side, and check out this excerpt from The Whole Package and meet Reid and Naomi.
Hector set the box on the reception counter and turned to her. "Sorry about that. We're still growing. Got so much attention from that thing on the news that it's total chaos lately."
Hector turned to the people waiting. "Hey, folks. Reid'll be right with you." To Naomi, he said, "Reid's the guy you want to talk to."
Thank God. She nodded her thanks.
Hector took his box through one of the closed doors, then reappeared and grabbed a clipboard the blond man at the desk handed him. Hector looked at it, mumbled something under his breath, then left in a hurry.
The man and woman on the couch, probably a couple, continued to peruse their magazines. The older man across from them noticed Naomi's gaze, shrugged, and said, "Got nothing but time."
Behind the desk, the lanky blond continued his call, his gaze now glued to her. He hung up and smiled. "Well, hello. How can I help you?"
The way his gaze subtly traveled over her, lingering on her face instead of her curvier assets, along with that charming smile, made her feel appreciated instead of leered at, which she found amusing. The guy had looks and charisma and worked them to his advantage.
She continued to catalogue the strengths and weaknesses in the place as she answered, "Hi. I'd like to talk to Reid Griffith if he's available. I'm here to help with your marketing and PR needs." She didn't want to be confused with another client needing a move.
"Do you have an appointment?"
"I couldn't get through on the phone. It just kept ringing."
"Damn it," came the growl from behind her. "I knew this would be a problem."
She turned to see a dark-haired man with light gray eyes striding into the office. Reid, apparently. Naomi could only stare as his magnetic pull made it impossible to look away. He barely gave her any notice, glancing instead at the people waiting. "Sorry, folks. Finley will be right with you." He gazed at the blond man, one dark, arched brow raised.
"So I'm done manning the phones?"
Reid groaned. "The phones are killing me. Yeah. Thanks, but I need you to help the people waiting here. Use office 2A."
Finley nodded and stood. Geez, did they hire anyone small around here? Unlike the other men she'd seen, Finley had a more streamlined appearance. If he was an athlete, she'd think him a runner or cyclist.
He stepped around the desk, gave her a wink, then smiled at the couple. "Okay, Mr. and Mrs. Barnett. Come with me, and we'll get you scheduled."
Reid walked over to the older man. "Mr. Thompson, sorry for the long wait. Would you come with me?"
The gentleman grabbed a black Vietnam Vet ballcap, placed it on his head, and stood with a grin. "See what happens when you save the day? Get too popular to handle yourselves."
Reid ran a hand through his short, dark brown hair. "You got that right. Sorry again for the wait." He spared her a glance and gave a clipped smile. "I'll be with you after Mr. Thompson, ma'am."
She blinked and nodded, still staring like an idiot.
Then he turned and escorted Mr. Thompson into one of the empty offices.
She sat, trying to gather her thoughts.
The amount of eye candy around the place had thrown her. It was like an office for supermodel buff guys. Normally, Naomi was the one drawing the eye. But in this place, she didn't feel as if she stood out. It didn't help that Reid had barely spared her a look before leaving with Mr. Thompson.
(C) Marie Harte, 2019, Sourcebooks Casablanca
Happy reading!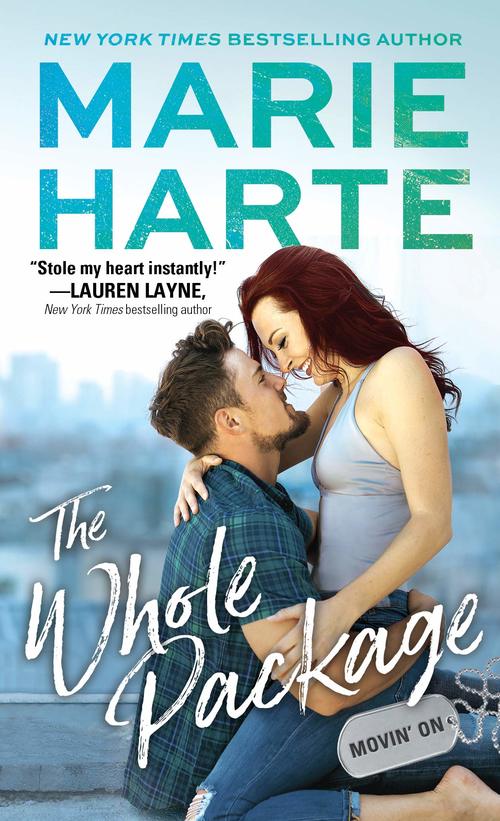 Always the caretaker, former Marine Reid Griffith wants to
help his brother adjust to civilian life…and help other
former servicemen. What better way to utilize their brawn,
discipline, and charm than a moving company that hires
veterans? But although Reid prides himself on being
strategic, he certainly doesn't plan to fall in the
spotlight of one brilliant—and beautiful—PR whiz…
PR expert Naomi Starr is determined to bring Vets on the Go!
into the spotlight. But when she meets Reid, it might mean
breaking her rule to never mix business with pleasure.
Especially once she discovers that underneath Reid's sexy
rough-and-tumble exterior is a vulnerable man who just might
need what she's got to give.
Romance Contemporary [Sourcebooks Casablanca, On Sale: January 29, 2019, Mass Market Paperback / e-Book, ISBN: 9781492670445 / eISBN: 9781492670452]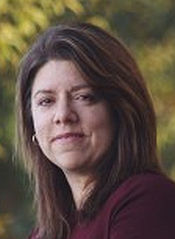 Caffeine addict, boy referee, and romance aficionado, USA Today bestselling author Marie Harte has over 100 books published with more constantly on the way. Writing romance, and in particular erotic romance, across the genres, she's created stories set on other worlds, among paranormal creatures, and between normal men and women seeking true love.
Marie is a confessed bibliophile and devotee of action movies. Whether hiking in Central Oregon, biking around town, or hanging at the local tea shop, she's constantly plotting to give everyone a happily ever after. Visit her website and fall in love.