WAIT UNTIL DARK is a digital novella that introduces my new Maximum Security series, set around a private security company in Dallas, Texas.  The story gives you a sneak peek at the private detectives, bail enforcement agents, and bodyguards who work at The Max.  
If you read BEYOND DANGER, Beau Reese's story, you might recall meeting Chase Garrett, the owner of Maximum Security, where female detective, Cassidy Jones, was employed.   The first full-length novel in the series, Chase's story, THE CONSPIRACY, will be out January 22 of next year–just in time for Valentine's Day!
In WAIT UNTIL DARK, Jonah Wolfe, a private investigator, has a knack for spotting trouble. When April Vale storms into his office, all his warning signs flash neon red. April's been accused of murder–but has no memory of how she awoke in her coworker's bed, drenched in his blood, the deadly bullet fired from April's own gun.  April must convince Jonah to help her prove her innocence and the clock is ticking. The real killer is out there–and if they don't find him before it's too late, April may be his next victim.
I hope you enjoy WAIT UNTIL DARK and that you'll watch for Chase Garrett and Harper Winston in THE CONSPIRACY.
Warmest wishes for the upcoming holiday season, Kat
Maximum Security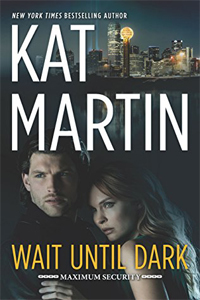 Don't miss the thrilling prequel to New York Times bestselling author
Kat Martin's brand-new series, Maximum Security!
Private investigator Jonah Wolfe knows trouble when he sees it. So
when April Vale storms into his office at Maximum Security, all his
warning signs flash red. April's been accused of murder, except she has no memory of how she woke up in her coworker's bed—drenched in his blood, as he was shot with her gun. As the campaign manager for the mayor, April's job and life are on the line if she doesn't figure out who's trying to frame her. But the clock is ticking, and the pair must find the murderer…before April winds up dead.
Romance Suspense [HQN Books, On Sale: November 1, 2018, e-Book, / ]
For New York Times bestselling author Kat Martin, a career in real estate led her down the road to romance.
Through real estate, Kat found her own perfect match–her husband, Western author Larry Jay Martin.
"We were on opposing sides of a transaction–I represented the seller and he represented the buyer," Kat recalls.
A short time after the two became acquainted, Larry asked her to read an unpublished manuscript of an historical western he'd written. Kat fell in love with both the book and the author!
"It was quite a romantic story," she admits. "I'd still like to see it get published." Then, after doing some editing for her future husband, she thought she'd try her own hand at writing.
Kat moved on to become the bestselling author of over fifty historical and contemporary romance novels. To date, 15 million copies of her books are in print, and she's been published around the globe, including Germany, Norway, Sweden, China, Korea, Bulgaria, Russia, England, Estonia, Lithuania, South Africa, Italy, Poland, Thailand, Portugal, Turkey, The Slovak Republic, Spain, Argentina, Estonia, Czech Republic and Greece.
When she's not writing, Kat also enjoys skiing and traveling, particularly to Europe. Currently, she's busy writing her next book.