You know the scene. That one where the hero races through the airport to catch his sweetheart before she boards the plane and soars out of his life forever. It's a moment in countless stories, both in print and in cinema, where we cheer for the couple and maybe even become a little misty-eyed. But really, what would you do if you were faced with the potential of losing the best thing in your life?
Many great love stories feature an airport or airplane scene, often in those final moments of the story when all hope seems lost. That's when one of the characters realizes the depth of their feelings and risks everything to declare their love.
Here are my top five favorite airport/airplane scenes from movies and television:
Love Actually: This movie is unique in that it starts and ends in Heathrow airport. As the movie opens, we see various couples and families happily hugging their loved ones at the arrival gate. At the end of the movie, we watch as a dad, played by Liam Neeson, rushes his son through the airport so that the young boy can express his feelings to a classmate who is moving away. Love Actually reminds us that both in the comings and goings found throughout an airport, love is often the overriding emotion. It makes people laugh or cry or race through the crowds in a last-ditch attempt to proclaim their love.
There is an iconic sprint through the airport in the TV show Friends. Ross was never good at hiding how he felt about Rachel. Everyone understood the extent, except maybe Rachel. So, Ross and Phoebe make a mad dash to the departure gate, hoping to catch Rachel before she boards her flight. Then when Ross makes his heartfelt announcement, Rachel can't cope so she gets on the airplane anyway. It isn't until later when Ross listens to a message on his answering machine that we learn that Rachel tried desperately to get off the plane at the last minute when she realizes her love for him. And just like Ross, our hearts are gripped with the question, "Did she get off the plane?"
Sometimes the airport terminal is simply the backdrop for a giant epiphany as in the movie Sleepless in Seattle, starring Tom Hanks. Hanks plays Sam, a single father to Jonah. Together Sam and Jonah go to the airport to drop off Sam's girlfriend at the departure gate. While there, Jonah makes it thoroughly clear that he doesn't like his dad's girlfriend. This leads Sam to share some wisdom with his son—"There's no such thing as perfect." The moment those words are out of his mouth, Julia, played by Meg Ryan, walks through the arrival gate, sparking Sam's interest and proving that sometimes timing and a connection are truly perfect.
An example of a perfectly grand gesture is when Marshall goes to the airport to pick up Lily in How I Met Your Mother.  This is one of my favorites. The hero goes to extraordinary lengths to be there for the woman he loves, even arranging for Lily to be serenaded by a marching band playing Auld Lang Syne.
By far, my favorite airport/airplane scene is in the movie, The Wedding Singer, starring Adam Sandler and Drew Barrymore. Sandler plays Robbie Hart, a wedding singer with a broken heart, and Barrymore plays Julia, a woman engaged to a thoughtless jerk. In the end, Robbie wins Julia's heart when he surprises her by serenading her with "Grow Old With You" midflight.
In my story, JUST FOR A MOMENT, you'll find something a little different. Grace and Aaron work together to restore a WWII aircraft her grandfather left her at his death. It is out of love for Edwin Ross, Grace's granddad and Aaron's dear friend, that they both labor together on the project. And it's during those long hours working side-by-side that they find themselves falling in love.
—
COMMENT TO WIN: What's your favorite airport/airplane scene in a book, movie or TV show? Did I miss one? One random commenter will be chosen to win a $10 Amazon Gift Card + one of my backlist eBook titles (winner's choice). Good Luck!
—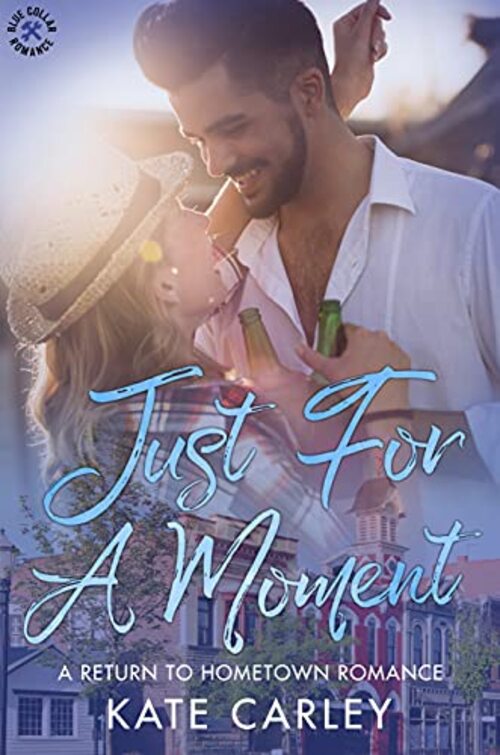 From author Kate Carley comes a blue collar, return to hometown romance with heat, heart and a happily ever after.
For Grace Holland, coming home to Oak Bend isn't easy. The journey stirs up old memories, including the heartbreaking reason her family left town. But now that she's inherited both her granddad's old Victorian home and a World War II aircraft that he'd been working desperately to restore, Grace is ready to face down the demons of her past—if the people in Oak Bend will let her.
Aaron Beckett's life is a balancing act. His aircraft mechanic business is booming and being a single parent of a young daughter keeps him on his toes. But when Gracie Jane Holland, granddaughter of his late friend, steps into his aircraft hangar, Aaron's well-managed life soars out of control, and every free thought begins and ends with that beautiful blonde.
Even with plenty of excuses to avoid each other, sparks fly while they work together to restore an old fighter plane. And just for a moment, it feels as if they've found a deeper, more sustainable connection—until well-meaning half-truths threaten to tear them apart.
When her past and present collide, nothing can prepare Grace for the storm of hatred that pours down on her. Ruthless words leave her questioning whether staying in Oak Bend and putting her heart on the line is worth the pain. Can this small town ever be home again?
Escape to Oak Bend, where blue-collar hotties work hard and love even harder, especially when it comes to landing their happily ever after.
Romance Contemporary [Part-Time Publishing, On Sale: September 24, 2021, e-Book, / ]
Kate Carley broke onto the indie publishing scene in 2016 with her debut novel, Challenged, a 2017 RONE award winner. Since then, she has released ten additional titles that explore small town, family sagas in both the romantic suspense and contemporary romance genres.
Kate took a meandering path to get to the point of published author, including a short stint as a computer systems designer and an extraordinary journey as a home-schooling mom. After more than a dozen years of teaching her kids, Kate opened the front door, pointed the youngest in the direction of the local high school, and focused her attention on writing romance novels.
Now that her four children are off writing their own adventures, Kate is free to drift along in her fictional world, plotting the rise and fall of her characters. She has a passion for black coffee, dark chocolate, and red wine. Not necessarily in that order. Kate lives in the Midwest with her family.