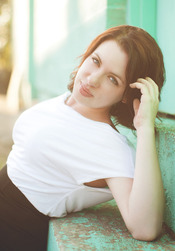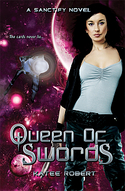 When I first began writing the book that would become QUEEN OF SWORDS, it was a completely different story. I had it in my head that I was going to write fairy tales in space. My heroine, Roselyn, was strong and curious and was perfect for a retelling of East of the Sun, West of the Moon.
Except I never made past the halfway point.
For the longest time, I couldn't figure out what the issue was. I had my Alpha hero (the yumastic Boone) and my devious villain (the too-pretty, sadistic Kristian). I had a universe created, just waiting to be explored.
The problem was my heroine. Oh, she was completely functional, but there was nothing about her that wowed me. I know there is a lot of talk about heroes—which ones drive us nuts, and which ones we would kidnap and tie up in our basements (er…maybe that's just me). However, the thing that makes or breaks a story for me is the heroine. If I don't love her and root for her, the book is dead in the water.
My saving grace came in a somewhat unexpected form. I had just received a Nook for Christmas and I was completely sold on the ability to read a sample of a book before I bought it. One night, I stumbled across Shelly Laurenston's books (to this day, I have no idea if I was just browsing or how exactly I found them). I enjoy paranormal romances, so I downloaded the sample and started to read PACK CHALLENGE. By the end of the first chapter, the drunken heroine pulls a knife and stabs the man attacking her, then proceeds to grope the hero (who had run out to save her) before she's pulled away by her friends. She was, to put it nicely, completely off her rocker. And her friends were no better. I'd never read a book with this level of insanity in the main characters—these were women who had no problem taking a chair to the head of a guy who won't leave them alone.
And, just like that, the solution to my issue fell into my lap. My heroine wasn't spicy enough. She was *gasp* BORING. So I set off to make her more interesting. Several days of research later, I had my tarot card reading, snarky, gunrunner Diviner—Ophelia. The perfect woman to put Boone through his paces.
What is it about a heroine that puts you firmly in their corner, rooting for them to win the hero's heart?
Comment to win an e-copy of QUEEN OF SWORDS!
To comment on Katee Robert's blog please click here.