It's here! That book you've been waiting for and had on pre-order for AGES. Release day has finally arrived, and you have it in your hot little hands and you are about to binge read the heck out of that sucker.
But life has a way to getting in the way and trying to screw up a really decadent day of reading. That's okay. I'm here to help. I've put together a Release Day Survival Kit to help you read to your heart's content!
Here goes!
Something snuggly. The more snuggly the better. Heck, if you have an actual Snuggie, you're ahead of the game. The more tucked in and comfortable you are, the harder it will be for the world to intrude. I'm pretty sure that's release day 101.
Locked Door. Putting a door between you and the rest of the world is pretty important. Bonus points if you develop a COUGHsicknessCOUGH and take the day for yourself while everyone is out of the house. You're practically obligated to rest and recuperate so you can get back to taking care of everyone else, right? Really, you're doing THEM the favor.
Warm beverage. You're already snuggled down on the couch or in bed. The best way to top off the blissful feeling of diving into your new book? A warm beverage. Tea. Coffee. Hot chocolate. Whatever your favorite, run with it. It might even help that strange cough you developed just now.
Lots of snacks. Who has time to make themselves an actual meal while binge reading? Not me! The trick is to have snacks set up and readily available so you can indulge without having to actually get up and tread to the kitchen. I'm a big fan of goldfish and Dove chocolate!
A block of uninterrupted time. This might be the hardest part of the entire list. There is always something that could be done instead of reading—cleaning, work, family time—but it's important to take time for yourself and truly lose yourself in a good book. Yes, I just gave you permission! Treat yo self!
And that's it! That's all you'll need to have the best release day ever! You work hard, you deserve it!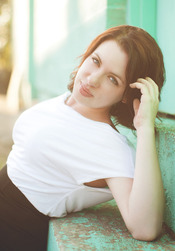 Katee Robert learned to tell stories at her Grandpa's knee. Her favorites then were the rather epic adventures of The Three Bears, but at age twelve she discovered romance novels and never looked back. Now living in Eastern Washington, she spends her time–in between ogling men and planning for the inevitable zombie apocalypse–writing speculative romance novels.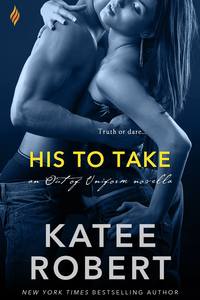 Fans of Samanthe Beck's Private Practice or No Strings Attached by Nicolette Day, will devour the final installment of the Out of Uniform series by NYT and USA Today Bestselling Author Katee Robert.
A sexy category romance novella from Entangled's Brazen imprint…
Truth or dare…
Erin Robinson is having an epically bad year. Her blossoming career on Broadway tanked, forcing her to crawl back to home to Wellington. The icing on her failure cake? Her former on-again, off-again fling is in town, and the sexy Marine is taking up way too much space.
Warren Davis always knew Erin was special, which is exactly why he can't have her. A girl like her deserves something permanent—something neither of them wants. But now that they're both back in town and she's right there in front of him, a challenge in her eyes he's never been able to resist, he's questioning everything.
That challenge quickly escalates into an epic game of Truth or Dare. Erin's sure she's got him on lock, but as the night progresses, Warren's dares intensify, drowning her in lust. But with the past still breathing down their necks, there's no way either of them can win…
Out of Uniform #5
Entangled Brazen
December 2015
On Sale: December 7, 2015
76 pages
ISBN: 1633754677
EAN: 9781633754676
Kindle: B015MPPD5O
e-Book
Add to Wish List