Nothing is better than a mug of hot chocolate in the winter, and RaeAnne Thayne has the perfect recipe to make.
Luxurious Hot Chocolate
4 cups of milk (whole is best)
8 ounces of high-quality chocolate … I like Guittard semisweet chips. White chocolate works too, for a different taste.
3 teaspoons of powdered sugar
1 teaspoon of vanilla extract (pure, not imitation)
1/8 teaspoon salt
Finely chop the chocolate. Even if using chocolate chips, the smaller the pieces, the better it will dissolve in liquid. On low heat in a medium saucepan, bring the milk to a low boil, whisking occasionally to keep from scorching. Add the vanilla, powdered sugar, salt and chocolate and whisk vigorously until the chocolate has melted. Heat for another 4 minutes, constantly stirring. Serve with a dollop of real whipped cream.
You can add lots of things to this recipe: Mint, vanilla bean, cinnamon stick. Whatever your preference. Just add herbs or spices to the milk while simmering. After it boils, remove from heat and let the milk steep for 10 minutes then strain off your add-ins and return to simmer before adding the chocolate and other ingredients.
Stories of Hope, Healing, & Heart from USA Today Bestselling author
RaeAnne Thayne will do anything to tell a story. In 15 years as a newspaper reporter and editor, she rode along with a motorcycle gang, took a trip in a hot air balloon and even gave a hunky country music star her home phone number (it was for an interview — honest!).
When she wasn't working as a journalist, though, RaeAnne worked on her real love — writing romance novels. She dreamed of publishing a book long before she ever thought it was possible. In fact, college friends used to spend hours when they should have been studying, trying to help her come up with a good pseudonym (none of which she actually ended up using, since she writes under her own name!).
After graduating from college, she took a job as a reporter at a daily newspaper, then moved to news editor. It wasn't until she was home on maternity leave after the birth of her first child in 1990 that RaeAnne seriously tried her hand at fiction writing. She sold her first book in 1995 and quit her editor job two years later to write full-time.
She is a two-time recipient of the Heart of Romance Reader's Choice award and has been a finalist for the RITA and for the National Reader's Choice award.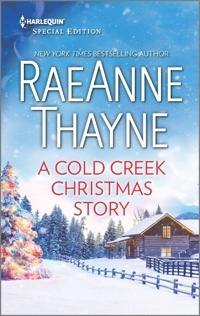 Sparkle In The Snow Leads To So Much More
Celeste Nichols has always preferred to keep to herself in her hometown of Pine Gulch, Idaho until she becomes an instant celebrity! When one of her children's stories becomes a major success, she's suddenly the talk of the town. Celeste should be gloriously happy but something, someone, special is still missing from her life. Could the return of her childhood crush be the answer?
Flynn Delaney has moved back home for his daughter's sake. Yet all the millionaire's resources can't help the little girl heal from the tragic loss of her mother. Shy librarian Celeste and her stories do hold some indefinable magic, though. Flynn came home looking for support—can he find that, and true love, in the one who got away?