He was handsome.
Lucia had noticed that from the outset. It was difficult to tell beneath all of that grime and hair, but once she got a good look at his face, she could see just how handsome he was. And young; he wasn't old at all. Well, relatively old. At ten or more years than her twenty and one.
He was a man in his prime.
But he was also living on the streets, and in addition to the smell of piss from the pot she'd slung at him, she thought she could smell ale. After the chaos of the sausages had died down and she realized he was injured, she still couldn't explain what made her go back to see how badly he was hurt. Perhaps it was the fact that something in his eyes conveyed utter defeat.
He was a man who had given up.
Perhaps that was why she'd insisted he come back with her to Meadowbank. All she knew was that something in his eyes had pulled at her, something that captured her curiosity and natural empathy. Certainly, she'd seen her share of the destitute in Edinburgh. But what made this man different, she didn't know.
Something…
But first, he needed a bath and food. That was the least she could do for him, considering his attempted act of valor during the sausage disaster. But she didn't want her mistress to know she'd brought a man back to the manor, so she went to the stable master and explained the situation.
The stable master, being a very old man with a kind disposition, assured her that he would help the man. In little time, a big copper pot, clean straw, and blankets were heading to that tiny storage cottage. Everything needed for a bath was being brought in, and Lucia confiscated soap from the laundress along with clean drying linens. A trip to the kitchens had her carrying a basket filled with bread, cheese, and several apples. With all of it balanced in her hands, she headed back to the cottage.
By the time she reached the rear of the stable yard, the sky had clouded over and it was starting to rain. Fat droplets pelted the ground as she stood at the cottage door while the servants with the hot water buckets finished filling the old copper tub. Once they vacated, she entered the cottage and shut the door behind her.
"Here," she said as she turned around. "I've brought ye…"
Her words were cut off as she found herself looking at the rear view of a naked man. His filthy clothes were in a pile at his feet, and he was standing next to the tub. Startled, she tried to turn around quickly to block her view of the man's nude arse, but she ended up dumping the soap and the linens, barely saving the food in the basket. She heard a laugh behind her.
"Ye sent me a bath, lass," he said. "Am I not supposed tae use it?"
Lucia could hear water sloshing behind her as he climbed into the tub. "Of course ye are," she said, feeling her cheeks flame with embarrassment. "Ye should have told me… That is, I could have waited outside while ye removed yer clothing."
"I suppose it dinna occur tae me," he said. "It doesna matter now, anyway. Ye can turn around. My modesty is protected."
Timidly, she turned around to see that he was, indeed, sitting in the copper tub. She could see him from the waist up, which in truth wasn't a better view than his naked buttocks had been. She should have been permanently traumatized by that sight but, somehow, she wasn't.
It had been unexpectedly tantalizing.
Setting the basket of food down on the ground, she went to collect the linens and soap that she'd dumped. She extended the soap to him and he reached out, taking it from her.
"Do I smell that bad?" he asked.
"Bad enough that ye'll start attracting flies if ye dunna wash up."
He grinned, splashing water over his head and upper body, going to work with a soap that smelled of mint and rosemary. It was hard soap, rare in these times, and produced a good deal of white, slick residue. He scrubbed his head and face with it vigorously.
"What kind of soap is this?" he asked, foam all over his face.
"Savon d'Alep," she replied. "Soap from the Levant. Have ye not heard of it? Lady Currie has it sent all the way from Rome. Everyone here uses it because she says she canna stand the smell of anything else."
Satisfied, he continued to scrub, smelling at the frothy bar. "Nay, I've not heard of it."
"How does yer head feel?"
He splashed water all over his face and hair, rinsing out the soapy residue. "Better," he said. "It was kind of ye tae bring me here. Ye dinna have tae."
"I know," she said, watching him splash. "But as I said, 'twas my fault ye couldna walk. I had tae make amends."
"Ye have a big heart, lass."
Lucia watched him use the soap on his arms, hands, and chest. Thoughts of the glimpse of his naked buttocks filled her mind again but instead of chasing them away, she lingered on them. Muscular buttocks that had been smooth and white, something that made her feel the least bit heated to recall. She had to lick her lips to moisten them because thoughts of the man's nude form dried out her mouth as she sucked in air. She found herself standing back by the door because it was safer that way.
Safer for whom?
Lucia had to ask herself that question.
(C) Kathryn Le Veque, Sourcebooks Casablanca, 2020. Shared with permission from the publisher. 
Scots and Swords #2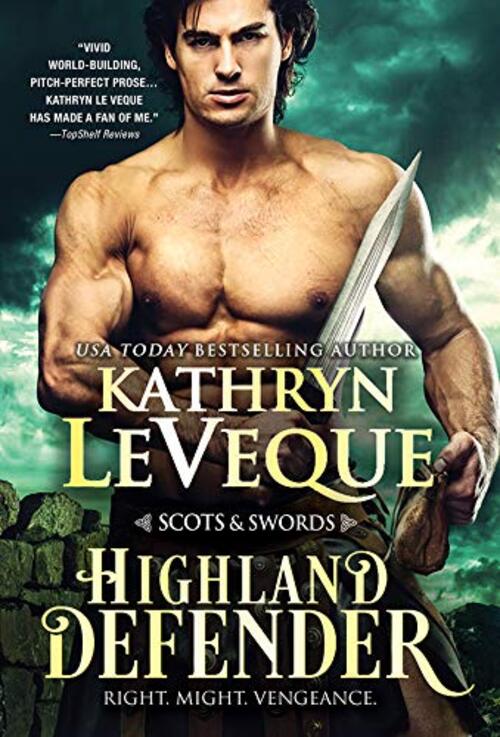 Gladiator meets Fight Club in the Scottish Highlands in a new series from USA Today bestselling author Kathryn Le Veque
Ashamed of a choice that cost good men their lives during battle, Bane Morgan escapes to Edinburgh to forget his past. But the more time he spends away from his Highland home, the more he's filled with regret and despair.
Lucia Symington knows something about despair. Forced to work off a family debt for a clan with little moral compass and a particular hatred for her, Lucia loses herself a little more each day. When a chance meeting with Bane gives them both a glimpse of what their future together could be, Bane turns to the Ludus Caledonia to find the warrior still within him. The Highland Defender has returned…but his quest to free his lady could cost him everything…
"Gripping, impassioned romance."—Tanya Anne Crosby, New York Times bestselling author
Fiction | Romance Historical [Sourcebooks, On Sale: January 26, 2021, Mass Market Paperback / e-Book, ISBN: 9781728210131 / eISBN: 9781728210148]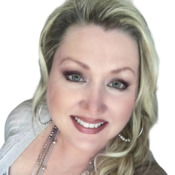 KATHRYN LE VEQUE is a critically acclaimed 18-time USA TODAY Bestselling author, a charter Amazon All-Star author, and a #1 bestselling, award-winning, multi-published author in Medieval Historical Romance with over 100 published novels.
Kathryn is a multiple award nominee and winner, including the winner of Uncaged Book Reviews Magazine 2017 and 2018 "Raven Award" for Favorite Medieval Romance. Kathryn is also a multiple RONE nominee (InD'Tale Magazine), holding a record for the number of nominations. In 2018, her novel WARWOLFE was the winner in the Romance category of the Book Excellence Award and in 2019, her novel A WOLFE AMONG DRAGONS won the prestigious RONE award for best pre-16th century romance.
Kathryn is considered one of the top Indie authors in the world with over 2M copies in circulation, and her novels have been translated into several languages. Kathryn recently signed with Sourcebooks Casablanca for a Medieval Fight Club series coming in 2020.
In addition to her own published works, Kathryn is also the President/CEO of Dragonblade Publishing, a boutique publishing house specializing in Historical Romance, and the President/CEO of DragonMedia Publishing, a publishing house that publishes the Pirates of Britannia Connected World series. In July 2018, Kathryn launched yet another publishing house, WolfeBane Publishing, which publishes the World of de Wolfe Pack Connected series (formerly Kindle Worlds).