Hi, S.W.! Welcome to Fresh Fiction. Please introduce yourself and tell us a little bit about your new book, PATIENCE & ESTHER. 
Hello! I've been making comics for ages and started writing/drawing erotica when Spike of Iron Circus hired me to create a story for the 2014 Smut Peddler anthology. Since then, I've been an ongoing contributor to Filthy Figments, plus my erotic work has appeared in other places like the French magazine L'Immanquable. I've been so freaking fortunate to find publishers who support me in making some of the most fun, indulgent stuff. Working in this genre is a really nice emotional break from the other more serious books I make for other audiences.
Patience & Esther: An Edwardian Romance is Iron Circus Comics' collected edition of my Sparks series that ran on Filthy Figments from 2015-2019. It's about two women who fall in love while working in service on a country estate, and their subsequent journey toward independence as they make a life together. It's a quiet story about the experience of being in love and growth, both as individuals and a couple.
The Edwardian period was a very interesting time of transition in England's history. What sort of research did you do about this time period?
I'm a lifelong history nerd so I've been absorbing information about the period pretty much my whole life, starting with historical fiction as a kid. But that certainly doesn't make me an expert, so I did a whole bunch of research for this book. I watched documentaries, read tons of articles, and consumed other media that utilize this setting (with a healthy dose of fact-checking). One of my weak spots is following minute fashion trends within eras, so I tried to model their outfits on references from specific years.
And because I am a white author, I did extra homework to portray Esther (the Anglo-Indian lead) with sensitivity and respect. I read some academic texts on the Orientalist roots of early British feminism, as the way Esther would have experienced the entire suffrage movement would've been quite different from white Brits. I talked with BIPOC friends about what they felt was missing from historical fiction when it came to representation. And I worked with two brilliant authenticity readers whose families come from West Bengal, where Esther grew up, to get the nuances right.
While I did a lot of research, though, I wouldn't say P&E is completely historically accurate. Being informed helped me better shape the narrative for the kind of experience I wanted to give people, which meant finding a balance between acknowledging the limitations of the era while softening some edges at the same time. I've read enough stories about tragic old-timey gays. P&E was always supposed to be an escape, not a reality check.
 I'd love to hear more about your creative process. When you are developing a graphic novel, do you come up with the idea of the story first, or do the characters/style of the book form initially? Or is it a combination?
It varies a lot! For this particular project, I remember needing to come up with an idea for my next Filthy Figments comic. I had this opportunity to tell a story about anything I wanted, so I just asked myself what the magical formula for the most indulgent steamy series would be for me as a creator. I had been watching a lot of period dramas and found frustration with their wealth-centric, heteronormative cores. I was also feeling finally ready to draw a fat protagonist in one of my own stories, to put a queer fat femme like me at the center of a fluffy romance. The characters and plot came together easily after that.
Patience and Esther both go through transformations–Patience goes beyond her limited exposure in the world growing up poor and away from society and Esther embraces her Indian heritage which she had been expected to shed when she began working as a lady's maid. And They beautifully support one another through these changes! What did you love most about telling their love story?
I had a conversation with my friend Kori Michele recently (they made zines about it! https://twitter.com/korimichele/status/1307427188183048194?s=21) about how we find ourselves really drawn to stories about the experience of being in love –– what it is to be true partners, to share a life, to grow together. Don't get me wrong, meet-cutes and new relationships can make for wonderful narratives, too! But there's something intensely fulfilling about a story where the meat is about the journey of a long-term relationship. Sometimes it just feels unfair to slap a marriage or kiss in as a reward at the end of a romance and then chuck the couple into the happily ever after void when there's so much more to explore. 
Do you have any favorite adult graphic novels to recommend to our readers?  
Ooh yes! While not erotica, Kaoru Mori's work (Emma and A Bride's Story) are deeply influential to me and have a gorgeous sensuousness that taught me so much about sexual tension in comics, I highly recommend them.
Emily Carroll's When I Arrived At the Castle is excellent, if you're into horror and hot cat girls.
I suppose I'm a contributor so this could sound biased, but Iron Circus' Smut Peddler Presents line (including Crossplay, Letters for Lucardo, and Yes, Roya) is real solid. It's a real treat getting to read the other comics on Filthy Figments as well, there's a super interesting mix of content on there. 
What can readers expect from you next?
I've got a steady stream of work coming out over the next few years, but a lot of it is for young readers. If you want to follow my erotic work specifically, keep your eye on Filthy Figments, as I've pretty much always got a story running with them. Currently, it's Night School, a comedy/fantasy series about a supernatural community college and the people whose lives revolve around it. If subscriptions aren't your thing, Filthy Figments releases comics as PDFs on Comic Orgy. Follow me on Twitter, Instagram, or Patreon (@swinsea) to hear about new projects!
Rapid Fire Random Questions (feel free to explain/elaborate on your answers as much or as little as you'd like)
Dragons or unicorns: Those old-timey unicorns that look kind of like goat-dogs
Five people you'd invite to your book club (dead, alive, fictional, etc.!): Just a handful of my best friends, we live all across the planet and I miss them! Please let me magic us all into a safe, cozy room filled with tea and books
Some of your auto-buy authors: Kaoru Mori, Rosemary Valero-O'Connell, Emily Carroll
Favorite flower: Everlasting paper daisies
Earliest celebrity crush: I don't crush on celebrities, alas
Random interesting fact you like to tell people: Australia has native bees that are blue instead of yellow, and they're extremely cute
Hobbies you have (aside from reading and writing): Fostering pets, cooking, spacing out
Dream vacation: Changes all the time, right now it's to stay in a haunted old bathhouse on top of a mountain in Japan with all the nature walks and naps I can handle
Sweet or salty snacks: Impossible choice
You have a totally free afternoon – no deadlines, no obligations, no Twitter notifications!  What do you do?: Go outside! It's wildflower season in Perth and everything is beautiful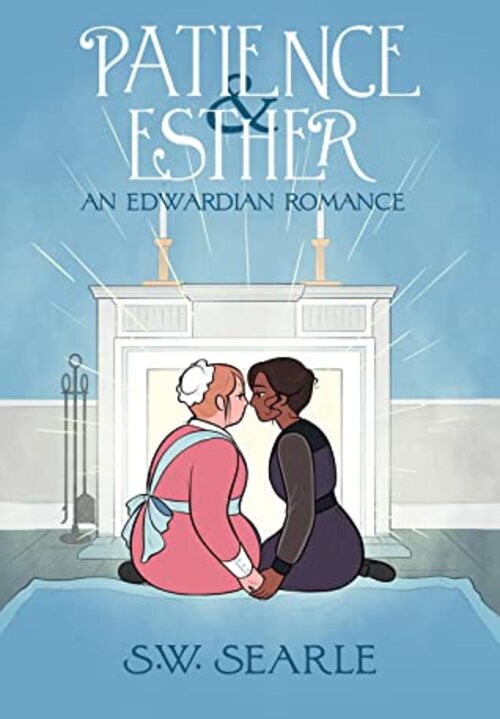 Patience is a kindhearted country girl, eking out a living in Edwardian England as tremors of social change rock the world around her. When she starts her employment in formal service on the grounds of an opulent country manor, she has no idea that her own personal revolution is about to begin.
Selfless, dutiful, and just a touch naive, she takes to both her place as a parlor maid and to her new roommate, the bookish and progressive lady's maid, Esther. In another time, the two women would have kept one another's company forever in their little attic bedroom, living out their days in the employ of a Lord. But it's now the dawn of a new age. The expanding empire has brought with it not only plundered wealth, but worldliness and new ideas. Suffragists agitate in the street, idle-rich bohemians challenge sexual mores, and Patience and Esther slowly come to realize the world is wider and full of more adventure and opportunity than they ever imagined . . . so long as they find the will to seize it.
Sensual, sweet, and beautifully illustrated, PATIENCE & ESTHER is a steamy period romance and an inspirational erotic journey across the epic sweep of history, from the end of a gilded age to the start of an uncharted future.
Romance LGBTQ | Graphic Novel [Iron Circus Comics, On Sale: January 26, 2020, Paperback, ISBN: 9781945820700 / ]
A tender, nuanced and sensual adult graphic novel. . .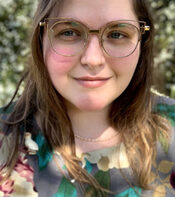 Cartoonist SW Searle originally hails from spooky New England but currently lives in sunny Perth, Australia. She's best known for vulnerable memoir and compassionate fiction for a wide range of audiences. Her adult-focused work can be found in the 2014 Smut Peddler anthology from Iron Circus, the Filthy Figments website, and L'Immanquable magazine. Her short comic for The Nib, The Price of Acceptance, was short-listed for Slate's 2018 Cartoonist Studio Prize.