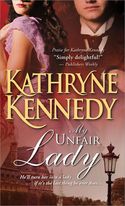 I'm so very glad to be back here again at Fresh Fiction, and very excited about my upcoming Victorian romance releasing in December, My Unfair Lady. Funny, adventurous and as always, a bit naughty, I'm introducing you to the heroine of the novel, Summer Wine Lee, through a letter she wrote to her father upon arriving in London in the summer of 1885 (that isn't in the book!).
As always, wishing you happy reading! Kathryne Kennedy.
Dearest Papa:
I have arrived in London and I must say it is not unlike New York, except that everything is so old here. If society knows I exist they do not care, for I have yet to receive a single invitation. But do not despair, Papa, for I am confident that my plan will be a resounding success. Indeed, I have met the gentleman who I have retained to insure my introduction to society, and he is a superior example of the breed.
To read more of the letter please click here.