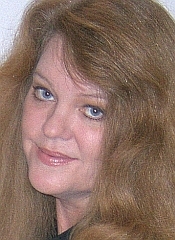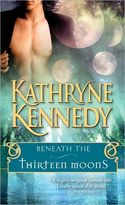 Hello Fresh Fiction and thank you for having me back again! I always enjoy talking to the fabulous readers of this blog! I'm here today to celebrate the re-release of my very first book, BENEATH THE THIRTEEN MOONS, in mass market paperback, and I have to say, I just love the new cover.
The book takes place on a landless planet where enormous trees grow up from the ocean floor, supporting all life within their canopies. The world was inspired by my love for the jungle (Tarzan, anyone?), for the ocean, and the city of Venice. If you'd like to know more about the creation of the world, please visit my website, but for today, I'd like to talk about my hero & heroine and how they are so opposite, and yet so perfect for one another.
My hero, Korl Com'nder, is the crown prince of Sea Forest. Used to wielding great political power, he is also a victim of murderous schemes for the throne. He lives a life of luxury, is quite arrogant, and accustomed to living with rules and order.
Mahri Zin lives in the wild swamplands of Sea Forest, beyond the city trees, which are larger and offer more protection from some of the dangerous denizens of the deep waters. She is a smuggler of the controlled zabba root, has taken care of herself since a young girl, and likes her freedom.
Zabba is a special root. For those humans who have a tolerance for it, it forges new pathways in the brain and allows humans to manipulate matter in a magical way.
Prince Korl uses his powers to heal others, and studies the old records to understand the human body to use his magic for healing.
Mahri is a wilding, with a high tolerance for the root. Her magic is as wild and free as she is, and although she lacks the learning and knowledge, she is even more powerful than Korl.
Mahri needs the knowledge of a trained healer to cure the plague that struck her village, and kidnaps a healer—and randomly chooses a student from the Healer's Tree (at least she thinks it's a random choice, there are other forces at work.)
I knew I was going to have a tough time getting these two together, despite falling in love at first sight. Their lone voyage through the dangerous swamplands, where they are forced to depend on each other to survive, not only points out their differences to one another, but also makes them realize that these differences make them stronger together than they ever could be apart.
Two people can bond with the power of zabba root, joining their minds so that one can draw upon the magical power of the other in times of need. When Korl tries to heal Mahri's niece, although he has the skill, he lacks the power, and they are forced to join in a bonding to save the little girl. Again, their differences make them stronger.
But still, Mahri fights her attraction to Korl, because for her, it means the loss of her freedom. But where she is weak in that respect, Korl is strong. Besides, he owes her. When they return to the city, Korl has Mahri arrested, and marries her.
But these two are still at odds. The bond saves both their lives when they are in jeopardy and they feed each other power to save one another. But Mahri feels trapped within the palace tree, and Korl fears for her safety if he lets her go.
The natives of the planet are also playing a role in the relationship between these two, and Mahri does not like to be manipulated.
But in the end, true love conquers all…even toward ensuring the future of the planet. And although Mahri and Korl will each have to compromise to live happily ever after, their differences are truly what make them perfect for one another.
I am a firm believer in love at first sight, from personal experience. I met my husband and we married four months later…and are going strong after thirty years together. I also believe that opposites attract, for he's a packrat, and I'm the queen of organization. He is calm and quiet, and I'm talkative and hyper. And like Korl and Mahri, we manage to be stronger together than apart.
So what about you? Do you believe in love at first sight? Do you believe that opposites attract? I'd love to hear your thoughts!
My Magical Best,
Kathryne
BENEATH THE THIRTEEN MOONS BY KATHRYNE KENNEDY—IN STORES DECEMBER 2010
He's a ruler in a divided world…
In a magical watery world of the Sea Forest, the divide between the rulers and the people is an uncrossable chasm. Handsome, arrogant prince Korl Com'nder has lived a life of luxury that is nothing more than a fantasy to the people he rules. Until the day he is accidentally kidnapped by a beautiful outlaw smuggler and is forced to open his eyes to the world outside his palace walls.
She's an outcast, but at least she has her independence…
Mahri Zin would stop at nothing to save her village, and when they needed a healer she didn't think twice about kidnapping one. But when she realizes that the healer she so impulsively stole is none other than the crown prince of Sea Forest, Mahri knows that she has a chance to change the fate of her people…
ABOUT THE AUTHOR
Kathryne Kennedy is a multi-published, award-winning author of magical romances. She's lived in Guam, Okinawa, and several states in the U.S., and currently lives in Arizona with her wonderful family—which includes two very tiny Chihuahuas. She welcomes readers to visit her website where she has ongoing contests at: www.KathryneKennedy.com.
Kathryne's Bookseller Directory
To comment on Kathryne Kennedy's blog please click here.