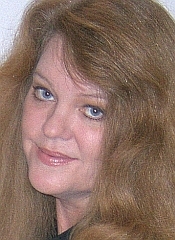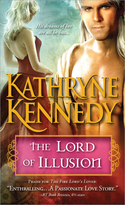 Hello again Fresh Fiction readers! It's a pleasure to be back here talking with you today.
In my current release, THE LORD OF ILLUSION, England has been conquered by seven mad elven lords, who sundered the barrier between our world and Elfhame. When they opened the doorway, they brought magic with them, and handed down physical attributes to their half-breed human children. They divided the land into seven realms, each altered by their primary magical power linked to their scepters:
Firehame: Fire.
Dewhame: Sea and Sky.
Bladehame: Metal.
Dreamhame: Glamour and Illusion.
Terrahame: Earth.
Verdanthame: Tree and plant.
Stonehame: Rock and gemstone.
Their half-breed children inherited their other attributes:
– Extraordinary strength, grace and speed of movement.
– Looks: faceted eyes, glimmering silver sparkling in their hair, pale smooth unblemished complexion, straight even white teeth, beautiful features, tall perfect physiques, long elegant ears with a slight point at the top.
– Extraordinary talent in singing, art, dancing, fighting or musical ability (result of first item).
– The ability to heal (non-lethal wounds or ailments), or soothe mental stress.
– The ability to make plants flourish, or calm a beast.
– The ability to find water, lost items, or glimpses into the future.
– A small power of magic from each scepter's powers; so, a child could light a candle, or perform a small illusion, but not do anything on a grand scale.
The Elven Lords altered the land to a place of danger, magic and beauty. Many of their powers overlap. For example, fire magic can be used to harm or heal. Gemstones can be enchanted with evil spells or good. Enchanted swords can be used for defense, or conquering. Plants can release pollen that can cure or kill. The power over the sky could enable you to fly, or you could create an illusion of a dragon strong enough to dance with the stars. You could become one with the ocean, or the trees, or the very earth.
So which magical power would you choose?
I think if I had to answer the question, it would have to be a power that included the gift of healing. I have personal reasons, of course, as I have family members who are dealing with some major health issues. But I would also hope to include the ability to fly. (I have vivid dreams about flying and they are amazing.) So I think I would settle on Stonehame, and craft a diamond that would heal any condition, and a sapphire that would allow me to fly. So which elven magical power would you choose? And why? I would love to hear about it!
As Always, My Magical Best,
Kathryne
THE LORD OF ILLUSION BY KATHRYNE KENNEDY—IN STORES FEBRUARY 2012
He'll do anything to save her…
Rebel Lord Drystan Hawkes dreams of fighting for England's freedom from the endless evils of the Elven Lords. He gets his chance when he finds a clue to opening the magic portal to Elfhame, and he must race to find the slave girl who holds the key to the mystery. But even as Drystan rescues Camille Ashton from Dreamhame Palace, it becomes unclear exactly who is saving whom.
For the fate of humankind lies with Camille…
Enslaved for years in a realm where illusion and glamour reign, Camille has learned to trust nothing and no one. But she's truly spellbound when she meets Drystan–a man different from any she's ever known, and the force of their passion may yet be strong enough to banish the Elven Lords from this world forever.
Praise for The Lord of Illusion
"The world sings with vivid imagery and fantastic magic, and all the previous characters join forces in a thrilling final fight for humankind." —Publishers Weekly Starred review
"The hero and heroine are also out of the ordinary, and while this novel remains true to romance-genre mores, Kennedy infuses it with unexpected plot twists that will keep fantasy readers enthralled, too." —Booklist Starred review
"Superb writing and a fast-moving plot combined with magical passion make this a real page-turner!" —RT Book Reviews 4 ½ Stars and Top Pick of the Month
Amazon
Barnes and Noble
Sourcebooks
BooksAMillion
Chapters/Indigo
Kathryne's Bookseller Directory
ABOUT THE AUTHOR
Kathryne Kennedy is a critically acclaimed, best-selling, award-winning author of magical romances. She welcomes readers to visit her website where she has ongoing contests atwww.kathrynekennedy.com. She's lived in Guam, Okinawa, and several states in the U.S., and currently lives with her wonderful family in Arizona, where she is working on the next book in her Relics of Merlin series, Everlasting Enchantment.
To comment on Kathryne Kennedy's blog please click here.