Don't you just love a spunky, confident and capable heroine? I sure do. When my husband returned from a white water rafting trip with a friend, he showed me the video and was so impressed with one of the river guides who was a woman. I have to admit, I was intrigued enough that my brain started moving toward a scenario of a heroine as a river guide. What would she be like? Why would she love the river and white water rafting so much? So I dug deep to find out.
In TORRENTS OF DESTRUCTION, Katie Gallagher is the middle child, sandwiched between two brothers. She loves her brothers deeply, even if they tend to bicker back and forth as many siblings do. Their father died and left them the family business—the river rafting guide service. Their mother disappeared and that's a bone of contention between Katie and her brothers in that they believe their mother met with foul play and is dead while Katie believes her mother abandoned them. Although this core difference of belief could rip them apart, the Gallagher siblings rely on their love for one another and sense of responsibility.
As I learned more about my heroine, I knew Katie would be strong, determined, responsible, but also stubborn and temperamental. She'd have to be to work in such a male-dominated field. I knew I wanted to pit her against a strong hero—uber FBI agent working undercover—so she had to be strong emotionally as well as physically.
I needed to figure out her soft spots aside from her brothers. As I was working on my character outline, I sat outside on my porch. Our then dog, a Blue Heeler named Shadow ran across the yard chasing a squirrel. I knew Shadow belonged to Katie and that she and her dog had a love and bond that wouldn't break. How cool would it be to have a dog so well trained and in tune with his human that he would thrive in a white water raft? So I wrote Shadow into the story, making him not only a constant companion for Katie to show a side of her soft and nurturing personality, but also use their bond as a plot point in the story itself.
In the end, Katie is a kick-butt type of heroine, with a heart of gold and a stubborn streak a mile long. And she's quite addicted to peppermints!
"Caroll's latest is a thriller, complete with edge-of-your-seat action." ~ROMANTIC TIMES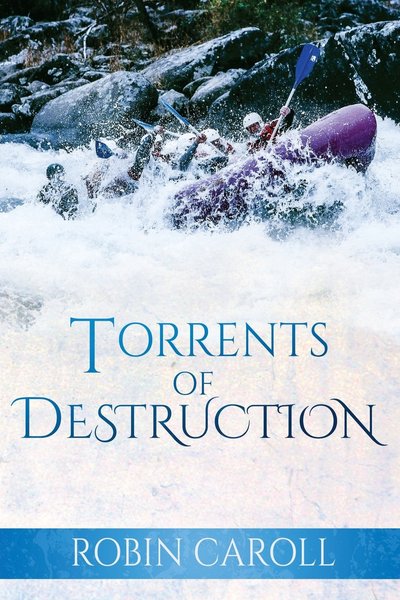 As a white water rafting guide, Katie Gallagher must battle the forces of nature on a daily basis. When sabotage becomes apparent on a weekend rafting trip, Katie must determine who she can trust—and who has their own agenda. Hunter Malone has a mission on a business adventure trip on the Gauley River, a mission that didn't include a spunky guide who could handle the class-five rapids better than he'd ever imagined. But can she handle the truth?
Inspirational Mystery [Paperback / Kindle, ISBN: 9780692457979 / ]
"I love boxing. I love Hallmark movies. I love fishing. I love scrapbooking. Nope, I've never fit into the boxes people have wanted to put me in." ~Robin Caroll is definitely a contradiction, but one that beckons you to get to know her better.
Born and raised in Louisiana, Robin is a southerner through and through. Her passion has always been to tell stories to entertain others. Robin's mother, bless her heart, is a genealogist who instilled in Robin the deep love of family and pride of heritage–two aspects Robin weaves into each of her 30 published novels.
When she isn't writing, Robin spends time with her husband of twenty+ years, her three beautiful daughters and two handsome grandsons, and their character-filled pets at home–in the South, where else?
She serves the writing community as Executive Director/Conference Director for ACFW.
Her books have finaled/placed in such contests as the Carol Award, Holt Medallion, RT Reviewer's Choice Award, Bookseller's Best, and Book of the Year.
An avid reader herself, Robin loves hearing from and chatting with other readers. Although her favorite genre to read is mystery/suspense, of course, she'll read just about any good story. Except historicals! To learn more about this author of deep South mysteries of suspense to inspire your heart, visit Robin's website at www.robincaroll.com.