Thanks so much for hosting me for the release of the third book in my Shifter Wars series, TAMING THE LION. At this point in the series, we've got enemies thrust together with decisions to make. Alicia is a bear shifter/healer, and Marco is a lion/heir to the leadership of the pride. He's been hurt in battle and she's got to figure out whether she will go with her healer's oath and help him, or let her enemy die. If she helps him, she risks angering her den. If she doesn't, her grandmother is going to be upset with her for breaking her oath.
Since these two are like oil and water, I thought it would be fun to have a recipe that combines things you might not think go together well but in reality, really do! I've picked something I personally thought I'd never try because…well, it doesn't seem to go together!
What am I talking about? Fish tacos! Yeah! How many of you, like me, just went, "yuck"? I kept seeing Fish Tacos on the menu and did finally try them. You know what? They are good! Surprisingly so. Granted, I tried them at a Tapas place (I'm not buying a full meal of something that might be yucky), but yes, very good.
Here's a simple recipe for health(ier) fish tacos! Not fried fish but a nice grilled whitefish. I definitely recommend tilapia or cod if you prefer a less-fishy fish. I find snapper to be fishy and oily.
Bears and lions probably both like fish, but only humans will make tacos!
Fish Tacos (sourced from: Chow Hound)
1 pound firm white fish, such as tilapia, snapper, cod, mahi mahi, or catfish
2 medium limes, halved
1 medium garlic clove, finely chopped
1/4 teaspoon ground cumin
1/4 teaspoon chili powder
2 tablespoons vegetable oil, plus more for oiling the grill grates
Kosher salt
Freshly ground black pepper
1/2 small head of green or red cabbage (about 14 ounces), cored and thinly sliced
1/2 medium red onion, thinly sliced
1/4 cup coarsely chopped fresh cilantro
6 to 8 soft (6-inch) corn tortillas
Optional garnishes: sliced avocado, guacamole, salsa, sour cream (or low-fat sour cream), hot sauce
Place the fish in a baking dish and squeeze a lime half over it. Add the garlic, cumin, chili powder, and 1 tablespoon of the oil. Season with salt and pepper and turn the fish in the marinade until evenly coated. Refrigerate and let marinate at least 15 minutes. Meanwhile, make the slaw and warm the tortillas.
Combine the cabbage, onion, and cilantro in a large bowl and squeeze a lime half over it. Drizzle with the remaining 1 tablespoon oil, season with salt and pepper, and toss to combine. Taste and add more salt and pepper if necessary; set aside.
Warm the tortillas by heating a medium frying pan over medium-high heat. Add 1 tortilla at a time, flipping to warm both sides, about 5 minutes total. Wrap the warm tortillas in a clean dishcloth and set aside while you prepare the fish.
Brush the grates of a grill pan or outdoor grill with oil and heat over medium-high heat until hot. Remove the fish from the marinade and place on the grill.
Cook without moving until the underside of the fish has grill marks and is white and opaque on the bottom, about 3 minutes. Flip and grill the other side until white and opaque, about 2 to 3 minutes more. (It's OK if it breaks apart while you're flipping.) Transfer the fish to a plate.
Taste the slaw again and season as needed with more lime juice. Slice the remaining lime halves into wedges and serve with the tacos. To construct a taco, break up some of the cooked fish, place it in a warm tortilla, and top it with slaw and any optional garnishes.
Thank you for having me! I'd love to know of other yummy foods that at first don't seem to go well together. Can you share any?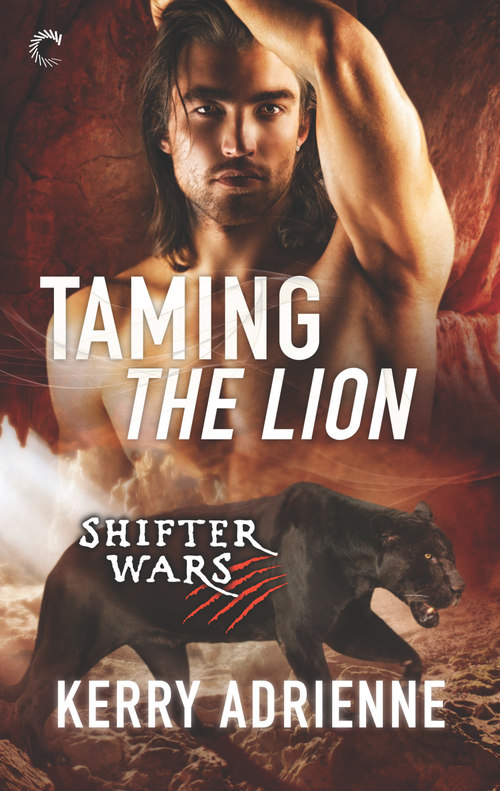 Pack bonds are tested in the Shifter Wars as the lion heir must choose between his legacy and his mate
For Marco, heir to the lions' throne, seizing control of the Cave of Whispers from the bear clan is more than just a quest—it's fulfilling the legacy of his breed. But the latest crusade has left Marco gravely wounded in enemy territory and in the hands of Alicia, healer for the bears. An irresistibly sensuous adversary, Alicia presents a serious problem. She carries the scent of a mate.
Drawn to this dominant master of his den, Alicia knows her allegiance has been compromised. His brooding sexuality is testing her defenses, but falling in love with Marco means falling in league with a rival shifter. And turning her back on the bears in a time of war is a lethal move.
Two breeds united by destiny could inspire a peaceful new future for their opposing clans—or ignite the fiercest battle yet and destroy all of Deep Creek forever.
Romance Paranormal [Carina Press, On Sale: August 14, 2017, e-Book, ISBN: 9781460397510 / eISBN: 9781460397510]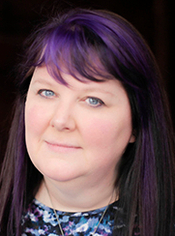 Kerry Adrienne loves history and spends large amounts of time wondering about people who lived and walked on Earth in the past. She's a mom to three daughters, six cats, and various small animals, including a panther chameleon. Her shoe horde will attest to her fine shopping skills.
In addition to writing, she's a college instructor, artist, costumer, and editor. Her new love is her Mini Cooper Convertible, Sheldon, and they have already gone on many adventures.