Character Interview (Perspective):
Meet park ranger and woodworker, Derek Poole from PURSUING THE BEAR
"Sure!" Oh crap, that was too eager. Bria lowered her voice and tried again. "I mean, sure, if you're already heading that way. Don't go out of your way on my account, though. I have this." She held up the compass.

"And you know how to use it?" Derek's eyes shone.
It seems like you have a bit of a humorous streak. Do you like to tease?
Derek: I only tease people I like. And it's gentle teasing. Nothing mean or bullying of course. With all the issues in Deep Creek National Park right now, I find having a sense of humor helps me cope. I also hope it puts people at ease.
So you don't tease the lions?
I haven't really had the chance. Besides, they're trying to take the bears' land away, and the cave. With war brewing, I really don't spend a lot of time thinking about how to entertain the lions. Especially the twins, Marco and Mason. Those lions are trouble waiting to happen.
Yeah. I kind of like her. (chuckles) She's so smart, though. I'm not sure what she could possibly see in a simple ranger and woodworker. She's got more degrees than someone her age should have.
Very. It's difficult to be around her and wanting to help her but not being able to. I have to protect the bears first. Still, when I see the excitement in her eyes…
Sounds like you're smitten.
(laughs) No comment.
Tell me about your woodworking. Isn't that an old-school hobby? What is it that draws you to it?
I've always liked working with my hands and my parents encouraged it…to a point. Finally, I decided I'd do what I wanted instead of what everyone wants me to do. I love working in wood—discovering the life inside a branch. Carving a branch that once housed a bird's nest, or a bee hive. Wood is so warm and alive, and one of the most magical things in our natural world.
Speaking of magic, who is Shoshannah? I've heard her name but no one can really explain what she is or how she helps.
That's tough. Shoshannah is everywhere and nowhere in Deep Creek. Mostly, we can find her in the cave, but even that isn't guaranteed. She's an ancestral shifter spirit. She helps shifters transition, heal, and even face their demons.
What does she look like? I mean, is she a bear, or a wolf, or a lion?
Depends on what she wants to be. She seems to have the power to be any type of shifter. Right now, since the bears control the cave, she helps us—probably because we occupy the area. But I've heard of her helping other shifters, too. She's a bit of an enigma. (leans back) I can tell you that when she does appear, her beauty is all encompassing. She's like light—ethereal, bright, and magical.
She sounds amazing. I want to thank you for sitting down to talk with me. It's great to meet you, Derek.
Any time. You know where to find me.
If you want to read more about Derek, Bria, and the ancestral spirit, Shoshannah, check out the links here on the interview page. Sounds like Bria has already sparked something in Derek. I hope they can find their way to each other.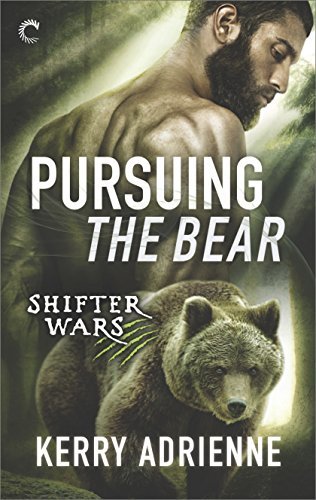 The Shifter Wars heat up when a woman investigates the mysteries surrounding a fierce breed of man and exposes more than just secrets
Bear shifters exist. Professor Bria Lane has known this since she was a child. Now she's returned to the forests of Deep Creek to prove it to the world. She has no idea how close she is to that proof in ruggedly sexy park ranger Derek Poole. Intimately close. But uncovering Derek's wild side comes with a shattering price.
Like a magnet meeting metal, Derek is drawn to Bria. His destiny. His mate. So beautiful and so vulnerable. So dangerous, too: an encroachment of lions, vengeful and vicious, is closing in and they're ready for war. Now is not the time to be distracted like a lovesick cub.
If Bria reveals the truth of the Deep Creek shifters to the world, she'll bring out the worst of both sides. But Derek can't hide his secrets from the love of his life forever. He knows they're playing with fire–and that when passion runs this hot, this reckless, someone's bound to get burned.
Romance Paranormal [Carina Press, On Sale: November 28, 2016, e-Book, ISBN: 9781504749305 / eISBN: 9781460397497]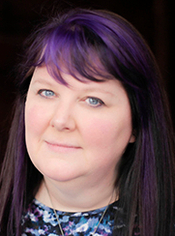 Kerry Adrienne loves history and spends large amounts of time wondering about people who lived and walked on Earth in the past. She's a mom to three daughters, six cats, and various small animals, including a panther chameleon. Her shoe horde will attest to her fine shopping skills.
In addition to writing, she's a college instructor, artist, costumer, and editor. Her new love is her Mini Cooper Convertible, Sheldon, and they have already gone on many adventures.