D is for Dare. Everything in this book starts because of the dare that Bryson Keller accepts.
A is for Anticipation. Kai starts to anticipate the time he spends with his fake-boyfriend.
T is for Truth. Kai desires to live his truth.
E is for Empathy. Kai is surprised by how empathetic and understanding Bryson Keller is.
*
M is for Music. Both Kai and Bryson connect over their favorite band.
E is for Embarrassed. Kai blushes a lot, a fact that Bryson finds cute.
*
B is for Bryson Keller. The swoon-worthy love interest.
R is for Romance. This is a gay Rom-Com.
Y is for Yearning. Being a closeted teen can be lonely.
S is for Sexuality. This is a coming out story.
O is for Open. Kai and Bryson slowly open their hearts, and themselves, to each another.
N is for Now. Kai decides to live in the 'now' with Bryson.
*
K is for Kissing. 'Nuff said.
E is for Endure. Kai and Bryson endure trials & tribulations for their happy ending.
L is for Life. Kai's life is forever changed by the dare.
L is for Love. This is the story of two boys falling for each other.
E is for Endings. Kai starts to fear the end of the dare.
R is for Romance. Again. This book is heavy on the romance.
***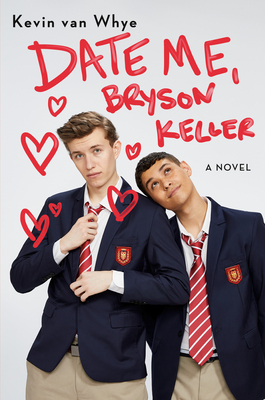 What If It's Us meets To All the Boys I've Loved Before in this upbeat and heartfelt boy-meets-boy romance that feels like a modern twist on a '90s rom-com!
Everyone knows about the dare: Each week, Bryson Keller must date someone new–the first person to ask him out on Monday morning. Few think Bryson can do it. He may be the king of Fairvale Academy, but he's never really dated before.
Until a boy asks him out, and everything changes.
Kai Sheridan didn't expect Bryson to say yes. So when Bryson agrees to secretly go out with him, Kai is thrown for a loop. But as the days go by, he discovers there's more to Bryson beneath the surface, and dating him begins to feel less like an act and more like the real thing. Kai knows how the story of a gay boy liking someone straight ends. With his heart on the line, he's awkwardly trying to navigate senior year at school, at home, and in the closet, all while grappling with the fact that this "relationship" will last only five days. After all, Bryson Keller is popular, good-looking, and straight . . . right?
Kevin van Whye delivers an uplifting and poignant coming-out love story that will have readers rooting for these two teens to share their hearts with the world–and with each other.
Young Adult Romance | LGBTQ [Random House Books for Young Readers, On Sale: May 19, 2020, Hardcover / e-Book, ISBN: 9780593126035 / eISBN: 9780593126035]
Kevin van Whye is a writer born and raised in South Africa, where his love for storytelling started at a young age. At four years old, he quit preschool because his teacher couldn't tell a story. Kevin's love affair with stories led him to film school to study scriptwriting. Kevin currently lives in Johannesburg.