Everyone has renovations they want to do, have to do, or are forced to do. We chose to do multiple renovation projects with one scheduled right after the other. I spent months choosing the right contractors. Some more expensive than others, but all of them with good reputations for the work they did and the timelines they kept. I even scheduled Murphy's Law into my master plan. We were going to be done by May first.
It's Memorial Day and we still have contractors coming and going. My office has been covered with plastic for two weeks. Before that, it was loaded with furniture and boxes for a month. The month before that, it was empty. The last time I got to sit at my desk and write, was the last week of January. I've actually missed most of spring, not because of the weather, but because I've been working my butt off and keeping contractors inline, on time, and Murphy out of my blasted projects. (Ha!)
The time that I've missed away from my work, I've actually gained in reading. It a known fact that I can get interrupted while I read, but if you interrupt me while I write—well, you'll probably witness me shapeshifting into a demon from that bottomless pit of everlasting fire. It's not pretty.
So if you've got that endless project keeping you on your toes, pick up a book on your break. These great mysteries kept my schedule flowing.
(Whew, no demons were created or harmed during the writing of this blog!)
Magickal Mystery Lore
An Abracadabra Mystery Book #4
by Sharon Pape
4/16/2019
This spells trouble . . .
The New Camel Day Fair is a fun-filled event for residents of this upstate New York town. Kailyn Wilde, a modern-day witch of ancient lineage, leaves her potion shop, Abracadabra—and her feline familiar, Sashkatu—to attend with her fortune-telling Aunt Tilly. Joining them is legendary wizard Merlin, who's discovering new pleasures of time-traveling to the modern world, including curly fries and kettle corn—but the appeal of the Tilt-a-Wheel is beyond his mystical imagination.
The real wild ride begins later when neighboring sweet shop owner Lolly rushes into Abracadabra with news about a dead body. The victim has one of Lolly's fudge knives stuck in her back, but in spite of the sticky evidence, Lolly is only one of several suspects with ample motive and opportunity. Meanwhile, Merlin's research into old family scrolls and electromagnetic ley lines is causing some unusual mix-ups. As the two investigations collide, Kailyn will have to do everything in her power to prevent disaster…
Dying for Devil's Food
Cupcake Makers Mystery #11
by Jenn McKinlay
5/7/2019
Melanie Cooper has zero interest in catering her fifteen-year high school reunion, but Angie insists it's only right that they bask in the success of Fairy Tale Cupcakes–and Mel's engagement to the delicious Joe DeLaura is the cherry on top!
Everything is going better than expected until Cassidy Havers, resident mean girl and Mel's high school nemesis, picks a fight. No longer willing to put up with Cassidy's bullying, Mel is ready to tell the former homecoming queen to shut her piehole and call it a night. But as Mel and Joe prepare to depart, Cassidy is found dead in the girl's bathroom, next to a note written in lipstick that points right to Mel–making her the prime suspect.
The Book Supremacy
Bibliophile Mystery #13
by Kate Carlisle
6/4/2019
Newlyweds Brooklyn and Derek are enjoying the final days of their honeymoon in Paris. As they're browsing the book stalls along the Seine, Brooklyn finds the perfect gift for Derek, a first edition James Bond novel, The Spy Who Loved Me. When they bump into Ned, an old friend from Derek's spy days, Brooklyn shows him her latest treasure.
Once they're back home in San Francisco, they visit a spy shop Ned mentioned. The owner begs them to let him display the book Brooklyn found in Paris as part of the shop's first-anniversary celebration. Before they agree, Derek makes sure the security is up to snuff—turns out, the unassuming book is worth a great deal more than sentimental value.
Soon after, Derek is dismayed when he receives a mysterious letter from Paris announcing Ned's death. Then late one night, someone is killed inside the spy shop. Are the murders connected to Brooklyn's rare, pricey book? Is there something even more sinister afoot? Brooklyn and the spy who loves her will have to delve into the darkest parts of Derek's past to unmask an enemy who's been waiting for the chance to destroy everything they hold dear.
The Big Kahuna
A Fox & O'Hare Novel #6
Janet & Peter Evanovich
5/7/2019
Straight arrow FBI Agent Kate O'Hare always plays by the rules. Charming Con Man Nicholas Fox makes them up as he goes along. She thinks he's nothing but a scoundrel. He thinks she just needs to lighten up. They're working together to tackle the out-of-bounds cases ordinary FBI agents can't touch. And, their relationship? Well, there hasn't been so much explosive chemistry since Nitro was introduced to Glycerin.
Next on the docket: The mysterious disappearance of the Silicon Valley billionaire, known as the Big Kahuna. Kate's been assigned to find him but no one seems particularly keen on helping. His twenty-six-year-old adult actress wife-turned Instagram model wife and his shady Czech business partner are more interested in gaining control of his company. For that, they need a dead body, not a living Kahuna.
The only lead they have is the Kahuna's drop-out son, who's living the dream in Hawaii – if your dream is starting your day with the perfect wave and ending it with a big bowl of weed. To get close to the Kahuna's son, Kate and Nick go undercover as a married couple in the big wave, bohemian, surfer community of Paia, Maui. Living a laid back, hippy-dippy lifestyle isn't exactly in Kate's wheelhouse, but the only thing more horrifying is setting up house with Nick Fox, even if he does look pretty gnarly on a longboard. If they don't catch a break soon, waves aren't the only thing she's going to be shredding (or bedding).
Until next time, get cozy and read on!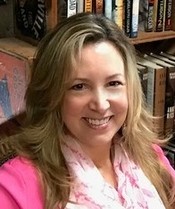 Passion. Mystery. Suspense. Catch the Wave! Because a little PMS can change your world!
Passion. Mystery. Suspense. Catch the Wave! Because a little PMS can change your world!
Kym Roberts is a retired detective sergeant who looks for passion, mystery and suspense in every book she reads and writes. She can be found on the web at kymroberts.com, on Facebook @KymRobertsAuthor911 and on Twitter @kymroberts911. You can also listen to her new podcast Romance Book Chat with Kym and Misty on iTunes & Stitcher.
ABOUT KIM'S LATEST COZY MYSTERY: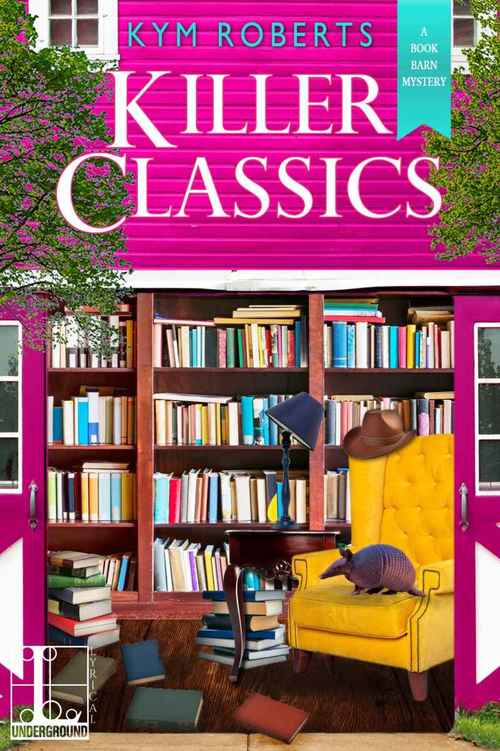 Small-town life in Hazel Rock becomes a Texas-size crime scene when murder takes a page from Charli Rae Warren's book club's latest mystery . . .
Charli takes great pride in running one of the few independent, family-owned bookstores in small-town Texas. She vets everything carefully, with an eye to the eclectic tastes of the locals. That includes the Book Barn's weekly book club selection. This time out it's a mystery whose characters bear a striking resemblance to local citizens, including Charli's friend Sugar . . . who's the prime suspect when her real-life nemesis is found dead in a hotel's water tank.
With help from her pet armadillo Princess, Charli campaigns to clear Sugar's sweet name—literally—when the up-for-election mayor becomes a killer's next target. Murder and politics make scandalous bedfellows as Charli discovers that fiction may be fatal, but reality could be just as deadly . . .
Mystery Cozy [Lyrical Press Underground, On Sale: December 4, 2018, e-Book, ISBN: 9781516106592 / eISBN: 9781516106592]

The best installment yet in the series!

Murder and mayhem in small-town Texas