Spring is finally here which, according to some love pundits, means that along with sweet-smelling flowers, fresh, dewy love is just around the corner. All that newly exposed flesh… all those newly liberated hormones! But if you're in the market for a new man this spring, this author highly recommends that you consider trading up and going for a supernatural boyfriend. Here is a roundup of the top 5 reasons the #SNB is the better man.
You'll never be bored. Ever.
One of the biggest failings of any relationship is boredom. This is never a problem with a #SNB. So what if you don't have much in common? No one said that a vegetarian and the undead couldn't get along! You may not be a drama queen, but the #SNB simply doesn't have ordinary problems. Imagine lamenting to your friends over coffee about your new significant other and how he occasionally sprouts fur – and sometimes tears the heads off attackers in an effort to save the world and/or you. They'll be just as enthralled by the discussion as you are.
He'll get you out of a jam.
This is the boyfriend you want in your corner. He won't leave you to fend for yourself with used car salesmen, mean teachers or terrorists – though of course, he knows you can (and if he doesn't know it, think of all the fun you'll have arguing with him about it!). That lousy boss? Just wait until old crankypants gets a drop-in from #SNB. Has an enemy got you on the ropes? Don't worry – #SNB is going to send over some of his most trusted allies (many of whom are not as civilized as he and like to "eat with their hands") to "have a little talk." Your man will tear down the world to make sure you're safe and happy because – let's face it, ladies– your #SNB is #SuperNaturallyIntoyou.
He's there to help you grow.
When you're in a relationship with a #SNB, you're not in an ordinary, conventional relationship. I'm not saying this is a bond that can't lead to marriage – but I am saying you'd better get used to thinking about your life in vastly different (bigger) terms. This one will push you past what you thought were your limits. Dating a #SNB will be a bit like going to celebrity boot camp: by the time you're lived through a couple of evenings the new clothes won't feel too tight or too sparkly, and you'll find you're just as much at home speaking with your #SNB's 500-year old rich vampire/shifter friends as you are with your dentist. They may even teach you Romanian and invite you to their castle for a holiday. Lucky you!
Hotness.
So what if your #SNB is a bit rough around the edges (and may drink blood, eat human flesh and/or burst into a fur suit)? He's 100% man, and he's ripped to boot. Every square inch of your #SNB's taut, hard body has been designed by a very kindly cosmos. Your #SNB isn't just gorgeous on the outside, though. This man hides his potent sensitive side behind a wall of smoking hot unadulterated power that, let's face it, you can't even pretend not to swoon over. And when he turns those all-powerful, ever-loving eyes on you…
Other (more x-rated)… things.
#SNBs are universally renowned for their unbelievable sexual chemistry. And it's all yours. So once he turns those penetrating, mysterious, ever-loving eyes to you – once he touches you with those surprisingly gentle fingers – you know you can never go back. Your #SNB may have had a past, but now that you've met you're the center of his universe…and he won't let you forget it.
Sure, there are plenty of #RegularJoes who can rock a woman's world. But if you're lucky enough to stumble upon a dirty time-travelling highlander or a half-clothed vampire who's lost his memory, just remember, ladies: even if he's covered in gore he's undoubtedly worth a second look!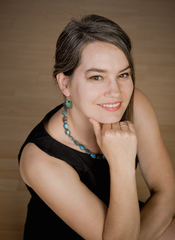 L.E. Sterling had an early obsession with sci-fi, fantasy and romance to which she remained faithful even through an M.A. in Creative Writing and a PhD in English Literature – where she completed a thesis on magical representation. She is the author of two previous novels, the cult hit Y/A novel The Originals (under pen name L.E. Vollick), dubbed "the Catcher in the Rye of a new generation" by one reviewer, and the urban fantasy Pluto's Gate. Originally hailing from Parry Sound, Ontario, L.E. spent most of her summers roaming across Canada in a van with her father, a hippie musician, her brothers and an occasional stray mutt – inspiring her writing career. She currently lives in Toronto, Ontario.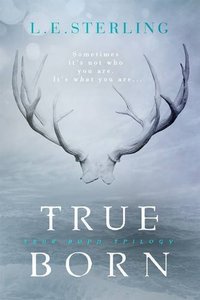 Sometimes it's not who you are… It's what you are.
Welcome to Dominion City.
After the great Plague descended, the world population was decimated…and their genetics damaged beyond repair.
The Lasters wait hopelessly for their genes to self- destruct. The Splicers pay for expensive treatments that might prolong their life. The plague-resistant True Borns are as mysterious as they are feared…
And then there's Lucy Fox and her identical twin sister, Margot. After endless tests, no one wants to reveal what they are.
When Margot disappears, a desperate Lucy has no choice but to put her faith in the True Borns, including the charismatic leader, Nolan Storm, and the beautiful but deadly Jared, who tempts her as much as he infuriates her. As Lucy and the True Borns set out to rescue her sister, they stumble upon a vast conspiracy stretching from Dominion's street preachers to shady Russian tycoons. But why target the Fox sisters?
As they say in Dominion, it's in the blood.