A cozy mystery, by nature, should always be a little scary. But can it be funny as well? Hey, I couldn't help myself when I wrote CREPE FACTOR, the newest installment in my bestselling Scrapbooking Mystery series. The novel is set in New Orleans after all, a city that prides itself on being magical, crazy, and downright irreverent. So of course my plot enjoys a hearty wink and a nod from the infamous Big Easy. As do my characters.
There's Carmela, of course, my main character and scrapbook maven who owns Memory Mine Scrapbook Shop in the French Quarter. When she's not arguing with her ex-husband Shamus Meechum (alias the rich rat) over doggy custody of Boo and Poobah, she's chasing down bad guys, rushing out for oyster po-boys and beignets, worrying about keeping her figure and what New Orleans' industrial strength humidity is doing to her hair, and being driven to distraction by the phony French Countess Saint-Marche who owns the glitzy shop Lucrezia next to hers.
Add to this lethal mix Ms. Ava Gruiex, a self-proclaimed hoochie momma, wearer of all things leopard and leather, Botox fan, and owner of Juju Voodoo. Ava is Carmela's best friend and they just loooove getting into trouble together. Whether it's hanging out at Dr. Boogie's Jazz Club, chasing (and being chased) through the bayous, or having a fling at a wild Mardi Gras party, the two of them never stop having fun.
Do we need a sobering note in our mystery? Why start now, when the death scene in Crepe Factor is quite literally to die for? Picture this – a sourpuss food reviewer that nobody likes is stuck in the neck with a kitchen fork and comes staggering out from behind the tents at the French Quarter Winter Market for all to see. Carmela and Ava get involved, of course, and the fun really begins.
One of my favorite tasks as an author is to write a rip-roaring ending. And I guarantee that the ending in Crepe Factor will not disappoint. In chasing down the killer, Carmela and Ava enlist the help of Squirrel and Moony, a couple of good old boys from the Baritaria Bayou, and their motley hound dog Cooter. They all spill out of Carmela's car, muddy and sun-burned, onto a red carpet, shocking patrons dressed in black tie as they rush into the ultra-fancy Hotel Vendue. Hilarity ensues, a gigantic ice sculpture is toppled, and Carmela exposes the killer as Cooter laps up spilled caviar and champagne. Because, really, with a dog named Cooter you just know it's going to be funny.
All my best,
Laura Childs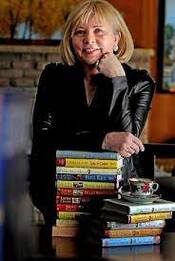 Halfway between a cozy
and a thriller – a thrillzy!
Laura Childs is the USA Today and New York Times bestselling author of the Tea Shop Mysteries, Scrapbooking Mysteries, and Cackleberry Club Mysteries. In her previous life she was CEO of her own marketing firm, authored several screenplays, and produced a reality TV show. She is married to Dr. Bob, a professor of Chinese art history, enjoys travel, and has two Chinese Shar-Pei dogs.
Find out more at www.laurachilds.com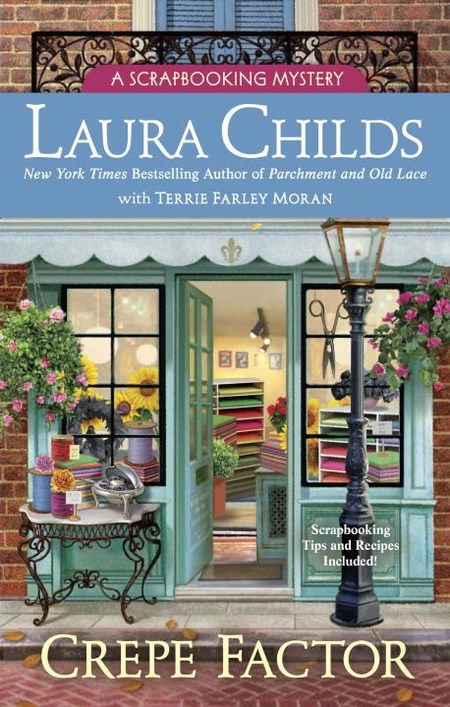 The Winter Market in the French Quarter is in full swing, but murder isn't taking a holiday in the latest from the New York Times bestselling author of Parchment and Old Lace…
The holidays are a busy time for scrapbook shop owner Carmela Bertrand—but not so hectic that she doesn't have time to enjoy browsing the booths at the Winter Market with her best friend Ava. The last thing the ladies expect to see is a lurching man stabbed by a serving fork, dying in front of them.
The victim is loathed restaurant critic Martin Lash, who posted his scathing reviews on the Glutton for Punishment website. And the prime suspect is New Orleans restauranteur Quigg Brevard—who was seen giving the critic a tongue-lashing minutes before someone stuck a fork in him. An old flame of Carmela, Quigg asks for her help, which does not please her current beau, Detective Edgar Babcock, to say the least.
Before her relationship is the next victim, Carmela needs to find a murderer who had no reservations about punishing the culinary curmudgeon…
Scrapbooking tips and recipes included!
Mystery Hobbies | Mystery Cozy [Berkley, On Sale: October 4, 2016, Hardcover / e-Book, ISBN: 9780425266700 / eISBN: 9781101617571]