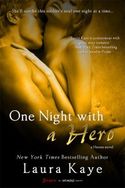 I'm thrilled to be back at Fresh Fiction again, this time to celebrate the brand-new release of my contemporary romance, ONE NIGHT WITH A HERO, the sequel to HER FORBIDDEN HERO. ONE NIGHT is about two people damaged by childhood experiences who, deep down, believe they're not worthy of love, and manage to find everything they never let themselves imagine they could have.
Brady Scott is the hero, and he's active duty Army Special Forces, recently sent stateside for a tour at Army Staff Pentagon. I absolutely love reading about military heroes, and now I'm really enjoying writing them, too. Today, I thought I'd share ten reasons I particularly love reading and writing military heroes:
10. They're heroes. This seems sorta obvious, but here's what I mean: the fact that they've sacrificed to devote their lives to defense of country paints them in a heroic light before you know anything else about them. As a reader and a writer, that usually earns them my respect and sympathy pretty quickly.
9. They know how to commit. Special Forces soldiers sign on for four-to-eight-year terms of service, and many of them become career military. These are guys who know how to stick, who know how to slog through, who know how to persevere.
8. Good backstory. Given how active the U.S. military is in the world today, military characters can have had all kinds of interesting experiences that enrich their backstory—they've traveled, they've fought, they've survived. Perhaps they've been wounded physically or emotionally by what they've gone through. All of this makes for compelling characters to read and write.
7. Adaptable. Soldiers have to be able to think on their feet, to change the plan mid-stream when everything goes to hell. This is exactly what happened to SEAL Team 6 the night they dropped out of the sky to take out Osama bin Laden. And this kind of adaptability and decisiveness under press makes for a strong, reliable, get-things-done kind of hero.
6. Good in a crisis. Military heroes have undergone rigorous training that prepares them to react effectively in any situation. To keep their heads. To improvise. To battle back their fear and act. This is the kind of hero I want around for sure.
5. Courage. Soldiers have this in spades. From the first act of enlistment, they performed an act of courage in which they agreed to risk their lives for defense of country. Their training gives them the skills to justify confidence, but that doesn't mean they don't fear an operation going bad, a buddy getting shot, or their worst nightmare jumping out from around the next corner. If courage is the practice of acting in the face of fear, military heroes have courage in spades.
4. Bad ass. When you add up their adaptability, level-headedness even in the worst of situations, and heroic courage, what you get are some pretty bad-ass types. And I love that in a hero.
3. Physical fitness. Yeah, it must be said, this is another reason I love military heroes. All that physical training leads to heroes who are strong, hard-bodied, damn hot. What more could you want from a hero?
2. Uniforms! Hot body. Military uniform. Camos. Dress uniform. Almost doesn't matter.
1. All of the above equals one hot hero! Military heroes truly have it all—and that means I'm ready to root for them to find their happily ever after again and again!
What do you most enjoy when reading about military heroes? Comment to enter to win a print copy of HER FORBIDDEN HERO, the first book in the Hero Series!
Thanks for reading!
Laura Kaye
Don't miss my huge Players & Heroes Giveaway with fellow Brazen author Jennifer L. Armentrout! (through 11/1!)
Website | Blog | Facebook | Twitter | Newsletter SignUp
"Laura Kaye is synonymous with great, sexy romance."
~NYT Bestselling Author Jennifer Probst
About ONE NIGHT WITH A HERO:
He wants just one night…
After growing up with an abusive, alcoholic father, Army Special Forces Sgt. Brady Scott vowed never to marry or have kids. Sent stateside to get his head on straight—and his anger in check—Brady's looking for a distraction. He finds it in his beautiful new neighbor's one-night-only offer for hot sex, but her ability to make him forget is addictive. Suddenly, Brady's not so sure he can stay away.
…what they need is each other.
Orphaned as a child, community center director Joss Daniels swore she'd never put herself in a position to be left behind again, but she can't deny herself one sizzling night with the sexy soldier who makes her laugh and kisses her senseless. When Joss discovers she's pregnant, Brady's rejection leaves her feeling abandoned. Now, they must overcome their fears before they lose the love and security they've found in each other, but can they let go of the past to create a future together?
About Laura Kaye:
Voted Breakout Author of the Year in the 2011 GraveTells Readers' Choice Awards, Laura is the bestselling and award-winning author of over a half-dozen books in contemporary and paranormal romance. Growing up, Laura's large extended family believed in the supernatural, and family lore involving angels, ghosts, and evil-eye curses cemented in Laura a life-long fascination with storytelling and all things paranormal. A published non-fiction author, Laura's work as an historian and training as an archaeologist help her create vivid and accurate portrayals of other times and places. She lives in Maryland with her husband, two daughters, and cute-but-bad dog, and appreciates her view of the Chesapeake Bay every day.
To comment on Laura Kaye's blog please click here.