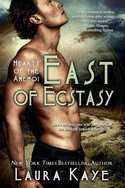 I'm so glad to be back at Fresh Fiction celebrating the release of my fourteenth book, EAST OF ECSTASY! This is the final book in my Greek-mythology-inspired Hearts of the Anemoi series, which includes: NORTH OF NEED, WEST OF WANT, and SOUTH OF SURRENDER. The Anemoi were wind gods the Greek associated with controlling the wind, weather, and seasons. In EAST OF ECSTASY, hero Devlin Eston is the heir to the East Wind which has long been associated with unluckiness, misfortune, and, thanks to Devlin's father, even evil. Devlin himself has been the victim of father's evil, and thereby finds himself an outcast among his own divine family. Devlin is the epitome of the tortured, bad boy hero, and he was incredibly fun and heartbreaking to write.
Today, I wanted to talk about what I learned from finishing my first fiction series. I currently have four series underway, but the Hearts of the Anemoi is the first of them that I've seen all the way through to the publication of the final book. Here are the things I learned from that experience:
1. Finishing a series is scary. This might be a funny place to start, but I cannot exaggerate just how much tension I felt while writing A HREF="http://freshfiction.com/book.php?id=67545″>EAST OF ECSTASY. Because I wasn't just writing a book, I was writing the last book readers would ever get in this series. Which meant I felt a strong sense of duty to get it right, to do justice to all the characters (not just the main leads in this book), and to give readers the series payoff that the earlier books had promised. That's a lot of things to try to get right, and it made writing East of Ecstasy scary and stressful but awesome, too!
2. Finishing a series is bittersweet. In November of 2010, I was sitting alone in a hotel room at George Washington's Mount Vernon while at a conference for my then day-job as a historian and this snow man character started talking to me and telling me how he was supposed to help a widowed woman through her grief. I wrote the first chapter of NORTH OF NEED that night (originally titled Snow's Man (!)) and immediately sent it off to some trusted writer friends asking them what they thought. By the end of January, I finished that book, learned my snow man was actually a Greek god, and began submitting the story for publication. In April, I had an offer from Entangled Publishing for a four-book series. I love the characters in this series and I've spent a pretty significant amount of time with them now for four years. And now their story is over. It's amazing that their stories are now out there in the world, but bittersweet that I won't get to play with them again. I didn't realize how strong that feeling would be.
3. Finishing a series is liberating. As much as it's hard to leave the Anemoi behind, my writer's brain is constantly coming up with new worlds to explore. In addition to the existing series I have underway which all have remaining planned books, a totally new series idea has been pecking at my brain for nearly six months and some of the characters are already talking to me. So it's liberating to begin to clear the decks to allow those new characters a time to shine!
4. Finishing a series is rewarding. Even though it's just a couple days since EAST OF ECSTASY, the last book in the series, released, it's been amazing hearing readers' reactions. This is true of any book, of course, but hearing from readers that they believe the book did justice not just to its own main characters but to all the characters and the world as a whole has been one of the most rewarding experiences in my writing career! And it makes you realize just how much this writing journey is a shared partnership experience with readers.
5. Finishing a series is educational. I learned a lot about how to write a series (and how not to write a series) from this experience. For example, the first book in this series was not originally conceived as part of a series, and there are definitely things I would've done differently in NORTH OF NEED if I'd known more about the broader world I'd be writing about. I don't regret that, exactly, because I love NORTH OF NEED the way it is, but starting in on my next series, I feel I have a better sense of the worldbuilding that needs to happen from the very beginning. I also feel like I've learned a lot about writing distinct characters, handling a large cast of characters, writing bromance, and the importance of the reappearance of previous couples in later books. Those are all incredibly valuable lessons I'll carry into future series I write.
As a reader, what do you most enjoy about reading series?
Thanks for reading!
Laura
About EAST OF ECSTASY:
The final chapter in the award-winning and bestselling Hearts of the Anemoi series…
She's the only one who can give him the strength to save them all…
Annalise Fallston made peace with postponing her big-city dreams to care for her ill father, but lately she's been filled with a restlessness not even her beloved painting dispels. Worse, the colors don't speak to her as they always have, and all her efforts produce dark, foreboding images of a dangerous man and a terrifying future.
Devlin Eston, black-souled son of the evil Anemoi Eurus, is the only one who can thwart his father's plan to overthrow the Supreme God of Wind and Storms. But first, Dev must master the unstable powers he's been given. Distrusted and shunned by his own divine family, he never expected to find kindness and passion in the arms of a mortal.
But Devlin's love puts Annalise in the path of a catastrophic storm, and in the final Armageddon showdown between the Anemoi and Eurus, sacrifices will be made, hearts broken, and lives changed forever…or lost.
Buy at Amazon | B&N | Kobo | iTunes
Catch up on the whole series with the Hearts of the Anemoi box set featuring the first three books: North of Need, West of Want, South of Surrender!
About Laura Kaye:
Laura is the New York Times and USA Today bestselling author of over a dozen books in contemporary and paranormal romance. Growing up, Laura's large extended family believed in the supernatural, and family lore involving angels, ghosts, and evil-eye curses cemented in Laura a life-long fascination with storytelling and all things paranormal. She lives in Maryland with her husband, two daughters, and cute-but-bad dog, and appreciates her view of the Chesapeake Bay every day.
Website | Facebook | Twitter | Newsletter SignUp
One lucky commenter will win a signed copy of EAST OF ECSTASY plus swag, open to international.
To comment on Laura Kaye's blog please click here.