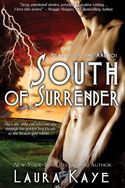 Thanks so much to Fresh Fiction for hosting me here today!
So, a Greek god, a vampire, and an Army Special Forces veteran walk into a bar…
Oh, wait. This isn't a joke. And it's not a bar. It's my writing schedule for the next three months! *grins*
After a rush of releases over the past year, I have the biggest gap between book releases I've had so far in my career. And that's a good thing, because I need all the time to write that I can get! So, today, I thought I'd give you a quick introduction to a few of my upcoming books and a juicy excerpt from one! Read on…
SOUTH OF SURRENDER, fantasy romance, Hearts of the Anemoi #3, to release May 28, 2013
Hero: Chrysander Notos, Supreme God of the South Wind and Summer
Heroine: Laney Summerlyn, freelance writer and horse farm owner
Tagline: She's the only one who can see through his golden boy façade to the broken god within…
Why I'm loving writing this book: The plot has challenged me more than anything else I've written. The hero is absolutely delicious on the inside and the out. And the heroine, who is nearly blind, is just fearless and awesome!
Untitled, dark paranormal erotic romance, Vampire Warrior Kings #3, to release summer 2013
Hero: Henrik Magnusson, Warrior King of the Northern Vampires
Heroine: Kara Sorensen, photographer
Tagline: In the Arctic wilds of Northern Norway, a vampire warrior is starving for blood…and companionship…
Why I'm loving writing this book: OMG the setting! Tromso, Norway. Spectacular Northern Lights displays. My hero is a Viking. And he's dying. This book is so dang sexy!
HARD AS IT GETS, contemporary romance, Hard Ink #1, to release November 2013
Hero: Nick Rixey, prior Army SF, currently a part-time process server and some time tattoo artist
Heroine: Becca Merritt, ER nurse
Tagline: Sometimes falling in love is as hard as it gets…
Why I'm loving writing this book: Tattoos + military romance + off-the-charts sexual chemistry + the band-of-brothers-type relationship between all the male characters. I cannot wait to dive further into this series!
Here's a little more from SOUTH OF SURRENDER:
"Let me heal you." Chrysander swallowed, hard.
"Oh, I—"
He pressed in closer, until his chest brushed up against her breasts. "Please, Laney. I want to make this better." He slid his fingers into the sleek length of her damp hair and forced her head back.
The sweet scent of her arousal joined her natural perfume. "I…I—"
Suddenly, Chrys needed her taste on his tongue again. His mouth claimed hers, devouring, searching, taking.
Laney froze, then was right there with him.
Their tongues met, dueled, twirled. He fisted his hand in her hair and guided her, deepening when he wanted, restraining her when he needed.
Her hands slid up his chest toward his neck.
Chrys gasped into the kiss, but fought the reflexive desire to pull away. Instead, he pushed her back one step, then another, until her back encountered the door. He grabbed her arms and pressed them to the surface over her head. The control flooded relief through him and fueled his arousal another notch.
"I want to touch you," she whispered around a kiss.
His brain scrambled for a moment, and then he wedged his body in tighter, the ridge of his erection coming in snug against her belly. She unleashed a strangled moan as Chrys plundered her mouth, relished her sweet taste, bathed in her life-giving heat.
Good gods, her body was absolutely alive with her arousal. She clenched and unclenched her hands, her arm muscles flexing where he restrained her. Her abdomen writhed against his, creating a maddening friction against his shaft. Her thighs shifted and squeezed.
It was only with the barest of restraint that he resisted willing her clothing away, turning her to face the wall, and tugging her hips out so he could bury himself deep.
Lost in the imagery, Chrys didn't notice the change in her movements until she slowly dragged her injured leg up the outside of his. Her wrists pressed against his hold and a yearning moan worked up her throat. "Chrys," she whimpered, her thigh moving higher.
His heart squeezed and his pulse lunged into a sprint. Damnit. He pulled back and stepped away. "I'm sorry," he said, rubbing his lips, regret a rock in his stomach. He could still feel her, taste her. Making sure she was steady on her feet, he dropped his hands from holding hers.
One commenter will receive a $10 gift certificate to the online bookstore of their choice. Open to international. What to comment? Did you have a favorite line from the excerpt? Or a question about one of my upcoming books? Thanks so much for reading! And good luck!
Laura is the New York Times and USA Today bestselling author of nearly a dozen books in contemporary and paranormal romance. Growing up, Laura's large extended family believed in the supernatural, and family lore involving angels, ghosts, and evil-eye curses cemented in Laura a life-long fascination with storytelling and all things paranormal. She lives in Maryland with her husband, two daughters, and cute-but-bad dog, and appreciates her view of the Chesapeake Bay every day.
Website | Blog | Facebook | Twitter | Newsletter SignUp
Hearts of the Anemoi
To comment on Laura Kaye's blog please click here.