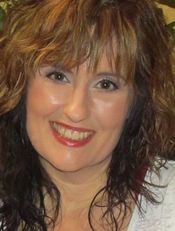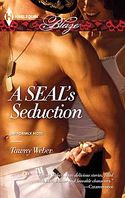 I'm so excited about my new release, A SEAL's Seduction!  It has a hot Navy SEAL, a sexy subliminal scientist and an intense hostage rescue all wrapped together in one sensual story.
I'm probably an oddity as a writer.  I don't re-read my books once they are in print.  In part, it's because I've already spent months with them. Writing.  Re-writing.  Revising. Editing. Editing again.  Summarizing.  Summarizing the summary.  And then reviewing to put together promo stuff, like this blog post.  So, that part is burnout.  I'm pretty much done with the story by the time it's out.
Part of it is control craziness.  I've got a few minor control issues *g * So once that book is out, if I'm reading it, it's been a few months since I last worked on it.  So as I read, I tend to see all sorts of things I'd want to change.   Phrases.  Different angles I could have layered.  Tweaks and minor adjustments.  But I can't do anything about them.  Which leads to that craziness I mentioned.
But, every once in awhile, I have a book that I cannot wait to read again.  One that stays in my mind, even as I'm working on a different story.  A line from the book makes me smile when I remember it. A character might be playing through my head like a friend I miss.  One I have a strong urge to revisit.
Now, don't get me wrong.  I love all of my books.  I couldn't say this one or that one is my favorite, since it'd be like saying this kid or that kid is my favorite.  There's a piece of my heart in each one.  Something special and a lot of love and energy and effort.  But yeah… every once in awhile, one jumps out.  And I can't wait to read it!
That's how I feel about A SEAL'S SEDUCTION.
I. Just. Can't. Wait.
I can't wait to crack open that hot, sexy cover.
I can't wait to watch the back and forth between the clever heroine and the seriously sexy, but slightly tortured hero.
I grin when I think of the secondary characters – I love the brother!
I sigh when I think of their journey to love, and the painful realizations they have to overcome.
I'm totally looking forward to the suspense plot, the kidnapping and rescue and military intensity.
And I love, love, love the ending.  Just smile and give a satisfied sigh love it.
I simply can't wait to curl up with a cup of hot cocoa (with whipped cream, of course), a bowl of popcorn, and the warm fire to read this book!  And really, I pretty much never say that about my own.  But, shhhhh – don't tell the others!
So how about you? What makes a book a keeper for you? Are there stories that, as soon as you close the last page, make you want to open the first one again to start all over?  Do you ever, in the midst of every day life, suddenly remember a character or story and just have to revisit that book? 
Tawny Weber has been writing sassy, sexy romances since her first Harlequin Blaze hit the shelves in 2007.  A fan of Johnny Depp, cupcakes and color coordination, she spends a lot of her time shopping for cute shoes, scrapbooking and hanging out on Facebook.
Come by and visit her website at www.tawnyweber.com for hunky contests, delicious recipes and lots of fun.
To comment on Tawny Weber's blog please click here.