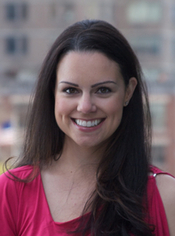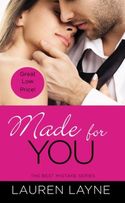 In celebration of MADE FOR YOU's release day, Lauren Layne has shared her favorite enemies-to-lovers stories that helped inspire her latest contemporary romance!
Top 5 Favorite Enemies-to-Lovers Stories
10 Things I Hate About You–Filmed in my hometown, so I know like 90% of the extras you see at that high school!
Star Wars (Leia and Hans)

You've Got Mail–I've watched his movie so many times it's alarming
Maria and Michael from Roswell–Never heard of it? GET ON IT!
The Proposal–I'd find a way to fit this movie into every trope-category if I could
About MADE FOR YOU
Three years ago, Brynn Dalton made a rare error in judgment and had a one-night stand with the one man she swore would never get into her designer panties. Will Thatcher was exactly the type of sexy playboy that good girls like Brynn stayed away from. And when Will moved across the country just days after their fling, Brynn vowed to put him behind her, even as the memories haunt her.
Now Will Thatcher is back, and just in time to see Brynn's perfectly structured life begin to crumble. Her job is dull, her social life is tedious, and Brynn's perfect cardiologist boyfriend doesn't seem to be in any hurry to get to Tiffany & Co. More than ever, Brynn needs her childhood nemesis to keep his distance.
But Will isn't content to be Brynn's dirty little secret any longer. This time, he's out to show Brynn Dalton that the imperfect man might just be the best mistake of her life. Buy now and learn more on B&N, iTunes, BAM!, Indiebound, and Goodreads!
About Lauren Layne
Lauren Layne writes contemporary romance for Grand Central Publishing (Forever) and Random House(Loveswept).
After dabbling in an e-commerce career in Seattle and Southern California, Lauren moved to New York City where she now writes full time.
Lauren graduated from Santa Clara University with B.S. in Political Science that she has yet to put to good use. She lives with her husband and plus-sized pomeranian in a tiny Manhattan studio. Website | Facebook | Twitter
Enter here for a chance to win your own copy of MADE FOR YOU!