Writing this book was especially fun for me because I pretty much grew up on the back of the sweetest little barrel racer, a quarter horse mare named Duchess. So I really identified with my heroine, Amanda, and her love for her barrel racers.
And just like Amanda, I found myself eating dirt a time or two. Before I fully comprehended that most barrel racers have two speeds–full stop and eye-watering gallop–I once found myself hanging upside down and fully stuck on a barbed wire fence after flying over my horse's head. Thankfully, I wasn't hurt at all, but I also learned the perils of wearing a puffy coat while riding a barrel racer that day, because I hung stuck there until a neighbor happened by and peeled me off.
While competing at the level Amanda does in Wrangling the Cowboy's Heart is pure fantasy for me, as is the dream ranch and the hunky cowboy, I do enjoy watching rodeo events such as barrel racing–and bull riding, of course–whenever I can.
I am also excited to have the chance to give away a copy of my first book in the Rodeo Romeos series, The Bull Rider's Second Chance, as well as a cute and very cuddly stuffed horse that resembles Amanda's prized stallion, Whiskey Throttle.
COMMENT TO WIN: Who's your pop culture(TV, movies, books, etc.) cowboy? Tell us in the comments and you'll be entered to win a copy of Leah Vale's The Bull Rider's Second Chance and a super cute stuffed horse of your very own! US only–Good luck!
—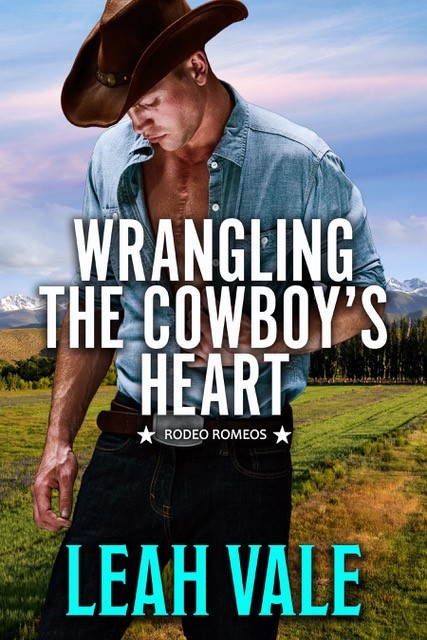 Cowboys who thrill outside the arena as much as in.
His little sister's best friend…
The moment Amanda Rodrigues placed her hand over his heart to break up a fight, rancher Liam Neisson knew he was in trouble. He may have watched Amanda grow up next door and run in and out of his house indulging in wild escapades with his sister, but at this year's rodeo, he suddenly can no longer think of her as the dark-haired little orphan girl running wild. She's now a stubborn brown-eyed beauty who needs his help.
Her best friend's big brother…
Sure she's crushed on Liam all her life, but can she trust him? Barrel racer Amanda recently inherited her parents' small dream ranch years ago, and has learned to run it with little help, but when a letter arrives from an attorney saying his client has a promissory note now due, Amanda knows even her will and hard work ethic won't be enough. Liam's family offers to help, but his offer to buy her prized stallion raises her suspicions. What if Amanda is risking more than her heart?
Romance Western [Tule Publishing, On Sale: June 23, 2020, e-Book, / ]
Having never met an unhappy ending she couldn't mentally "fix," Leah Vale believes writing romance novels is the perfect job for her. A Pacific Northwest native with a B.A. in Communications from the University of Washington, she lives in Central Oregon, with a huge golden retriever who thinks he's a lap dog. While having the chance to share her "happy endings from scratch" is a dream come true, dinner generally has to come premade from the store.