1–What's the name of your latest release? 
Love Is a Rogue is the first book in my new Wallflowers vs. Rogues series with Avon Books.
It's a gender-flipped take on Beauty and the Beast with an HGTV twist. It's the tale of a bookish highborn lady, a handsome rogue of a carpenter, a fixer-upper bookshop, and the chance to build a love to last forever. I have a soft spot for carpenters since my grandfather, father, brother, and husband are all builders. In fact, parts of the book are based on my real-life experience fixing up a Victorian farmhouse with my husband (that's how I met him!) in Portland, Oregon.
3–What word best describes your heroine? 
Bookish. Lady Beatrice Bentley has retreated from society to her brother's Gothic mansion in Cornwall to work on her etymological dictionary.
4–What makes your hero irresistible? 
Ford Wright is a hot, rugged carpenter who builds bookshelves for Beatrice.
5–Who are the people your main characters turn to when they need help? 
Beatrice turns to her best girlfriends, fellow members of the secretly subversive Mayfair Ladies Knitting League.
6–What do you love about the setting of your book? 
Beatrice and Ford are fixing up a dilapidated antiquarian bookshop in London. It was so much fun to write a renovation romance where the setting is transformed in tandem with the love story.
7–Are you a plotter (follow an outline) or a pantster (write by the seat of your pants)?
I used to be a pantser (which, I'll have you know, spell check wanted to change to panther), but I've recently become a hybrid. I create a fairly solid outline using Billy Mernitt's Eight Essential Romantic Comedy beats, and I work outward from there. My final version never resembles my outline very closely, but the structure helps to nail down the central message of the story and the external and internal conflict between the hero and heroine.
8–What is an ideal writing day for you? 
I like to incorporate rituals like yoga, meditation, a walk, beeswax candles, and peppermint tea to keep my mind focused on writing. It always helps if one of my cats curls up beside my desk.
9–Do you listen to music while you write, need total silence, or do you have the TV on?
If I'm writing a rough draft I'll listen to music tailored to the mood of the scene. If I'm editing I use noise-cancelling headphones to help me focus.
10– How do you approach research? 
I focus on the emotional heart of a scene first and and then I go back to layer in the historical research using a variety of online tools and primary sources.
11–What is your publishing journey story? 
I dabbled in gothic Victorian romance (I "won" NaNoWriMo twice) before settling on fun, frothy Regency romance with pop culture hooks. I didn't find my voice until I discovered that I loved writing humor. I entered my third manuscript in several contests and won a few. That opened the door to landing an agent and then I sold Charlene and the Duchess Factory (title was changed to How the Duke Was Won) to Avon in 2015.
12–Do you have critique partners/writing groups you want to give a shout-out to? 
I just had a phone call with my critique partner Charis Michaels, a fellow Avon historical romance author. I was having trouble with my heroine's backstory and Charis helped me understand that my heroine was doing something that was out of character for her. It's wonderful to have a trusted friend to work with because when you're on deadline you're too close to the project sometimes to see the larger picture.
13–What're the most frustrating things about being an author? 
Sometimes you just have to say no to everything and hole yourself up in your room. It can be a strain on relationships.
14–What's your favorite scent?
I'm a lemon fanatic. I drink half a lemon in water every morning, squeeze it on most of my food, and I love the scent of lemons and lemon flowers.
15–What movie will you watch no matter what if it's on TV? 
Pride and Prejudice, any version. I just watched the Keira Knightley version because they added it to Netflix. Every time I read the book or watch the movies I find some new delight.
16–Do you like breakfast, lunch, or dinner best? 
I love a good home-cooked meal with friends and family that includes a bottle of pinot noir and lots of laughter.
17–What's one thing you wish you knew more about? 
Latin. I'm always writing heroines who are fluent in classical languages and then I have to keep looking up verbs and conjugations.
18–What's the silliest thing you've recently done?
I'm always making my cat, Percy, wear glasses and pose for photo shoots with my books. He doesn't seem to mind, but sometimes I wonder what goes through his mind when he sees me pull out the glasses.
19–What can readers expect from you next? 
I'm working on Seduction Is a Scoundrel, Book Two in the Wallflowers vs. Rogues series.
20–How can readers reach you?
You can find links to all of my social media on my website: www.lenorabell.com. Come visit me on Facebook, and join my Reader Group the Bookish Belles for exclusive news and giveaways. I love to hear from readers!

Wallflowers vs. Rogues

Once upon a time in Mayfair a group of wallflowers formed a secret society with goals that had absolutely nothing to do with matrimony. Their most troublesome obstacle? Rogues! 

They call her Beastly Beatrice.

 
Wallflower Lady Beatrice Bentley longs to remain in the wilds of Cornwall to complete her etymological dictionary. Too bad her brother's Gothic mansion is under renovation. How can she work with an annoyingly arrogant and too-handsome rogue swinging a hammer nearby?

Rogue. Scoundrel. Call him anything you like as long as you pay him.

 
Navy man Stamford Wright is leaving England soon and renovating Thornhill House is just a job. It's not about the duke's bookish sister or her fiery copper hair. Or the etymology lessons the prim-yet-alluring lady insists on giving him. Or the forbidden things he'd love to teach her.
They say never mix business with pleasure. But when Beatrice and Ford aren't arguing, they're kissing.
Sometimes temptation proves too strong to resist…even if the cost is a heart.
Romance Historical
[Avon, On Sale: October 27, 2020, Mass Market Paperback / e-Book, ISBN: 9780062993458 / eISBN: 9780062993359]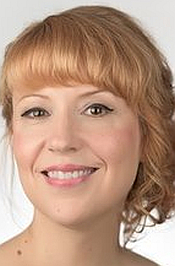 Lenora Bell is a USA Today bestselling author of historical romance novels with Avon Books. Her writing has won numerous awards including the 2014 RWA Golden Heart award for best historical romance and the 2016 RT Book Reviews Best First Historical Romance award. Lenora currently lives in New Zealand with her carpenter husband and two tiger-striped rescue kitties. She loves hearing from readers!
Sign up for her mailing list to hear about new books, sales, and giveaways! Learn more at www.LenoraBell.com