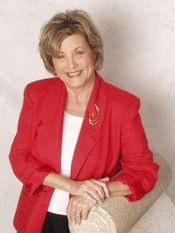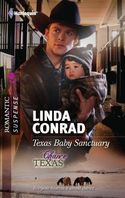 I'm thrilled about the start of my brand new series, beginning this spring for Harlequin Romantic Suspense, called Chance, Texas.  The series features rugged Texas men.  My all time favorite.
The first book in the series is on shelves in print now (April 1 on Kindle and Nook!)  Called TEXAS BABY SANCTUARY, it features Sam Chance, the oldest brother in the large ranching family.  A strong, quiet man of the United States Secret Service, Sam's job is to guard witnesses in the protection and security program.  The one witness that gets to him, running from his protection and changing his life, is Grace Brown.  Hiding from the Mexican drug king who kidnapped her, killed her parents and then made her his mistress, Grace wants to become self-sufficient enough to protect her baby son.  But she discovers she must also learn to trust Sam.
Finding unique plots and interesting characters is always a challenge.  Yet I know those are the very things that make readers happiest.  I know because that's what makes me happiest as a reader and a writer.  My favorite settings are in Texas.  The romance of the great American West stirs a passion in my soul.  I've told many of my stories from a western perspective because I think it's so romantic for a hero and heroine to face challenges from mother nature along with challenges of the heart.
That's why I am so happy to be back writing a series about a large Texas family.  And in the TEXAS BABY SANCTUARY, Sam Chance must go back home in order to protect his witness and her child.  Sam has stayed away from the Chance ranch deliberately, to avoid seeing his own guilt reflected in the eyes of his brothers.  But his heart belongs to Texas and that's where he feels at home.  It's up to him to make Grace see the value in Texas and want to stay there too.
Here's a small excerpt of the beginning when Sam first catches up to Grace:
Stinging cold rain ran off the brim of his hat and dripped down the back of U.S. Marshal Sam Chance's neck.
Shrugging deeper into his lambskin coat, Sam felt chilled through and bone-weary.  So flipping bone-weary, in fact, that he figured sleeping for a hundred years would make a great way to spend his next time off—whenever that might happen.
But as he stood on the pavement in the rough March drizzle staring through the smudged front window of a run-down highway café, his body got a shot of much needed adrenaline.  And suddenly, he had no need for sleep anytime soon.
She was there.
Bending over to wipe down an empty table.  After searching for the last six weeks, he'd finally found his woman.
The information he obtained from those truck drivers a few days ago had been the key to finding her.  They'd said she was working as a waitress in this dingy joint.  And there she was.
But look at how fragile she seemed from this distance.  He'd never known her to be so thin.  And she'd changed her hair color again.  He had grown rather partial to the bright red, but he supposed honey-blond was not all bad—if what you needed the most from your hair color was a temporary disguise.
Where was her baby?  Did she bring him to work with her?  Was the child in the backroom of the café?
Wanting to go to her, to hear her voice again, he fisted his hands at his sides instead and tried to clear his mind.
But he didn't move.  He didn't as much as blink an eyelash.  Focusing his eyes past the left-over Christmas decorations on the window, that were by now looking pretty ratty, he simply gazed at her.
He shouldn't be here.  Never should have started this quest to find her in the first place.  He'd taken a leave from his job in order to begin the search.  But now that he'd found her, he couldn't take his eyes off her.  That she was still well and breathing free air felt like such a relief he could barely think.   …..
There you go! Just a little taste of Sam's journey.  From here the story takes a fast turn and becomes a grand adventure right to the end.  I think you're going to love meeting Sam and Grace and her baby.  I know I loved writing their story.
So what do you think of books about Texas?  Like them or hate them?  Have any questions about me, the new series or about TEXAS BABY SANCTUARY?   Please comment to be eligible for a drawing to win an autographed copy and a $10 gift Amazon gift card.
You can find out more and sign up for Linda's newsletter at:  www.LindaConrad.com or catch up with her on facebook and twitter.
To comment on Linda Conrad's blog please click here.