There are so many components that go into writing a mystery. Fun characters, sneaky red herrings, a plethora of guilty-looking suspects . . . all of these have to be dumped together, shaken up, and poured out into a cohesive story.
When I was writing the initial draft of A FRYING SHAME, I needed to come up with a street name. The street itself wasn't important—simply a quick reference by the police detective as to why she was late for her meeting with Talia Marby, my main character.
Normally I'd stare out the window to dream up a name, or I'd think of a street name from my childhood. I still can't recall how I came up with "Oriole Road" that day, but it found its way into the story.
A few months after I turned in the manuscript to my publisher, my husband broke his hip. During the early stages of his post-surgery rehab, we decided the time was right for us to move to a place where he'd no longer have to climb stairs. I found a promising apartment complex nearby, and decided to check it out. A newly renovated unit had just become available, with full bath and master bedroom on the ground level. It was perfect! Even more delightful was that the upstairs bedroom would make the ideal writing lair for me.
We took the apartment. As soon as my husband was well enough to go home after weeks of physical therapy, we moved in. The address of our wonderful new apartment? Oriole Court. But the street name didn't even ring a bell — not until the publisher sent me the edits for A FRYING SHAME. I was stunned to realize I'd named a random street Oriole Road months before we'd even thought about moving! (insert Twilight Zone music here)
I'll bet you're thinking I'd driven past that street before, and that somehow the name got stuck in my sub-conscious. Nope. Oriole Court is an internal street within the apartment community. I couldn't have seen it from the main drag unless I'd driven into the complex. And I hadn't.
I've decided that the universe was whispering in my ear the day I made up that street name. The hubby and I are very happy in our Oriole Court apartment, just as Talia Marby, the fry cook in the Deep Fried mysteries, is loving her new digs in Wrensdale, Massachusetts. Living in her nana's bungalow, she's been having a blast transforming the old fish and chips shop into a deep-fried eatery.
But it's not without its challenges. Wherever Talia goes, murder seems to pop into the picture. If you're in the Berkshires, stop by Fry Me a Sliver and enjoy a deep-fried treat. The ambiance is cozy, the AC is pumping out chilled air, and the deep fryer is sizzling. And be sure to eavesdrop on the local gossip . . . you can bet it'll be all about murder.
A cooking contest becomes a fry to the finish in the new Deep Fried Mystery from the author of Out of the Dying Pan.
Fry another day.
The town of Wrensdale is abuzz with excitement when Steeltop Foods sponsors a cooking contest to promote its new product, the Flavor Dial. With a $25,000 prize at stake, all the contestants are on edge, including Talia Marby, owner of Fry Me A Sliver. She hopes her mini deep-fried apple pies will win her the money to pay off the renovations on her restaurant. But when Norma Ferguson wins with her flaky-top chicken stew, the tensions dial up even more.
After Norma is found dead at her cooking station, the police suspect a losing contestant got a little too hot under the collar. Now it's crunch time as Talia works to catch the killer and clear her name before another cook gets burned.
Includes delicious recipes!
Mystery Culinary [Berkley Prime Crime, On Sale: April 4, 2017, Mass Market Paperback / e-Book, ISBN: 9780425274156 / eISBN: 9780698154896]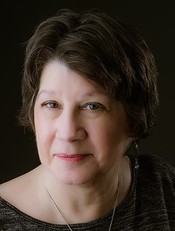 Linda Reilly, author of the Deep Fried Mysteries, including Fillet of Murder, lives with her husband in southern New Hampshire. She is a member of Sisters in Crime and its subchapter, the Guppies. When she's not prowling the shelves of a bookstore or library in search of a cozy read, she can be found tapping away at the keyboard creating her own cozy adventure.