This is a sample of Lindsay McKenna's latest romantic suspense, NEVER ENOUGH, the novella sequel to FORGED IN FIRE. Both are part of the Delos Series.
Can a vacation in paradise heal her trauma and allow love to shine through…
Matt ambled down the busy hall of the Delos Charity in Waianae,
Ohau, Hawaii. There was nothing but women here, and he liked the low-key, warm, nurturing energy that pervaded the place. All of the people he saw were women working under Alani's direction. Running this place took a lot of paperwork, a lot of people who knew the law enforcement and other governmental systems that were in place to help women who were trying to escape abuse. He located the examination room and saw ten women with squirming babies or toddlers in hand, waiting patiently in line.
They gave him a wary look, and Matt felt bad for them. He was male and a stranger to them. Therefore, a potential menace and threat. He saw the door to the examination room open as a mother with a six-month-old baby in her arms left, smiling, relief in her expression. Matt smiled and nodded hello in her direction as he came and stood in the doorway. It looked like Dara had a girl of twelve whom she was teaching how to be her assistant. The young curly-haired redhead was pulling the paper over the examination table, preparing it for the next patient.
"Hey," Matt called softly, seeing Dara lift her head from the form she had been
filling out on her last patient. "Got two minutes?"
She smiled. "Sure." She turned to the carrot-topped preteen girl.
"Stacy? Can you tell our next patient I'll be ready in just two minutes for her? See if she needs anything while she waits."
Stacy gave Matt a very distrustful look and edged warily toward the door near
where he stood. "Sure, Dr. McKinley."
"Thanks," Dara called, giving her a smile. She pointed toward Matt. "This is my
fiancé, Matt Culver. His family owns Delos. He's a friend, he won't bite…"
That information erased the fear in Stacy's large green eyes.
Matt could literally see the girl's slender shoulders drop, and she
instantly relaxed. He held out his hand toward her. "Hi, Stacy. I'm Matt. Nice to meet you." She appeared to be around twelve, with bright copper freckles across her nose and cheeks. He felt her trepidation over shaking his hand. He was going to withdraw it, but suddenly, she gave a little cry and threw her arms around his
waist, hugging him with all her child's strength.
"Thank you! Oh, thank you!" she sobbed into his belly. "You saved my mama, my
brother, and me!" She broke into a gale of tears, clinging to him.
Matt swallowed his surprise and he curved his arms around her, patting her gently.
"We're here to help you all," he murmured, running his hand over her
tousled red hair. It needed to be cut. She looked like little more than a ragamuffin, her feet bare, the muumuu she wore thin, in some places torn and in need of mending. Her little body shook as she cried in relief. Matt was glad the door was shut. This little girl had gone through and probably seen too much. Casting a glance over at Dara, who sat there, tears in her eyes, he fought back his own. A child's crying always ripped him up the most. He'd seen too much of it in broken Afghan villages that had been raided by Taliban. Smoothing her hair with his hand, he eased her arms from around him. Crouching down, he offered her a tissue from a nearby box. "It's going to be okay, Stacy," he murmured, looking into her tear-filled eyes, watching her wipe them and then blow her nose.
"W-we were so scared," she whispered brokenly, clutching the damp, destroyed
tissue.
"My daddy hurt my mommy. He hurt me. He was going to hurt my
baby brother. We were so scared. We had nowhere to go. But Mama came here and Mrs. Alani took us in." She wiped her reddened eyes, whispering, "We thought Daddy was going to kill us. We're afraid he will if he ever finds us."
"You're safe here, Stacy. You, your brother, and your mom. How long have you
been here?" He eased a few strands of hair sticking to her damp cheek behind her ear, trying to give her some comfort.
"T-two weeks. I-I never slept at night. Here, I sleep. It's wonderful." She
shyly reached out, touching his shoulder. "Thank you for saving us . . . Thank
you . . ."
"You're more than welcome," he said gruffly, trying to stuff his own emotions
back down deep within himself. "Listen, I need to talk to the woman I love and
am going to marry this coming June. Could you let us have a few minutes? And
then I'll leave and you can come back in here and help Dr. McKinley?"
"S-sure," she snuffled. "Just . . . thank you . . ." She turned, quickly exiting
the room and closing the door quietly behind her.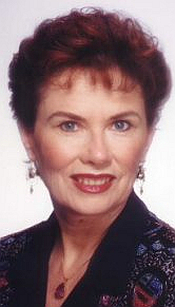 The "Top Gun of Women's Military Fiction," Linsday McKenna has had 145 books published under the McKenna name since 1981, most dealing with military or
mercenary subjects, for several publishers: Simon and Schuster, Warner, Avon and Berkley, Harlequin/Silhouette. She is the originator of the Military Romance genre, with "Captive of Fate," Silhouette Special Edition, 1983. She has sold 23 million books worldwide and in 33 foreign languages. She proudly served in the
US Navy and was a meteorologist.