One of the first things an author learns when creating her characters is the concept of GMC, or Goal, Motivation, and Conflict. Goal is simply what the character wants. Motivation is why he or she wants that goal. Conflict is what's standing in the way of that goal. The goal of a character is something to be achieved in the future, whereas motivation is rooted in a character's backstory or past.
In my new book, KISSING HER ENEMY, backstory plays an important part in both my heroine (Amber) and hero (Logan). Amber grew up in a trailer park, raised by her single mom, whereas Logan was born into one of the wealthiest families in town, wanting for nothing. Amber quickly learned to fend for herself, using her natural feistiness as a defense against bullying and put-downs at school. But then she met Logan in her senior year and developed a secret crush on the rich and popular jock. Against all odds, it seemed Logan liked her too. Until she caught him with his girlfriend and caused an almighty public scene that had Logan embarrassed, seething, and avoiding her like the plague.
Twelve years later, Amber is the proud owner of a hardware store. She's worked really hard to achieve this. Her store supports not just her, but her flighty mom, too, who is recovering from illness. So Amber is understandably horrified when she learns than Logan wants to buy all the stores on her block, demolish them, and build a huge hardware and garden center. If the project went ahead, her neighboring store owners would be able to relocate their businesses to another part of town, but Amber wouldn't be able to compete against the super center and would have to close her business. After years of struggling, Amber's not about to give in, especially with her mom needing assistance and outstanding medical bills still to pay.
Logan has returned home to take over the running of the family company from his father. Ostensibly, this is merely part of a succession plan, but in reality he needs to rescue the company from financial ruin due to his father's mismanagement, while also hiding this from his mom and sister. His father, recovering from illness, refuses to acknowledge his mistakes and insists on meddling in Logan's decisions. Worse still, his parents have decided that, given Logan's reputation as a player, they won't give Logan full control of the company until he's in a relationship with a 'suitable' girl.
Logan desperately needs the proposed mega hardware center to save his family fortunes. Building it will also prove to his father that he's more than capable, and hopefully stop his parents from trying to match him with a woman of their choosing. He thinks it's a win-win situation for everyone including the store owners, since they will get a decent price for their aging properties and either retire or relocate to somewhere else in town.
So he's stunned when Amber barges into his office and declares that she'll never sell to anyone, and especially not to him. Logan is sympathetic toward her plight, but he's determined to build his mega center. The two are immediately at loggerheads, but despite their antagonism, the attraction between them is as strong as ever. This is very unexpected and inconvenient for both of them! How can they remain enemies when they find each other so irresistible? But they must because others are depending on them. There's too much at stake for them to fall for each other.
So there you have it, the goal, motivation, and conflict for my hero and heroine. I hope you enjoy reading Amber and Logan's story. I certainly enjoyed writing it!
Coleen Kwan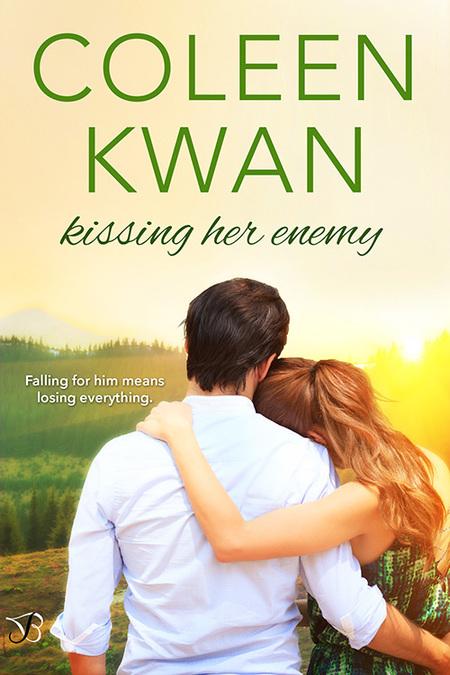 Amber Miller has worked hard to get her small business thriving. Now the Wright family wants to tear down her store to put up a mega center. What's even worse, the guy who broke her heart in high school is the new CEO of Wright Inc. He's just as infuriating now—and just as tempting—as he was back then, but she isn't giving up without a fight.
Logan Wright is back in Pine Falls for one reason: to turn his dad's failing company around. His plans should put them on the upswing. But he didn't count on Amber Miller standing in his way, as fiery and stubborn as she was years ago. And the more time he spends with her, the harder it is to resist falling for her again. The only problem is he's everything she doesn't want.
Romance Contemporary [Entangled Bliss, On Sale: February 27, 2017, e-Book, ISBN: 9781633758865 / eISBN: 9781633758865]
Coleen Kwan has been a bookworm all her life. At school English was her favorite subject, but for some reason she decided on a career in IT. After many years of programming, she wondered what else there was in life — and discovered writing. She loves writing contemporary romance with heart-stopping heroes, spirited heroines, and swoon-worthy HEAs. Coleen lives in Sydney, Australia with her partner and two children. When she isn't writing she enjoys avoiding housework, eating chocolate, and watching Criminal Minds.