What would you do if you were being stalked? Those who have had it happen (and I have), realize the terror of feeling like a hunted quarry and it's only a matter of time until the man hurts you. It is a paralyzing and helpless feeling because more law enforcement won't believe the woman in the first place. I wanted to address stalking of women by a man in this book because it's important to understand just how a woman feels when she's in the gun sights of her hated hunter.
WIND RIVER WRANGLER is about a romance author being stalked in New York City where she lives. Hit with writer's block, she wants to escape it all. Maud Whitcomb, owner of the Wind River Ranch in Wyoming, a family friend, invites her out. Shiloh Gallagher has no idea of how many ways her life is going to be upended. Meeting Roan Taggart, the wrangler from the ranch assigned to "babysit" her for the months she is out there, doesn't exactly agree with him. Roan is an ex-Special Forces operator. He's come to the ranch two years earlier to deal with his PTSD, and he's on the mend. But having this romance author assigned to a company house where he stays, upends his life, too. Shiloh was not intending to be drawn to the tall, intense cowboy. Roan wasn't prepared for his reaction to her, either. And in the midst of it, the stalker isn't going to sit idly by after he finds out she's escaped New York City for the wild West.
Shiloh Gallagher comes from a wealthy New York City family. Her mother was an artist, her father a bestselling author in fiction. She is a romance author and very famous for her books. I wanted to see Shiloh move from being a "city slicker" to a capable, confident Westerner, working at the Wind River Ranch.
Roan Gallagher is all military, with a decade of US Army and black ops behind him. I wanted to see if he could come out from behind that wall he lived within and become far more human.
Still waters run deep . . .
Still waters run deep . . .
From the moment Roan Taggart picked up the pretty redhead at the Jackson Hole airport, his training and experience told him she was spooked. She's left New York City to visit the Wind River Ranch, where Roan is a wrangler, and just as he can pick up a horse's mood, he can feel the tension coming off her body. And that vulnerability is triggering all his protective instincts…
Shiloh Gallagher likes the gray-eyed cowboy's dry humor—and the Special Forces background that lends him a stoic, powerful presence. But she's been scarred by trauma and her mother's murder . . . and knows a strong man can be dangerous. She came to wide-open Wyoming to flee a threat that's left her unable to write her novels. Now, as she rides horses with Roan and helps him build an isolated cabin, she's slowly letting down her guard. But danger has followed her west, and they won't have a future together unless they defeat a killer from her past…
Romance Contemporary | Western [Zebra, On Sale: October 25, 2016, Paperback / e-Book, ISBN: 9781420141740 / eISBN: 9781420141757]

Exciting new series from best-selling author, Lindsay McKenna!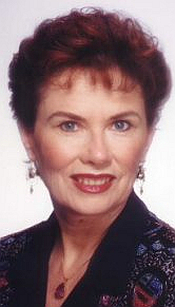 The "Top Gun of Women's Military Fiction," Linsday McKenna has had 145 books published under the McKenna name since 1981, most dealing with military or mercenary subjects, for several publishers: Simon and Schuster, Warner, Avon and Berkley, Harlequin/Silhouette. She is the originator of the Military Romance genre, with "Captive of Fate," Silhouette Special Edition, 1983. She has sold 23 million books worldwide and in 33 foreign languages. She proudly served in the US Navy and was a meteorologist.