I never know where my stories will come from. While working on my first Carolina book, set on the Outer Banks, I became fascinated with the mystery of the Lost Colonists of Roanoke Island. You can't spend time on the Carolina Coast without realizing that theories abound as to the fate of the 117 people who vanished from Sir Walter Raleigh's ill-fated colony over thirty years before the Pilgrims would land on Plymouth Rock. While writing my second Carolina book, THE STORY KEEPER, I delved into the mystery of what early explorers deemed to be "blue-eyed Indians," who were found to have been living in the Appalachian mountains decades before other Europeans pressed in. I knew that the third Carolina book would somehow bring these two fascinating bits of history together.
An interesting thing happened when THE STORY KEEPER hit the bookstores. Because the novel is about the discovery of an untold story, readers began sharing their own family stories with me. One reader mentioned that she'd traveled through the mountains many times as a child and one day had noticed that there were doors in the mountainside. When she asked about the doors, her father told her that during the Depression, families who lost their farms or had no place to live would often move into a nearby cave. Many salvaged doors, windows, and furniture from their repossessed homes before leaving and used those to outfit their new cave houses.
I couldn't resist researching that tale, but I found very little about Americans living in caves during the Depression. What I did come across were life history interviews written by participants in a little-known WPA program called the Federal Writers' Project. The Project hired impoverished writers, academics, housewives, and reporters, then turned them into Field Interviewers whose jobs were to travel the hidden corners of America and record the stories of the common man. The adventures of these Federal Writers were equally as fascinating as the narratives and stories they discovered during their travels.
What might a modern woman discover, I wondered, if she were to happen to find the long-hidden missives of a relative who had left behind her wealthy family to become a Federal Writer? Could she possibly discover, among mountain stories handed down by oral tradition, not only her own family history, but a clue to one of America's oldest mysteries?
The process of answering that question became the genesis for THE SEA KEEPER'S DAUGHTERS. From there, the story developed largely from the geographical settings and the rich history there.
Appalachia is a place where the air fairly whispers with stories. So much of the world has become too fast-paced these days, too busy for sitting and listening, too preoccupied with the future to devote effort to retelling the past. But in Appalachian culture, there's still a reverence for it.
There are still storytellers who can entertain a crowd at a ramshackle café, on a back porch, or at the kitchen table over coffee. That tradition of the importance of story is at the heart of Alice's journey as a Federal Writer in the historical portion of THE SEA KEEPER'S DAUGHTERS.
Appalachia is filled with mist and mystery. It lends mood to a story. The mountains are dotted with isolated communities where people can live differently, undisturbed by outsiders. It's also the place where mysterious "little races" like the Melungeons lived historically, and in some cases still do. Even today, the heritage of "blue-eyed Indians" discovered in the Appalachians by the first English and French explorers remains a mystery. What were the origins of their Caucasian blood? Were they descendants of shipwrecked sailors? Journeying Norsemen or Turks? The progeny of the Lost Colonists who vanished from Roanoke Island without a trace, decades before the Pilgrims landed on Plymouth Rock? The mystery fascinated me, and it pulled the story from me, and yes, both Roanoke Island and the Blue Ridge Mountains became characters in themselves as the dual storylines developed.
It's always a challenge to balance dual time frames and a story within a story. It falls in the category of double-the-work and double-the-risk, but also double-the-fascination and double-the-reward. There's twice as much research, but in doubling the research, you also discover twice as many interesting historical facts, unanswered questions, and nearly-forgotten true stories. Those things weave new threads into the story loom. For me, the biggest challenge was balancing the two stories, ensuring that both the narratives of both Whitney and Alice would be fully satisfying, and that the historical story would serve a purpose in modern-day characters' lives.
THE SEA KEEPER'S DAUGHTERS was a magnificent story journey for me. In the end, from the biggest challenges come the greatest triumphs, in life and in writing. This story was a joy. I've loved watching book clubs and readers discover the works of the Federal Writers. Beyond that, my hope is that in discovering the works of these brave writers, those who are living today's stories are inspired to preserve them for their families and for future generations. Our stories are the one part of us that survives in this world long after we are gone and each of our stories has valuable lessons to teach. It's important that those lessons live on.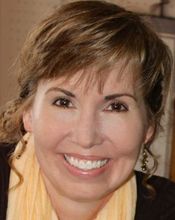 Selected among Booklist's Top 10 for two consecutive years, Lisa Wingate skillfully weaves lyrical writing and unforgettable settings with elements of traditional Southern storytelling, history, and mystery to create novels that Publisher's Weekly calls "Masterful" and Library Journal refers to as "A good option for fans of Nicholas Sparks and Mary Alice Monroe."
Lisa is a journalist, an inspirational speaker, and the author of twenty-five novels. She is a seven-time A CFW Carol Award nominee, a multiple Christy Award nominee, a two-time Carol Award winner, and a 2015 RT Booklovers Magazine Reviewer's Choice Award Winner for mystery/suspense. Recently, the group Americans for More Civility, a kindness watchdog organization, selected Lisa along with Bill Ford, Camille Cosby, and six others as recipients of the National Civies Award, which celebrates public figures who work to promote greater kindness and civility in American life. Booklist summed up her work by saying, "Lisa Wingate is, quite simply, a master storyteller."
From modern-day Roanoke Island to the sweeping backdrop of North Carolina's Blue Ridge Mountains and Roosevelt's WPA folklore writers, past and present intertwine to create an unexpected destiny.
Restaurant owner Whitney Monroe is desperate to save her business from a hostile takeover. The inheritance of a decaying Gilded Age hotel on North Carolina's Outer Banks may provide just the ray of hope she needs. But things at the Excelsior are more complicated than they seem. Whitney's estranged stepfather is entrenched on the third floor, and the downstairs tenants are determined to save the historic building. Searching through years of stored family heirlooms may be Whitney's only hope of quick cash, but will the discovery of an old necklace and a Depression-era love story change everything?
Inspirational | Contemporary [Tyndale House, On Sale: September 8, 2015, Hardcover / e-Book, ISBN: 9781414388274 / eISBN: 9781496409812]