Hi Fresh Fiction fans! It's so exciting to be here with a chance to talk about one of my favorite subjects: the animals in my books. I'm slightly obsessed with putting furry critters in my stories, but I am definitely not alone in that infatuation. Romance novels are filled with animals!
I have a hard and fast rule when it comes to casting my dogs, cats, and horses. They aren't allowed to purr, sit, or gallop around purely for decoration. They have to play meaningful parts in the arc of the story.
In my new novel THE BRIDE WORE STARLIGHT there are five important animals. I'd like to introduce them, and show how they are integral to the journey of their humans, Joely Crockett and Alec Morrissey
PENNY is a quarter horse mare we never get to meet. She belonged to Joely, who was bringing her home to Wyoming, when they in a serious car accident. The tragedy left Joely permanently injured and her beloved horse dead. Losing Penny is was one too many failures for Joely to absorb. She's suffered a miscarriage, lost her marriage, and now has permanent, visible scars—devastating because all her life she's literally been a beauty queen, and that's all she knows. Now an accident she believes was her fault, has taken her horse. Joely starts off her story seeing herself as a total failure.
ROWAN is Alec's Irish Wolfhound. I love Rowan since she's both comic relief and the catalyst that brings her humans together. She's Alec's biggest source of comfort. When he dares bring Joely to meet her, the friendly but gigantic dog knocks her to the floor, injured leg and all. The fact that Joely's biggest fear, falling, is realized but only endears her to Rowan is the first sign to Alec that Joely might be someone special. Much later in the book, when Joely is learning to ride again, a serious injury to Rowan forces Joely to face all her fears fully so she can save the dog.
GHOST PEPPER is a rodeo bucking horse. Alec was a rodeo rock star—a champion saddle bronc rider. But the only horse he never beat was Ghost Pepper. Until he lost a leg and left rodeo, lasting eight seconds on GP was his goal. But Alec has made peace with his injury—or so he wants everyone to believe. When GP comes back into his life, we learn there isn't really peace in Alec's heart. He got his injury when searching unsuccessfully for his cousin Buzz in Iraq. Buzz was his best friend and rodeo partner and Alec, charged with keeping him safe, failed to do so. Now he's given up all the things he feels he robbed Buzz from having. He can't even let himself love again. Until the wily Ghost Pepper plays his final role in Alec's life!
PANACEA (PAN) is a grulla-colored mustang mare who first appeared in the last book of this series, "The Bride Wore Red Boots." In "Starlight," Pan is due to foal, but when she goes into labor the baby is out of position. Joely, who wanted to be a veterinarian but was always discouraged, is the only one who can help. When she's done, she convinces herself that although she still has her desire to work with animals, she no longer has the physical ability to become a vet. It's one of her darkest moments.
MUDDY WATERS is the new horse Joely's sisters have chosen for her, but she wants nothing to do with bonding. No horse can replace Penny nor does Joely want one to try. But Muddy plays perhaps the biggest role of all when he's the one she has to rely on at the moment of biggest crisis. With Muddy's help Joely learns on her own how strong she really is. Only then can she believe what Alec tried to tell her from the start.
As you can see, none of these animals are thrown into the book strictly because I'm a little crazy for critters—they are part of and necessary to the story! I hope they intrigued you, and you'll check out the book to learn exactly why it took five animals to get Joely and Alec to their starlight wedding happily ever after.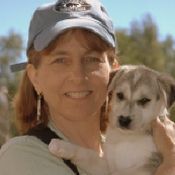 Lizbeth Selvig lives in Minnesota with her cradle-robbing husband and a border collie that inspired the character Dug ("Squirrel!") in the Disney movie Up. After working as a journalist and editor and raising an equine veterinarian daughter and a talented musician son, Liz entered and won RWA's Golden Heart® contest in 2010 with her contemporary romance The Rancher and the Rock Star. In her spare time, she loves to hike, quilt, read, horseback ride, and play with her nearly twenty four-legged grandchildren.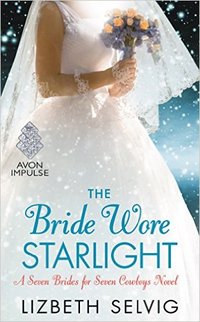 Once comfortable on stage in front of thousands, Joely Crockett is now mortified at the thought of walking—or rolling—down the aisle at her sisters' wedding. Scarred and wheelchair-bound, the former beauty queen has lost more than the ability to walk—she's lost her fire. But when one handsome, arrogant guest accuses her of milking her injuries and ignites her ire, Joely finally starts to feel truly alive again, and soon it's impossible for her to resist her heart's desire.
Alec Morrissey knows a little something about loss. A famous rodeo cowboy before he was injured in Iraq, he's managed to create something of a normal life, even if it's not the one he always imagined. Encountering stunning but damaged Joely, he sees a kindred spirit who can learn from his mistakes.
As these two healing souls begin to fall in love under the Wyoming stars, they must discover if they are willing to give in to the tragedies of life or fight for a future together.