Secret passages have always captivated me. Growing up, one of my best friends lived in a 125 year old farm house that had three secret passages. One was in an upstairs bedroom that lead into the below kitchen pantry closet, then there was a fake bookcase that was really a door revealing a cozy little TV room, and one passage I was never able to see because I'm pretty sure it lead outside through a creepy storage shed. Needless to say, playing Clue in her house was always thrilling.
As a daughter of an engineer, our house felt like it was decorated in blueprints. It took me until tenth grade to realize that knowing how to draft a room and knowing the signs for a shower, window, door, light fixture, sink, plumbing, and bath were not common knowledge. Apparently those kids did not design fake homes on graph paper during lazy Saturday morning family fun (they missed out).
One of the great aspects of being an author is designing the setting for your novel. In previous novels, I've had fun imagining a bedroom or classroom, but with my newest novel I fell in love with the process of creating my setting, Brockmore Academy, an elite boarding school on the East Coast. Unfortunately, I've never been to Maryland where the book is set, but I'm blessed to live in the Twin Cities where many gorgeous college campuses surround me. During a fall trip to Northfield, MN, I fell in love with the beauty of St. Olaf College (and their seriously gourmet cafeteria). After one look, I knew I had to write a boarding school romance.
This was odd for me. Usually character is the initial drive for my novels. But in the case of my upcoming novel IT HAD TO BE YOU, the buildings spoke first. Before I even knew my main characters' names, I was drawing out sketches for the first three levels of Brockmore Hall, the main dormitory and office building on Brockmore's campus. Of course I added a few secret passages to help my characters get in and out of trouble. Through the process of creating these passages, I discovered the golden retriever like energy and charisma of my hero, James, and I fell in love.
I mean, who wouldn't fall in love with a guy who sneaks pizza into the dorms at any hour and can sneak you out for a midnight stroll under the moon?
James Parson has a problem. His military dad is going to yank him out of his expensive boarding school if James doesn't prove he's no longer hooking up, pulling pranks, and charming his way out of consequences. What better way to show he's now responsible than becoming the committed boyfriend of a U.S. diplomat's daughter?
Level-headed, book-smart Edelweiss may have traveled the world thanks to her dad's job, but when it comes to friends and boys, she knows exactly nothing. Newly enrolled in boarding school, Edel is now on a mission to learn it all. James says he'll help her experience the ultimate high school life—if she'll be his fake girlfriend. And fake is perfect, because he's exactly the kind of player she'd never date.
Disclaimer: This Entangled Teen Crush book contains red-hot romance, all the feels, and a soul-mate bad boy.
Young Adult [Entangled Crush, On Sale: May 15, 2017, e-Book, ISBN: 9781633759367 / eISBN: 9781633759367]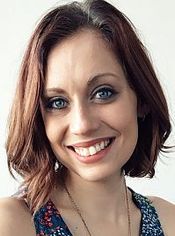 Writing is the beautiful secret hidden in the pages of Lizzy's soul. When she's not scrambling to raise her spunky toddlers or caring for premature and sick babies as a neonatal intensive care nurse, she's in a quiet corner writing or snuggled up with her favorite novel, Pride and Prejudice.
She graduated from the University of Minnesota, where she crammed children's literature and creative writing courses into her vigorous nursing degree schedule. With a background in health, she writes about childhood health and development as her contribution to a popular MN public policy blog.
Lizzy caught the writing bug in first grade and hasn't stopped jotting plot lines since. She married her high school sweet heart, a heart-melting musician, so it's no surprise she's fallen in love with writing contemporary Young Adult romance novels.