I'm not a writer.
Well, that's not exactly true, clearly, because here I've just written a book. I suppose what I'm trying to say is that I have trouble self-identifying as a writer after so many years in my current career…Classical Music Radio DJ.
Huh?
I used to say Classical Music Host, but no one got it. Then I said Classical Music DJ, but then someone asked me "So, what kind of parties do you hire a classical music DJ for?" That's when I started throwing in the word 'radio' to distinguish myself from the guys who throw giant sunglasses and inflatable bananas at the crowd of a wedding reception while playing the Electric Slide.
So, what is it, exactly, that I do do?
I'm on the radio. I play a piece of classical music, I talk about it, I play another one. Lather, rinse, repeat. Though, to be fair, it's a lot more interesting than that. I go out of my way to talk about the composers and performers in a way that makes them relevant to people who listen today. And, I suppose, this is where my inclination to write comes from. I like to tell stories. Interesting stories, filled with interesting characters…like Franz Liszt, the piano-playing hottie who thought he was every girl's dream. He had two pianos put on stage when he played, so he could get up and switch sides halfway through the concert, giving the audience a view of his other profile.
Oh, and there's no shortage of love stories in classical music…
Like Clara Schumann who was devoted to her husband, the great composer Robert Schumann. Unfortunately, Robert suffered from mental illness and it was a tremendous strain on their relationship. Thankfully their dear friend and equally great composer Johannes Brahms was there to comfort Clara in those difficult days. And while there's long been speculation over whether they "did" or "didn't," it's been a one of classical music's enduring love triangles for centuries.
The story of Franz Joseph Haydn and his wife is more of a cautionary tale with the moral being: don't make any big decisions when you've just suffered a loss. Uh-huh.
When the love of his life ran off to a convent, the girl's father took advantage of the stunned and heart broken Franz Joseph and pawned off on him his other daughter…an ill-tempered shrew who hated him and hated his music. On more than one occasion he found she'd shredded his musical compositions to use as curlers in her hair or to line her cake tins with.
Oh! And have you heard the story of Zenta? She wasn't a composer—she wasn't even real. Zenta is the main female role in the opera The Flying Dutchman by Richard Wagner. Poor Zenta fell in love with a guy in a picture. Hey, it happens, right? Match, Tinder, etc., etc. Only problem was the guy she fell in love with was already dead. Ewwww! Not like THAT! I'm just saying she fell in love with a ghost. Which was unfortunate, considering there was only one way they were going to be together…and let's just say he wasn't coming back to life.
Okay, so maybe, all things considered, I should be self-identifying as a writer. After all, I've been telling romantic stories about quirky characters for longer than I realized. That's how the writing got into the music. But how did the music get into the writing?
I've had a lot of fun setting my books in the world of classical music. Musicians, conductors, chamber ensembles, orchestras, singers…they've all found their way into my novels as characters. Sometimes they're on stage, sometimes they're in college. That's the case with my new novel, SOLO. It's set in the music department of a small university in the North Carolina Mountains.
Kate is a graduate conducting student. Drew is her orchestration professor. He's haunted by a tragic loss in his past. She struggles with the burden of surviving on her own, with no financial or emotional support from her father. When they're together, Kate and Drew bring out the worst in one another.
But when they find themselves stranded together in a blizzard, under some very trying circumstances, they come to see that things—and people—aren't always as they seem.
Hah! Well how do you like that? A plot worthy of an opera! And don't worry, there's classical music in Solo, but it's a far cry from dry and dull…more like Bach and Beethoven with a side of twisty and steamy, thank you very much!
Check out SOLO, available now from Entangled Publishing.
Happy reading…and listening!
-Lauren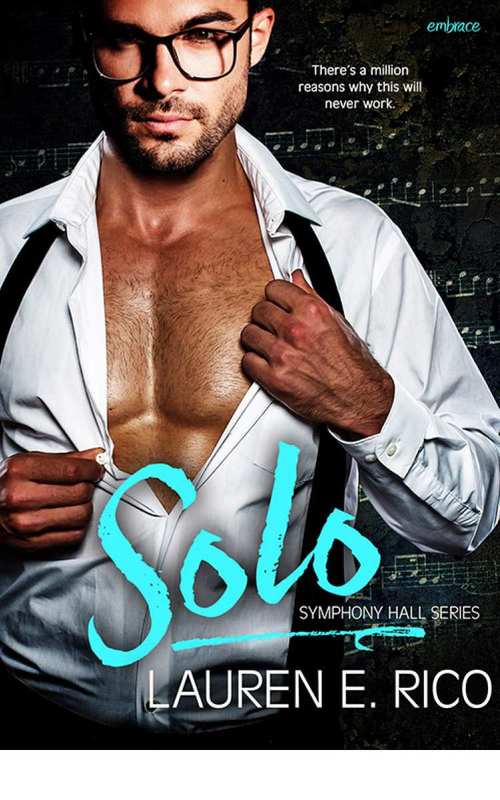 When graduate student Katherine Brenner walked into my class, I couldn't stand her — all perfect skin and big, blue eyes — just like the woman who broke my heart.
If it wasn't for that blizzard, if her car hadn't broken down outside my house, if she hadn't looked amazing by the firelight, I never would have kissed her. No matter how hard I try, every excuse I make not to see her comes up flat.
I can't stop thinking of her lips. Or the way her curves fit perfectly in my hands. There's a million reasons why this won't work. I'm her professor. It's against university policy.
And if this gets out, I could lose everything.
Romance Contemporary [Entangled Embrace, On Sale: May 8, 2017, e-Book, ISBN: 9781545256800 / ]
Save