In my new book COWBOY KARMA, hero Lucky Garcia is a rodeo cowboy who hooks up with his longtime crush, a woman named Harmony Santos who happens to be on the rebound after a bad breakup. Lucky can't believe his good fortune, but the feelings he's always had for Harmony come to the surface when he realizes this could be more than just a one night stand.
Romance authors fall in love with their characters all the time, but Lucky is really special to me. Here's what makes him tick.
He's a damned good cowboy. Lucky is a ranch hand and a champion tie-down roper. He trained his roping horse Batman. "He'd worked cattle all his life, even back in Zacatecas. He rode horses before he could walk."
He's an excellent dancer. Harmony and Lucky begin their hookup at the Silver Spur, a country western bar. "Before Harmony could say anything, the stranger took her hands and spun her. His movements were sure and strong. He was an experienced dancer, not someone who had to be babysat around the floor."
He's an underdog in his sport. Lucky is a talented calf roper, but his family can't afford the expense of competition. "The guys I'm competing against, they're like royalty. Their fathers, their grandfathers were world champions. It's in their blood. They have lots of support…Me? I have to give it up soon. It's a luxury. Too unpredictable."
He knows how to fight. Lucky never shies away from a brawl, especially when the other guy throws the first punch. "Lucky was on his feet in a flash. He rushed Dr. Dickhead, knocking him clear of Harmony. They crashed to the floor, where the good doctor found himself pinned down by two hundred and twenty-five pounds of angry Mexican cowboy."
He's dynamite in bed. Harmony can't get enough. "In one wild night, he'd turned her into an animal. There was no way she'd think of sex the same way again. There was nice sex. There was pleasant sex. There was even satisfying sex. But sex with Lucky? He'd turned her whole world upside down."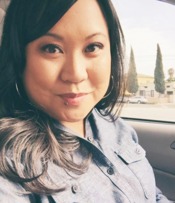 Mia Hopkins writes lush romances starring fun, sexy characters who love to get down and dirty. She's a sucker for working class heroes, brainy heroines and wisecracking best friends.
When she's not lost in a story, Mia spends her time cooking, gardening, traveling, volunteering and looking for her keys. In a past life, she was a classroom teacher and still has a pretty good "teacher voice" and "teacher stare."
She lives in the heart of Los Angeles with her roguish husband and two waggish dogs.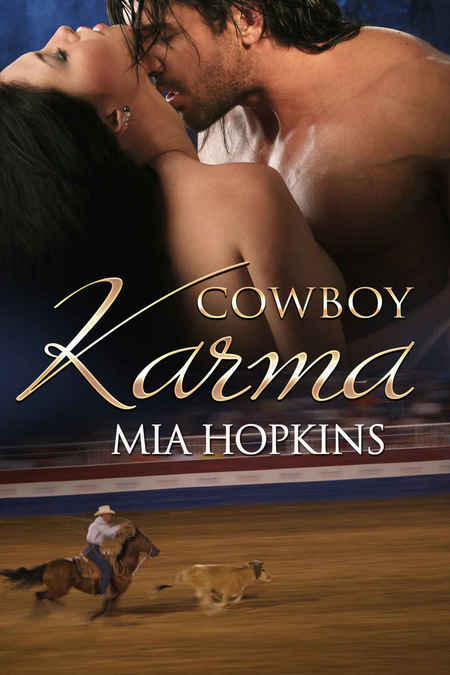 Who needs luck when you can get Lucky?
When Harmony Santos's boyfriend dumps her on her birthday, she doesn't get mad. She gets lucky…with a mysterious cowboy whose bedroom eyes and rough edges bring out her inner bad girl. But when their one-night rodeo turns into more than a rebound, Harmony worries her heart hasn't healed enough to take on someone new—even if that someone is as sweet as he is sexy.
Tie-down roper Lucky Garcia can't believe his good fortune. A shot at national finals and now this—his longtime crush, in his arms at last. The more time he spends with Harmony, the harder he falls for her. But financial demands and family responsibilities take him further and further away from her—as does his secret fear she hasn't quite gotten over her dickhead ex. Behind closed doors, Lucky and Harmony are filthy perfection. But when reality comes knocking, the star-crossed lovers must decide: walk away intact, or risk it all for a chance at happiness.
Get ready for rope tricks, spanking, self-pleasure, and a smoking-hot cowboy who puts the big D in Dominant.
Romance Erotica Sensual [Little Stone Press, On Sale: October 17, 2016, e-Book, / ]