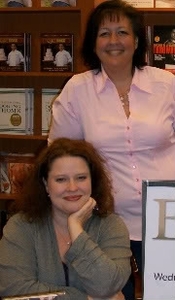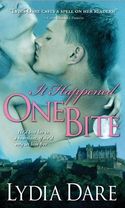 We first introduced the Còig, a coven of Scottish witches in TALL, DARK and WOLFISH in May of 2010 with Elspeth Campbell's book. Then we met up with them again in THE TAMING OF THE WOLF in November 2010 with Caitrin Macleod's book. Technically 2011 is the year of the vampyre for Lydia Dare, however it could just as easily be called the year of the witch. Although each book in our new trilogy features a vampyre hero, the heroines are the remaining members of the Còig.
We thought the best way to introduce you to the other three witches was to let Elspeth (now Westfield) and Caitrin (now Eynsford) do the honors. After all, who knows these three better than their coven sisters?
Elspeth – Well, how should we start this? I doona want ta say somethin' that will make one of them angry with us.
Caitrin (snorts) – They're usually angry with me for one reason or another anyway. So I'll start. I suppose I'll begin with Blaire Lindsay, since she is first up in IT HAPPENED ONE BITE. Blaire can fight better than any man. She is proficient at archery and swords, and she has the power of fireballs restin' right beneath her fingertips. She is a force ta be reckoned with.  I wouldna cross her if she was angry.
Elspeth – But she is kind and carin' too. Very maternal. She's raised her ten year old brother since he was born, after all. And she is even close ta her older brother. They have a tight bond, the Lindsays, loyal and devoted ta one another.  There isna anythin' Blaire wouldna do ta protect her family.
Caitrin – The same could be said about Rhiannon Sinclair from IN THE HEAT OF THE BITE. Rhi is the oldest of two girls and she is very devoted ta her younger sister.
Elspeth – True. Though Rhi has ta be even more careful with her emotions than Blaire or she can set off storms of one sort or another.  She isna just in tune with the elements, they're a part of her.
Caitrin (laughs) – Ye should have been there, El, when Rhi's powers went awry at Lady Pickering's ball. Lightnin' flashed around the room, a punch bowl exploded, and an icicle dropped into the Duchess of Hythe's cleavage.
Elspeth (gasps) – I canna believe ye can laugh at that, Cait. Someone could've been hurt.
Caitrin – Or someone could have attributed the strange storm ta Rhi, which would have been detrimental for us all.
Elspeth – Aye, bein' a witch is no' somethin' ye can just go around talkin' about. No' in the nineteenth century, anyway.
Caitrin – Though if any of us could get away with bein' a witch in any century it would be Sorcha Ferguson from NEVER BEEN BIT.
Elspeth – Sorcha is the youngest of us all.
Caitrin – Like a little sister ta each of us.
Elspeth – Kind and sweet and gentle.
Caitrin – And determined and reckless and…
Elspeth – Ye're talkin' about Sorcha? Determined and reckless?
Caitrin – Ye dinna see her at the Duchess of Hythe's house party. If ye had, ye would say the very same thing, Elspeth Westfield.
Elspeth (rolls her eyes) – Oh, I'm certain I would never disagree with ye, Lady Eynsford.  (clears her throat) Sorcha is in touch with nature, she can have plants do her biddin'. She's like the magic of nature and goodness all rolled inta one.
Caitrin – So there ye have it. Our sister witches – Blaire the battle-born, Rhiannon who is one with the elements, and Sorcha the princess of plants.
Elspeth – Now I see why one of them is always angry with ye about somethin'. The princess of plants? (rolls her eyes) Just wait until ye see Sorcha next.
IT HAPPENED ONE BITE BY LYDIA DARE – IN STORES MARCH 2011
He's Lost, Trapped, Doomed for All Eternity…
Rich, titled and undead, gentleman vampire James Maitland, Lord Kettering, fears himself doomed to a cold and lonely existence—trapped for decades in an abandoned castle. Then, beautiful Scottish witch Blaire Lindsay arrives, and things begin to heat up considerably…
Unless He can Persuade Her to Set Him Free…
Feisty Blaire Lindsay laughs off the local gossip surrounding her mother's ancestral home—stories of haunting cannot scare off this battle-born witch. But when she discovers the handsome prisoner in the bowels of the castle, Blaire has no idea that she has unleashed anything more than a man who sets her heart on fire…
ABOUT THE AUTHOR
Lydia Dare is the writing team of Tammy Falkner and Jodie Pearson. Both Tammy and Jodie are active members of the Heart of Carolina Romance Writers and live near Raleigh, North Carolina. Their next two books will also feature gentleman vampires: IN THE HEAT OF THE BITE (July 2011) and NEVER BEEN BIT (September 2011)! For more information, please visit http://www.lydiadare.com/.
Comment to win a copy of IT HAPPENED ONE BITE, two winners.
To comment on Lydia Dare's blog please click here.