Hey all! I'm happy to be here at Fresh Fiction. I'm still celebrating my newest release, MY TEMPTING HIGHLANDER. It's the third book in my Highland Hearts series, Mairi Sinclair and Ronan Sutherland's story. If you've been following the exploits of the time-traveling Sinclair family, you know that Mairi's one of the last two Sinclair sisters still residing in the twenty-first century. She's also determined to stay in that century but matchmaking Granny and cursed but wolfishly sexy (as in shifter type hotness) Highland Chieftain Ronan decide otherwise.
Even when writing romances with such fantastical elements as time-travel, magic, and shape-shifting, research has to be done to make sure the story is just right. That's why I'm so thankful for the internet and online writer groups these days. "Sensitive" inquiries can be tossed about without any drop-jawed stares or threats to call security. When I first started writing, some thirty odd years ago, the bulk of data hunting had to be done at libraries. Here's a few questions that I'm glad I didn't have to ask my local librarian.
Could you direct me to the section on poisons or would you happen to know if arsenic has enough smell to it to detect it in someone's drink?
Which is better at lopping off arms and heads: a broadsword or an axe?
I need a book on knot-tying—more specifically a hangman's noose.
How long does it take a one hundred and fifty-pound man to die from lack of food and water?
See what I mean about "sensitive" inquiries? To celebrate the release of My Tempting Highlander and also show any *ahem* security investigators why the above questions were pertinent to my series, I'm giving away one copy of each (MY HIGHLAND LOVER, MY HIGHLAND BRIDE, and MY TEMPTING HIGHLANDER) to introduce one lucky commenter to the Highland Hearts series.
To enter, just answer this question in the comments:
If you could jump back and forth across centuries, what era would you like to visit?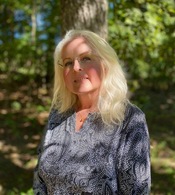 No one has the power to shatter your dreams unless you give it to them. That's Maeve Greyson's mantra. When she's not working at the steel mill, Greyson's writing romances about sexy Highlanders and the women who tame them. She and her hubby of nearly thirty-seven years reside in a five acre wood in rural Kentucky.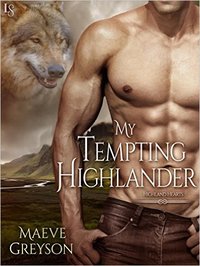 From the author of My Highland Bride—hailed by Sandy Blair as "an entertaining time-travel story packed with spice, humor, fantasy, and nonstop adventure"—comes a sensual novel featuring a wolf-shifting chieftain who travels centuries to modern-day Scotland to tame his one and only.
Cursed to live forever with neither wife nor child, Ronan Sutherland has watched all he cherishes turn to dust—more than once. For hundreds of years, he's been trapped behind the mists of Loch Ness, hoping to identify the one woman who is prophesied to break the spell. Now, at last, the fates have aligned, and he's being sent into the future to fetch her. After a single glimpse, Ronan knows he's been waiting all his life for this passionate woman.
Unlike her time-traveling sisters, Mairi Sinclair is perfectly content to remain in the present. As a hospital nurse in Edinburgh, she cherishes the opportunity to put her gift of healing powers to good use. But everything changes the morning a mysterious wolf darts in front of her car. Touching the wounded creature's tawny coat, a tingle surges through her. Yet when she returns with aid, Mairi is shocked to find instead a man with broad shoulders and fire in his eyes—a man who tempts her to unleash the animal within.
"With deft strokes, Maeve Greyson paints another exciting and heartwarming time-travel romance. As she takes you from the thirteenth century to the twenty-first, you'll smile over the family antics, shiver over an ancient curse, and swoon over the kilted heroes."—Vonnie Davis, author of the Highlander's Beloved series
"Once again Ms. Greyson has effortlessly transported me into this magical world. . . . With danger, excitement, sizzling heat and moments of laughter, My Tempting Highlander . . . is the ultimate Highland romance."—Fresh Fiction
"There is a lot to love in this series . . . including great writing, a fast pace, and another fresh and unique plot. I loved [My Tempting Highlander] and am sure you will as well."—CK2S Kwips and Kritiques
"I love time travels, especially historical ones, and this time travel did not disappoint me."—Sportochick's Musings
"I have fallen hard for time travel novels, so this series has definitely hit the spot!"—Kilts and Swords