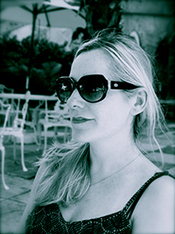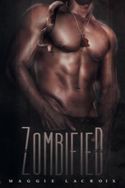 Maggie LaCroix is here for the ZOMBIFIED blog tour to tell us about how and why her zombies are different than the usual kind of zombies. Welcome, Maggie!
For ZOMBIFIED, it all started in a bar with a few girlfriends from work talking about Twilight and True Blood and what was so fascinating about vampires anyway? Sexy, yes. But kind of manipulative jerks. Not like the simple, honest zombie whose brain-eating intentions are clear. The zombie is a nice guy, really, if you get past the drooling, lumbering and brain eating… And yet, in the hierarchy of the undead, vampires get to be sexy jerks; zombies just decompose.
This didn't seem fair, we agreed, and went back to our Martinis.
But I couldn't get that inebriated conversation out of my head. What if we found a way to make zombies sexy? What if sexy zombies were the new vampires? For the next few days, I turned this puzzle inside my head. First, we'd have to find a way to stop their flesh from rotting and preserve their mental abilities. Only one thing could do the trick: Magic. My sexy zombies were people who had been killed and put under a zombifying spell by a Voodoo priest.
As soon as I solved that problem, another one popped up. Why were the sexy zombies sexy? Was the magic making them sexy? No, I decided, the Voodoo priest had targeted sexy people to kill and enslave. But for what purpose?
Eventually, I answered enough of these questions that the idea of a book took shape. I was having so much fun anyway, why not write it all down?
ZOMBIFIED became the story of Henri Jolicoeur, still bewitching 100 years after his death, and Josie Cortez, a small-town newspaper reporter who falls for the wrong -make that dead wrong- man. Fate brings them together when a hurricane separates Henri from his master and breaks the powerful Voodoo spell that was keeping him and six other poor souls in perpetual servitude. Henri and his band of newly-freed zombies are swept up in a mass evacuation and end up in the Texas border town where Josie is always on the lookout for her next scoop.
So the zombies -Henri's teenage sister and his former lover are among the group- are free and intend to stay that way. But how can they pass for human when they don't eat or sleep and they're reeling from black magic withdrawal? If that isn't enough, they have a traitor in their midst, their master is hot on their trail and a mysterious stranger in black is watching.
Meanwhile Josie is looking to redeem herself. She's been screwing up at work, drinks too much and ends up in the wrong bed all too often. One look at Henri and his weird little family and she knows she's struck journalism gold. She can get back on the front page and off her boss's shit list, … if she can only resist her powerful attraction to a man without a heartbeat.
That brings me to my favorite part of having created sexy zombies: writing sex scenes with zombies! Henri may be a sweet, gentle zombie but in bed, he can match the stamina of any vampire.