I never thought much about cops until I started writing them. Sure, there were times when I sped past a radar-toting cop in a cruiser, and my heart leapt into my throat. A few times I've glanced into the rearview mirror and seen the red-and-blue flashing lights. I had to think about cops then.
But until I started writing cop characters, I never thought about how they thought or felt. I never wondered what is was like to do the brave things they did, like burst into the home of a criminal with a gun or chasing a bad guy down an alley. The process of diving into cop characters lent me a new appreciation for their bravery and sacrifice.
I wonder, though, what it is like to see the things they see, day-in and day-out. Not only the horrific and the senseless. But all the stupid things criminals do. I did a blog a few years back that included some of the dumbest of all time. There was the guy who stole someone's pet monkey, then didn't know what to do with it, so he tried to sell it back to the owners. Then there was the lady who was stopped for drunk driving. She jumped into a child's electric car that happened to be nearby and sped away. Needless to say, the police didn't have much trouble catching her. At any rate, I not only have a new-found respect for the police, but also suspect their funny on-the-job moments can be pretty darn funny.
In my newest book from A Murder in Texas series, STRANGER IN MY HOUSE, two identical half-sisters, one a cop and one an heiress trade places. It's suspenseful and fun at the same time. Here's is an overview:
When Officer Kirby Swallow's half-sister is threatened, Kirby assumes her sister's identity and journeys to the remote Texas ranch her sister calls home to catch a killer. Kirby confronts a growing list of suspects and a rising body count, not to mention the ranch manager, Seth Maguire, who sees past the charade to the warm, generous girl beneath. But can Kirby trust a man who rejects the one thing she holds dear: family? Her love dares all, but as the killer closes in, will it also be blind?

Self-reliant Seth Maguire is manager of the struggling Shaw Valley Ranch. His future appears empty until the ranch's wild, unpredictable heiress suddenly morphs into a very hot lady cop. What starts out as just another seduction turns into something deep and, for him, frightening. Then the killer is revealed and Seth is faced with an impossible choice. Will his fragile, uncertain love be enough to save Kirby?
An excerpt and buy links to all the major electronic sites are here
Let's start with the fun stuff. I love small towns, mysteries, quiet men, laughter, old-fashioned spaghetti dinners. I love boots and shopping and jokes and Hershey's dark chocolate and white wine. I love lots of things. But my first love is reading.
I love to read. Just about anything, but it has to be well-written. I go through periods where I am into historical novels or romance or mystery or history or biography. I never know when my desires will suddenly change.
Now for the writer-ish, official stuff: Mari Manning is the author of several contemporary romances and three romantic suspense novels set in the Texas Hill Country. Stranger at My Door is the first in her A Murder in Teas series. The second, Stranger in My House will be published by Entangled later this year. The third book in the series is Stranger in My Bed. Currently Mari is working on a series of cozy mysteries.
She and her husband live in Chicago.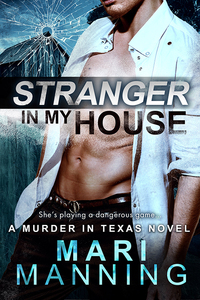 When Kirby Swallow assumes her half sister's identity to help figure out who's threatening her, she finds herself in way over her head. On the remote Texas ranch her sister calls home, she confronts a growing list of suspects and a rising body count—all while wearing her sister's 4-inch heels. The only problem is the sexy ranch manager, Seth Maguire, is starting to catch on to the charade. The attraction between them is undeniable—and soon, what starts out as just a one-night stand, turns into something much deeper. But someone on the ranch is out for blood…and Kirby's next.
Romance Suspense [Entangled Select, On Sale: June 13, 2016, e-Book, ISBN: 9781633756700 / eISBN: 9781633756700]