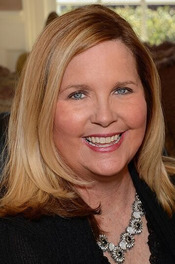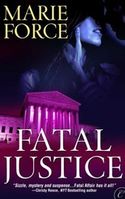 Thank you so much for having me today to discuss FATAL JUSTICE, book 2 in my new Fatal Series. I thought it would be fun to talk about some of the ups and downs of writing a series featuring the same hero and heroine in every book. Each time I come up against how really difficult it can be to write the same characters book after book, I remind myself I only have one person to blame for these challenges: ME! After all, it was my big idea to write a romantic suspense series featuring the same couple in every book.
Luckily, with three books written, a novella under way and a fourth full-length book contracted, I still love Sam and Nick, my D.C. homicide detective and U.S. Senator who are trying to make it work in the Washington fishbowl. After I finished the third book in November, it became clear to me that I need a series "bible" with a list of all the characters, what book they appeared in, etc. In addition, I needed to create "character sheets" for each recurring character that include everything I know about them. To give you an idea of how involved this process can be, the character sheets for Sam and Nick were four pages each!
So far, I have indexed only the first book, Fatal Affair, and that took me an entire weekend! Ack! I'm thinking I should pay my daughter (15 going on 30) to do this for me. What do you think? Keeping all this information in my head is driving my brain to a full-on meltdown. If I continue this way, I will be drooling by mid-year. Something has to give! So as soon as I can, I'll be back to indexing books 2 and 3. One of the benefits to the indexing process is that it gave me ideas for future storylines for Sam, Nick and their sprawling cast of supporting characters.
I've mentioned the difficulty of writing these books, so it is only fair to address the other side of the coin, too. Slipping back into the "Fatal" world gets easier with every book. I know these people, I know their friends and family, I know how they all think, and yet I'm still discovering new and previously unseen facets to their personalities—and that is so much fun!
Here's a little bit about book 2, FATAL JUSTICE:
She looked into the dead face of the man she'd dined with the night before
Standing over the body of a Supreme Court nominee, Lieutenant Sam Holland is hip-deep in another high-profile murder case. The fact that she was one of the last people to see Julian Sinclair alive just complicates things even more. On the plus side, her relationship with Senator Nick Cappuano is heating up—but it's also attracting a lot of unwanted media attention and blinding flash bulbs.
The pressure is on for Sam to find Sinclair's killer, but a new lead in her father's unsolved shooting puts her in unexpected danger. When long-buried secrets threaten to derail her relationship with Nick, Sam realizes that while justice can be blind, mixing romance with politics has the potential to be fatal…
I'm really excited to get FATAL JUSTICE out to readers this week! You can find it at http://ebooks.carinapress.com under the Romantic Suspense tab. This is the start of a big year for Sam and Nick. Coming up in February, we'll be asking readers to help us plan their wedding. Watch my website and blog for more information about how you can participate in the wedding planning and qualify to win some great prizes. Then in July, watch for book 3, FATAL CONSEQUENCES. In September, we'll release the Fatal wedding novella, FATAL DESTINY, and then comes FATAL FLAW in February 2012.
I'm happy to take any questions readers might have about the Fatal Series or any of my other books, including my Feb. 1 print release, EVERYONE LOVES A HERO. Sam and Nick are also happy to take questions! If you want to talk writing, parenting teenagers, puppies and senior citizens, I'm your girl. If you want to talk about the new season of the Bachelor and whether Brad will actually choose someone this time around, bring it on! I'll give away a copy of FATAL JUSTICE to one commenter. Thanks again for having me!
Marie Force is the author of FATAL AFFAIR (June 2010) and FATAL JUSTICE (Jan. 2011), Books 1 and 2 in her new Fatal Series from Harlequin's Carina Press. Book 3, FATAL CONSEQUENCES, is coming in July 2011, FATAL DESTINY in September 2011 and FATAL FLAW in February 2012. "This novel is 'The O.C. does D.C.,' and you just can't get enough." (RT Book Reviews, 4.5 stars for FATAL AFFAIR). In its July 2010 issue, RT Book Reviews named Marie a "Future Star of Romantic Suspense."
Marie is the author EVERYONE LOVES A HERO (Feb. 2011), LINE OF SCRIMMAGE (Sept. 2008) and LOVE AT FIRST FLIGHT (July 2009). Of LINE OF SCRIMMAGE, Booklist said, "With its humor and endearing characters, Force's charming novel will appeal to a broad spectrum of readers, reaching far beyond sports fans." Wild on Books said, "LOVE AT FIRST FLIGHT by Marie Force is most definitely a keeper. It is an astounding book. I loved every single word!" Marie is also the author of TRUE NORTH and THE FALL, available as ebooks via Amazon.com and Smashwords.
Since 1996, Marie has been the communications director for a national organization similar to RWA. She is a member of RWA's New England, From the Heart and Published Author Special Interest Chapters.
While her husband was in the Navy, Marie lived in Spain, Maryland and Florida, and she is now settled in her home state of Rhode Island. She is the mother of Emily, 15, Jake, 12, and a feisty dog named Brandy.
Find her at www.mariesullivanforce.com, on her blog, where she runs the popular weekly Romance & Oreos Book Club, on Facebook, and on Twitter. Marie loves to hear from readers. Contact her at marie@marieforce.com.
To comment on Marie Force's blog please click here.