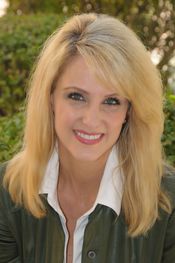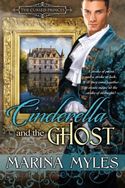 My name is Marina Myles and I'm the author of the Cursed Princes romance series with Kensington. My fairy tale retellings are hot, a bit twisted, and feature immortal Prince Charmings who aren't always "good"!
During this interview, you'll meet le vicomte Jean-Daniel Girard, hero of my fourth novel CINDERELLA AND THE GHOST. He's a mysterious ghost who can beguile and hypnotize all kinds of women with one stare. Ironically, he wants only one girl…Ella Benoit. They met long ago, when Jean-Daniel wasn't trapped inside his portrait and Ella wasn't the orphaned inheritor of Château de Maincy, Jean-Daniel's sprawling, French estate.
Interview with the Ghost
Q: I've never held a Q & A with a ghost. What do you want to tell us about being an
apparition, Monsieur Girard?
A. It is a very lonely existence. With nothing to do but pass the time, a ghost dwells on what used to be. Personally, I fixate on Ella. With her golden hair, firm curves, and lapis-blue eyes, she is gorgeous. Yet, her heart is kind and true. That makes her my dream girl.
Q: Since you two were connected in the past, would you like to be reunited in present day?
A: (Jean-Daniel grins) Not only would I like this, I am counting on it. The anniversary of
my death is nearing. Before it arrives, I must coax this reincarnated version of Ella to
enter my portrait and travel back to the eighteenth century.
Q: Why?
A: I died very young. It is up to Ella to return to the day my life ended and prevent the
act of my murder.
Q: Does Ella know what you want her to do?
A: Not yet.
Q: Let's get back to your romance with her. When you and Ella met all those years ago, what was the most interesting place you had an encounter?
A: In my chambers at Château de Maincy. Ever so gently, I laid her atop my massive bed
and spread her across silken sheets. (He seems completely lost in thought, as if reveling
in the memory.) While beams of moonlight shone upon us, I unbuttoned her blouse,
skimmed my lips down her neck and—. Well, you'll have to read the book to discover
the rest!
Q: Ella sounds exquisite. What do you believe is your most attractive feature?
A: Perhaps my eyes. They are aquamarine, but I'm told they turn silver with desire when
I am aroused. Oh, and women seem to love my French accent. (Folds his arms across his
chest.) Of course, I don't want to sound pompous. I used to be very self-absorbed and
carefree, but all that changed when I met Ella. She showed me how to love and care
deeply for others.
Q: What intrigues you most about her?
A: I am intrigued with how different we are, yet how much we understand one another.
Ella has the face of an innocent angel. However, beneath the surface, she's suffered
many traumatic things.
Q: What is your deepest fear?
A: I'm worried that Ella will not come through my portrait to save me in time.
Q: What will happen then?
A: I will be doomed to another year of hell inside this portrait.
Q: Do you have a secret no one knows?
A: Yes. I know who killed me back in 1703.
Q: What is one thing you've never told Ella?
A: I've never told her that we met over three hundred years ago and that her face took
my breath away when I looked upon it. It was love at first sight! (Jean-Daniel starts to
fade away.) Thank you for having me. It's been comforting to have a visitor at this
dilapidated château! But I must go…
About CINDERELLA AND THE GHOST
A Dangerous Attraction
When her demanding stepmother died, Ella Benoit knew just how far their fortunes had fallen, unlike her spoiled stepsisters. So she never expected the bequest from her late father. A chateau in France and the freedom to live her own life, all at once!
The chateau has seen better days, but Ella knows she can put the ruined house to rights. The life-size portrait of its first owner, Jean-Daniel Girard, seems to watch her work with approval, even pleasure. With bright blue eyes, strong features, and an athlete's body, the viscount is a tempting sight even now, more than three hundred years after his tragic death. But the more she looks at the portrait, the more convinced Ella is that she's met Jean-Daniel before. In another life, perhaps—or maybe, as the form who haunts the halls at night, invading Ella's dreams…
About AUTHORNAME
Although Marina Myles lives under the sunny skies of Arizona, she would reside in a historic manor house in foggy England if she had her way. Her love of books began as soon as she read her first fairy tale and grew by leaps and bounds when she discovered Nancy Drew/Agatha Christie mysteries and rich, historical romances.
Dreaming of becoming a published author, she went on to study creative writing at Southern Methodist University—where she received degrees in Communications and English Literature. During her time in Dallas, she had the unique experience of being a Dallas Cowboys Cheerleader.
Now with her loyal Maltese close by, she relishes the hours she gets to escape into worlds of fiery—but not easily attained—love affairs. She's busy being a wife (to her Italian–born husband) and a mother (to her two beautiful daughters), but she is never too busy to hear from her amazing readers.
Website | Facebook | Twitter | Goodreads | Buy CINDERELLA AND THE GHOST