Instead of trying to find your perfect match in a dating app, we bring you the "Bookseller-Reader Match" where we introduce you to a bookstore as a reader you may fall in love with. It's our great pleasure to present Marissa of Love's Sweet Arrow! 
Writes/Sells:
I'm Marissa, one of the co-owners of the romance bookstore Love's Sweet Arrow, the second one in the country! Love's Sweet Arrow opened last June in Tinley Park, so we are coming up on our first anniversary soon! Love's Sweet Arrow focuses on having a diverse variety of romance in all subgenres, but also has fun t-shirts, tote bags, buttons, and stickers (some made by BestFriendKelly), soaps (by Perennial Soaps), and candles (NovellyYours, Big White Yeti, and Hearth and Hammer).
About:
I am 31 and I've been a bookstore owner for almost a year now. Before this, I was a special education kindergarten teacher in a local school for a few years and I'm currently a one-on-one paraprofessional in a kindergarten classroom in a different school, which means I'm home from that job too. Before that, I was actually involved in the performing arts and I have an undergraduate degree in music (vocal performance). I've got an interesting resume, that's for sure! Some of my hobbies include reading (of course!), crocheting and watching tv, walking with my dogs, traveling, watching movies, shopping with friends, baking, cooking, etc. I have two rescue dogs: Brando, a 10ish blind mini schnauzer terrier mix, and Lady, a 3ish dachshund mix. She's got a bunch of other breeds in her as well, but right now it's just a fun guessing game!
What I'm looking for in my ideal reader/client match:
Someone who is looking for an HEA
A reader who is looking for a place to celebrate romance
A reader who wants to find a non-judgmental place to get the romance they are looking for.
What to expect if we're compatible:
A bookseller that will track down a book for you any way they can, as long as it takes.
A bookseller that provides a space for all kinds of romance readers.
A bookseller with great, diverse recommendations at the ready for all kinds of romance readers.
—
COMMENT TO WIN: What have you been reading to pass the time lately? Tell us in the comments, and you'll b entered to win a fabulous, brand new tee-shirt from Love's Sweet Arrow. The shirt reads: "Stay Home. Read Romance. Save the World." You can find out more details in the LSA shop! US ONLY – GOOD LUCK!
—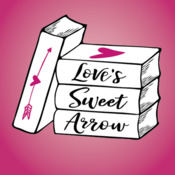 LOVE'S SWEET ARROW is a romance-focused independent bookstore in Tinley Park, IL. LSA has been featured in Forbes, the Chicago Tribune, BTW, Love In Panels, and more. You can find out more about the store (and their adorable bookseller dogs) on Facebook,Twitter, and Instagram. You can also shop their online store, sign up for their newsletter, and check out their Patreon. For more information, please visit http://lovessweetarrow.com.