Our highlight of the week was dinner and a show, uh, a signing, yes, that's it, a signing in Plano. You know the center of the universe (only if you live in Plano, I'm afraid). Our members from Ft. Worth and beyond do argue with me but it is always amusing to stir them up. But I digress…
Wednesday, June 29th we had a lovely dinner at the Macaroni Grill with Mary Alice Monroe and her escort, Joanne Crandall. It was wonderful especially when Alex our waiter gave us the jug of zinfandel "on the house." And it's always fun to "make your own pasta" because you get to see the REAL tastes of your table mates! Mary Alice likes hers "spicy." Of course, we had to earn our dinner — by listing and explaining two goals we've set to do before we die. When we combined all the things the guests wanted to do it became a truly exciting set of experiences. If you're curious and I let you guess who had what goal you'd find the goals ranged from visiting La Scala (opera house in Italy for the heathens), visiting London to see the setting of favorite books, touring Ireland to see where ancestors fled, celebrating in Las Vegas, and even a week in New York City.
After getting to know each other, we freshened up and headed down the parking lot to the Barnes and Noble. Cody and other readers were waiting for us — okay, waiting for Mary Alice since we sorta kept her over a few minutes. Getting our books from their MAM collection nicely displayed on the wall behind the speaker table, and fueling with a Starbucks latte (okay, that would be me) we were ready to settle for an evening with a fabulous author.
Mary Alice Monroe read from her book SWEETGRASS a passage near the end speaking to the heart of the story and yes, it made me tear up. Then she told us about her research for the book, the threat of development on the native habitat and the human lives. How generations worth of traditions are being lost along with the disappearance of the native sweetgrass. She also had a sample of the sweetgrass braiding (for lack of the correct term, forgive me). It still retained a lovely odor that must be wonderful in a large basket. It was helpful to actually have a part of the book to hold in your hand.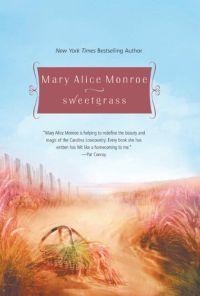 Then, we got our books signed, chit chatted some more and hugged and kissed — you've got to love southern women, even if you've just met, you feel like old friends — we headed out the doors into the warm evening.
It was a delightful night and we all had wonderful signed books to take home so we can always relive the memory of a special evening in Plano (not quite the center of the universe).