Danielle: Welcome to Fresh Fiction, Michelle! We are excited to chat with you today. Please tell us a bit about your new series, Carolina Girls.  
Michelle: Thank you so much for having me visit today—I'm excited to be here! The Carolina Girls series is a fun spinoff from the original Magnolia Sisters series set in the fictional town of Magnolia, North Carolina. The series features an unlikely friendship between three women all working to start over and create a new life for themselves. The stories are romances at their heart but also explore the importance of friendship, community and finding the right place to call home. 
We love a smalltown setting! What do you love most about Magnolia, North Carolina? If you were to spend a day there, where would you visit?      
Well, since I currently live in Colorado, which is a beautiful—but very landlocked state—I'd definitely make a trip to the beach outside of Magnolia. The town is based on a few coastal towns we visited when I was a kid vacationing every year in the Outer Banks area of North Carolina and also further south to Hilton Head, South Carolina. I hope I've been able to infuse Magnolia with some of the small-town southern charm I love. Because I'm a big fan of sweets, I'd make a stop at the Sunnyside Bakery for one of their famous bear claws. I also love making trips to local hardware stores when we travel so that would be a stop for me as well.
In WILDFLOWER SEASON, Emma Cantrell goes to Magnolia for a change of pace after her marriage ends, and unexpectedly decides to stay and renovate a rundown mansion into a wedding venue and inn! Tell us more about Emma's thought process to make such a major life change in a seemingly short period to time. What do you hope readers learn from her?  
Emma is a quintessential good girl (I can relate) who has always done the right thing—or at least what her family expected of her. She's had some bumps in the road and when she comes to Magnolia, there's something about the old house that appeals to her. She feels a sense of connection with the dilapidated mansion and envisions a new start for it and for herself. Although it's sudden and a huge departure from her current life, I think that knowing in her heart that the change is right is what makes her so committed to trying something new.
Cameron Mitchell hasn't worked on furniture in the years since he lost his wife, but despite his grief, he decides to help Emma with her renovation. What are his motivations? How does he grow in this story? 
I know we shouldn't have favorite characters as an author, but Cam was really fun to write. He first gets involved with Emma because the bride she's working with is his late wife's sister and he wants to help Holly. Although grief has forced him to cut himself off from the world, I loved exploring his deep sense of loyalty and caring for the people around him. His main journey with growth is understanding that he can honor his late wife's memory by being happy again instead of forcing himself to stay alone—and his relationship with Emma is a huge catalyst for that.
Because this is the start of a new series (spun off from your Magnolia Sisters series), there's a great, sprawling cast of characters that we get introduced to—some of whom I hope get their own stories told, too! Do you have any favorite side characters from this book who you want readers to know about? 
I think secondary characters are so much fun because as you introduce them in one story, they can steal the show for the reader, and as an author, I get to know them before featuring them in a story. Angi and Mariella are Emma Cantrell's new friends and they will feature in subsequent books so I hope readers enjoy meeting them. 
The last year has been… a time! What have you done to practice self-care?     
I have walked my dogs a lot—for me getting out in nature is always the best way to practice self-care. I've also started a yoga practice with online classes. Yoga with Kassandra and Yoga with Adrienne are two of my favorites. It's also been important for me to continue to connect with author and reader friends, whether it's via text or social media I've tried to keep up my sense of community.
What can readers expect from you next? 
There are two more books coming in the Carolina Girls series. MISTLETOE SEASON releases in October and WEDDING SEASON comes out next March. In addition, in 2022 I have the next book in my Welcome to Starlight series with Harlequin Special Edition coming out in February and I get to kick off the 2022 Fortunes of Texas miniseries in January.
Rapid Fire Random Questions 
Favorite Romance Trope: Second chance or enemies to lovers.
Go to mani/pedi nail polish colors: "I'm Not Really a Waitress" by OPI—a deep and sparkly red.
Do you dog-ear or use a bookmark in your books?: 100% bookmark
Pancakes or waffles?: Both.
Favorite book from childhood: Anne of Green Gables.
Morning person or night owl: Morning person.
First thing you'd splurge on if you won the lottery: A trip somewhere amazing for my family.
A song that will always cheer you up: It Takes Two by Rob Base.
Favorite season: Fall.
You have a totally free afternoon – no deadlines, no obligations, no Twitter notifications!  What do you do?: I would walk my dogs, have lunch with a friend and then read uninterrupted for hours.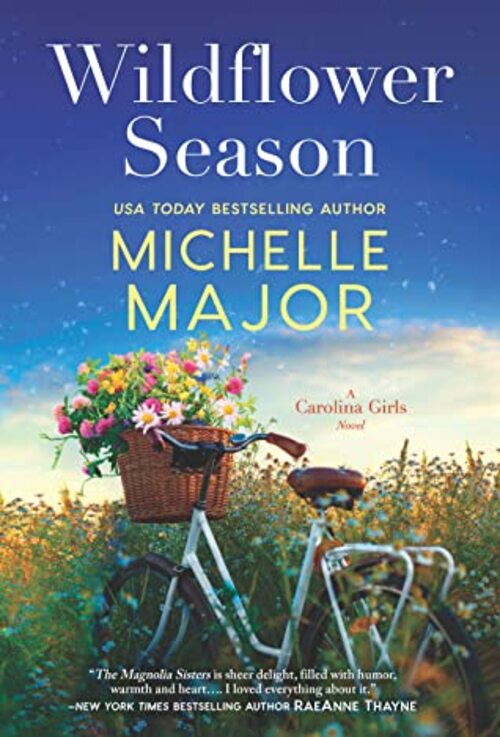 She always followed the path of least resistance…until it leads her to a small town where she can follow her dreams.
When Emma Cantrell's marriage imploded, she learned a fast and painful lesson about trusting her heart. Then, on a visit to Magnolia, North Carolina, to see her brother, an elegant, if dilapidated, mansion for sale presents the opportunity to start over. Risking everything on her dream of opening the Wildflower Inn, Emma buys the house…just as the storm of the century hits, severely damaging the structure. But a chance meeting with Holly, a bride-to-be in desperate need of a new venue, gives her hope…and the name of a contractor who'll work fast and cheap, allowing Emma to repair the inn in time to host the wedding and save her investment.
A furniture builder who hasn't picked up a tool in the five years since his wife died, Cameron Mitchell has no intention of agreeing to help this beautiful—and, he'd guess, entitled—woman insisting that he fix her inn. Until he learns that Emma was sent by Holly, the little sister of his late wife. Grudgingly, Cameron agrees to do the work, with one condition: that he be left completely alone. But the more time they spend together, the more Emma touches a part of his heart he was sure died long ago, forcing him to try making peace with his past.
Romance Contemporary [HQN, On Sale: May 25, 2021, Mass Market Paperback / e-Book, ISBN: 9781335547798 / eISBN: 9780369703576]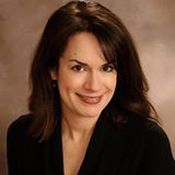 Michelle Major is the best selling, RITA award-winning author of over twenty sexy and sweet contemporary romances. She loves second-chances love stories, smart heroines, and strong heroes. A midwesterner at heart, she's made the Rocky Mountains her home for over twenty-five years and is thrilled to share her books with readers.
***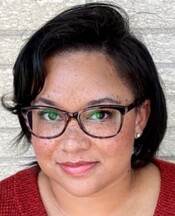 Danielle Jackson Dresser is a contemporary romance author (her debut novel with Berkley will be out in 2022!), avid reader, lackluster-yet-mighty crafter, and accomplished TV binge-watcher.
Once upon a time, she was a publisher publicist and continues to cultivate her love of books and reading by chatting with the best authors in the business as the Editorial Manager of Fresh Fiction and co-host of the Fresh Fiction podcast. Danielle is one of the Boozy Book Broads, a monthly author chat show streamed live on YouTube. She also moderates panels, interviews authors, and hosts a book club at Love's Sweet Arrow, the romance-focused independent bookstore.
Danielle lives in Chicagoland with her very own romance hero husband, darling daughter, and two tempestuous cats. Follow her on Twitter and Instagram, @dj_dresser.