Instead of trying to find your perfect match in a dating app, we bring you the "Author-Reader Match" where we introduce you to authors as a reader you may fall in love with. It's our great pleasure to present Kim Redford.
Writes:
Oh wow, I just write about life…fascinating, intriguing, exciting life with all the quirky characters, small town community and deep emotions that fuel my novels. Laughter. I'd rather laugh than cry, although those two frequently go together. Cowboy Fire took a funny turn at the end that surprised me, so I bet it'll surprise readers too. Did I say I like surprises, particular funny ones? And heat. Those sexy cowboy firefighters know how to put out fires, but they definitely know how to start them too.
About:
Chocolate. Cats. Comedy. All those come together late nights at the keyboard. Days, I like a little adventure. I might ride horses with cousins or go to a rodeo or kickback at a pond and pretend I'm fishing when I'm really plotting the next scene in my novel. Of course, I like a good book…write, read, discuss, contemplate, you-name-it. I'm all about books.
What I'm looking for in my ideal reader match:
Likes to curl up with a good novel
Likes to share chocolate
Likes to laugh and cry and everything in between, not only between the pages but through life itself
Likes witty banter that builds relationships
Likes to discover the perfect book that makes a reader go, "ahhhhhhh"
What to expect if we're compatible:
Love and laughter
Suspense and mystery
Magic and mayhem
Cattle and cats
Hot cowboy firefighters and dedicated first responders
All of the above served with a side of delicious, decadent chocolate
Smokin' Hot Cowboys #8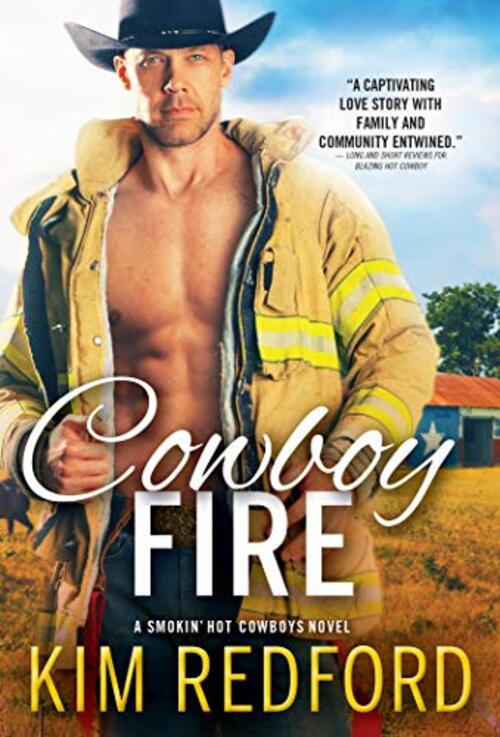 This cowboy is more than just a perfect face…
Violet Ashwood arrives in Wildcat Bluff County with one agenda: convince the hunky Mr. July from the Wildcat Bluff Fire Rescue's annual benefit calendar to be the face—and body—of her new lonely hearts online dating service. She didn't count on his firm refusal, nor did she count on seeing him again. Until she discovers he's her new landlord.
Kemp Lander, aka Mr. July, wants nothing to do with Violet's schemes to make him a model for her Cowboy Chat Corral, particularly once he finds out she fudged the truth on her rental contract by claiming she was a cowgirl. He's got enough problems trying to keep trespassers off his ranch and doesn't need the distraction of his sexy renter.
All Violet and Kemp want is to save their livelihoods and have their lifelong dreams realized. But it'll take joining forces and discovering they're better together to finally meet their goals.
Smokin' Hot Cowboys series:
A Cowboy Firefighter for Christmas (Book 1)
Blazing Hot Cowboy (Book 2)
A Very Cowboy Christmas (Book 3)
Hot for a Cowboy (Book 4)
Cowboy Firefighter Christmas Kiss (Book 5)
Cowboy Firefighter Heat (Book 6)
Smokin' Hot Cowboy Christmas (Book 7)
Praise for Kim Redford's Smokin' Hot Cowboys:
"Delivers fiery passion with a country-western kick."—Publishers Weekly for A Very Cowboy Christmas
"With its vividly written firefighting scenes, rich cast of characters and folksy charm, A Cowboy Firefighter for Christmas will keep you warm and toasty and entertained in a big—and I mean Texas big—way."—USA Today Happy Ever After for A Cowboy Firefighter for Christmas
Romance Western | Romance Contemporary [Sourcebooks Casablanca, On Sale: May 25, 2021, Mass Market Paperback / e-Book, ISBN: 9781728216393 / eISBN: 9781728216409]
Kim Redford is the bestselling author of Western romance novels. She grew up in Texas with cowboys, cowgirls, horses, cattle, and rodeos for inspiration. She divides her time between homes in Texas and Oklahoma, where she's a rescue cat wrangler and horseback rider—when she takes a break from her keyboard.